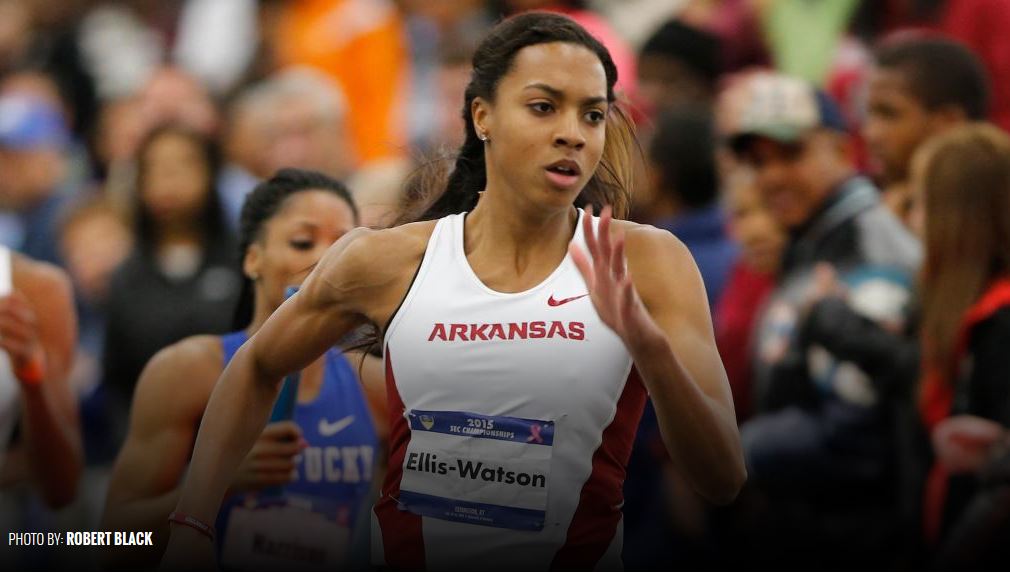 #NCAATF Podium Hunt: Taylor Ellis-Watson
This is the continued series leading up to the 2015 NCAA Indoor Championships in which the Razorbacks' top qualifiers are featured. For the 12th time since first hosting in 2000, Fayetteville serves as the host site for the national meet. This year's NCAA Indoor Championships will be contested March 13-14 at the Randal Tyson Track Center.
A two-day, all-session ticket for the 2015 NCAA Indoor Championships is $30 for general admission. Tickets for the NCAA meet are available for purchase HERE, by contacting the Razorback Ticket Center at 800-982-HOGS (4647) or visiting the Ticket Center located just east of Baum Stadium at 1295 S. Razorback Road.
Taylor Ellis-Watson, 400 meters
When to Watch
Preliminary: Friday, March 13 at 6:55 p.m.
Final: Saturday, March 14 at 6:40 p.m.
How She Qualified
Competing in her first indoor season with the Razorbacks, Ellis-Watson clocked a season-best time of 51.72 at the Tyson Invitational. She enters the NCAA Indoor Championships as the No. 3 national qualifier in the field. Ellis-Watson is also part of Arkansas' 4×400-meter relay team that qualified for the NCAA meet. Running in the first heat of a two-section final at the SEC Championships in Lexington, she posted a time of 52.03 to come away with a third-place finish. She will be joined in the field by teammate Sparkle McKnight who has the No. 11 overall seed time at 52.67. In a display of her form this season, Ellis-Watson has also run a 23.08 at 200 meters which was tied for the No. 6 time in the country.
History at the NCAA Championships
The Philadelphia, Pa., native will be making her first appearance at the NCAA Indoor Championships with Arkansas. It will be the second of her career having advanced to the national meet in 2012 during her time at Pittsburgh. The Razorbacks are looking for the program's first NCAA title at 400 meters. During her standout career at Arkansas, Regina George finished as the national runner-up three times in the event.
For more information on Arkansas track and field including in-meet updates, follow @RazorbackTF on Twitter