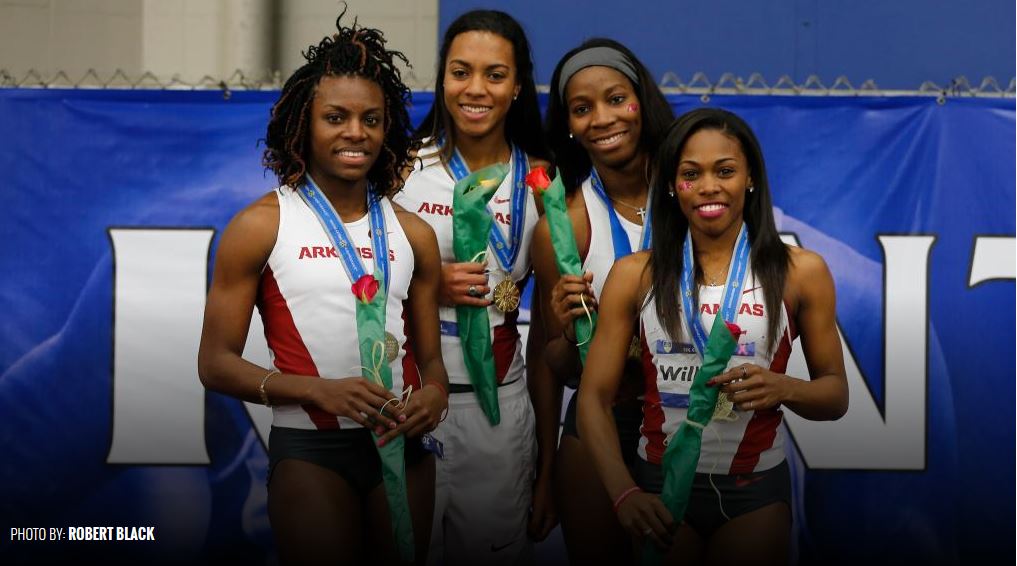 #NCAATF Podium Hunt: The Relays
This is the first of a series leading up to the 2015 NCAA Indoor Championships in which the Razorbacks' top qualifiers are featured. For the 12th time since first hosting in 2000, Fayetteville serves as the host site for the national meet. This year's NCAA Indoor Championships will be contested March 13-14 at the Randal Tyson Track Center.
A two-day, all-session ticket for the 2015 NCAA Indoor Championships is $30 for general admission. Tickets for the NCAA meet are available for purchase HERE, by contacting the Razorback Ticket Center at 800-982-HOGS (4647) or visiting the Ticket Center located just east of Baum Stadium at 1295 S. Razorback Road.
4×400-Meter Relay
When to Watch
Saturday, March 14 at 8:30 p.m. (CT)
How They Qualified
The 4×4 team of Taylor Ellis-Watson, Daina Harper, Sparkle McKnight and Chrishuna Williams combined for a time of 3:30.50 at the McCravy Memorial in February and enter the NCAA meet with the third-fastest time in the nation. The same quartet opened its championship season with a victory at the SEC meet last weekend in Lexington, marking the program's fourth conference title in the event.
History at the NCAA Championships
Arkansas has two national runner-up finishes (2011, 2013) in the 4×400-meter relay. McKnight was part of the team that finished second at the 2013 NCAA Indoor Championships in Fayetteville; McKnight and Williams have an NCAA outdoor title in the 4×400-meter relay.
Distance Medley Relay
When to Watch
Friday, March 13 at 9:05 p.m. (CT)
How They Qualified
Just like its 4×400-meter counterpart, the DMR secured its spot at the NCAA Championships with its performance at the McCravy Memorial in February. The foursome of McKnight, Williams, Diane Robison and Dominique Scott registered a time of 11:02.80 which currently sits seventh among NCAA qualifiers. Arkansas will be carrying the momentum of winning the DMR at the SEC Championships in Lexington.
History at the NCAA Championships
The Razorbacks' won their first-ever NCAA title in the distance-medley relay last season in Albuquerque, N.M. Williams and Scott were also part of that team, running the 400-meter and mile legs, respectively. Along with Stephanie Brown and Grace Heymsfield, the team posted a time of 11:05.83 to win the title by more than two seconds.
For more information on Arkansas track and field including in-meet updates, follow @RazorbackTF on Twitter.