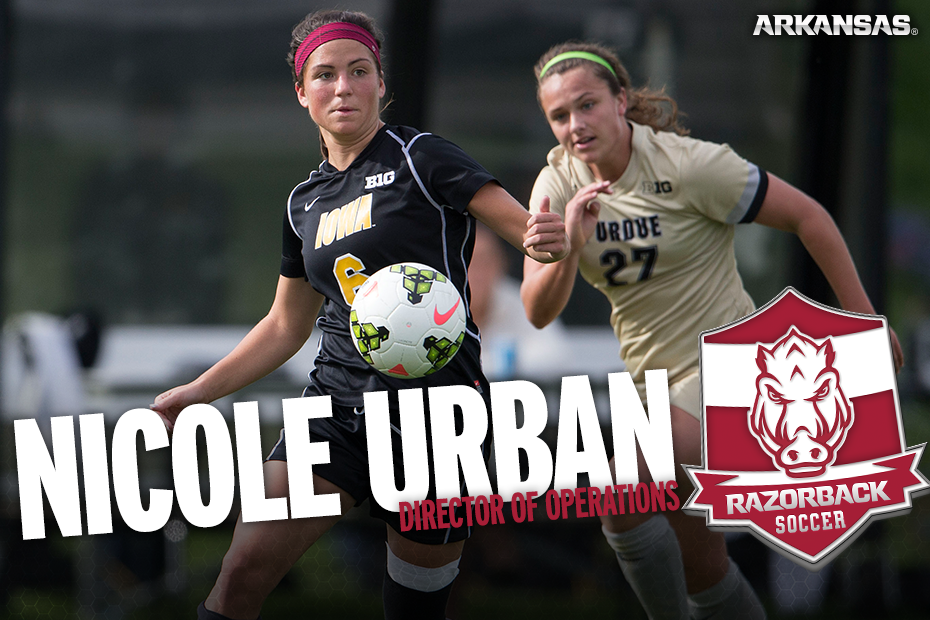 Nicole Urban Named Director Of Soccer Operations
FAYETTEVILLE, Ark. – University of Arkansas head women's soccer coach Colby Hale has announced the addition of Nicole Urban to his coaching staff.
Urban will serve as the Director of Operations and will assist the Razorback coaching staff with team travel, game-day preparations, video exchange, camps and other administrative duties.
"We are very excited about the addition of Nicole to our staff," said Hale. "She has great energy and played at a high level. She will bring great value"
Prior to joining Arkansas, Urban was a four-year letterwinner at Iowa. In her career with the Hawkeyes, she appeared in 63 matches with 19 starts and helped lead the team to a 54-24-8 overall record. She was a member of the 2013 Iowa team that posted a school-record 15 victories, advanced to its first Big Ten Tournament championship game and earned the program's first NCAA Tournament appearance. Urban also helped lead the Hawkeyes to the Big Ten Tournament championship match in 2014.
A native of Lisle, Ill., Urban graduated from the University of Iowa in May 2015 with a bachelor's degree in psychology with a minor in human relations.
She joins assistants Mario Rincon, Kristi Kiely and Scott Collins on the Razorbacks staff under Hale, who is entering his fourth season at the helm of the Arkansas women's soccer program.
The Razorbacks begin their 2015 campaign with a pair of road exhibition matches against Oral Roberts (Aug. 13) and SEC foe Missouri (August 15). The regular season begins the following weekend at Razorback Field when Arkansas hosts Stephen F. Austin (Aug. 21) and TCU (Aug. 23).
For more information on Razorback Soccer follow @RazorbackSoccer on Twitter.