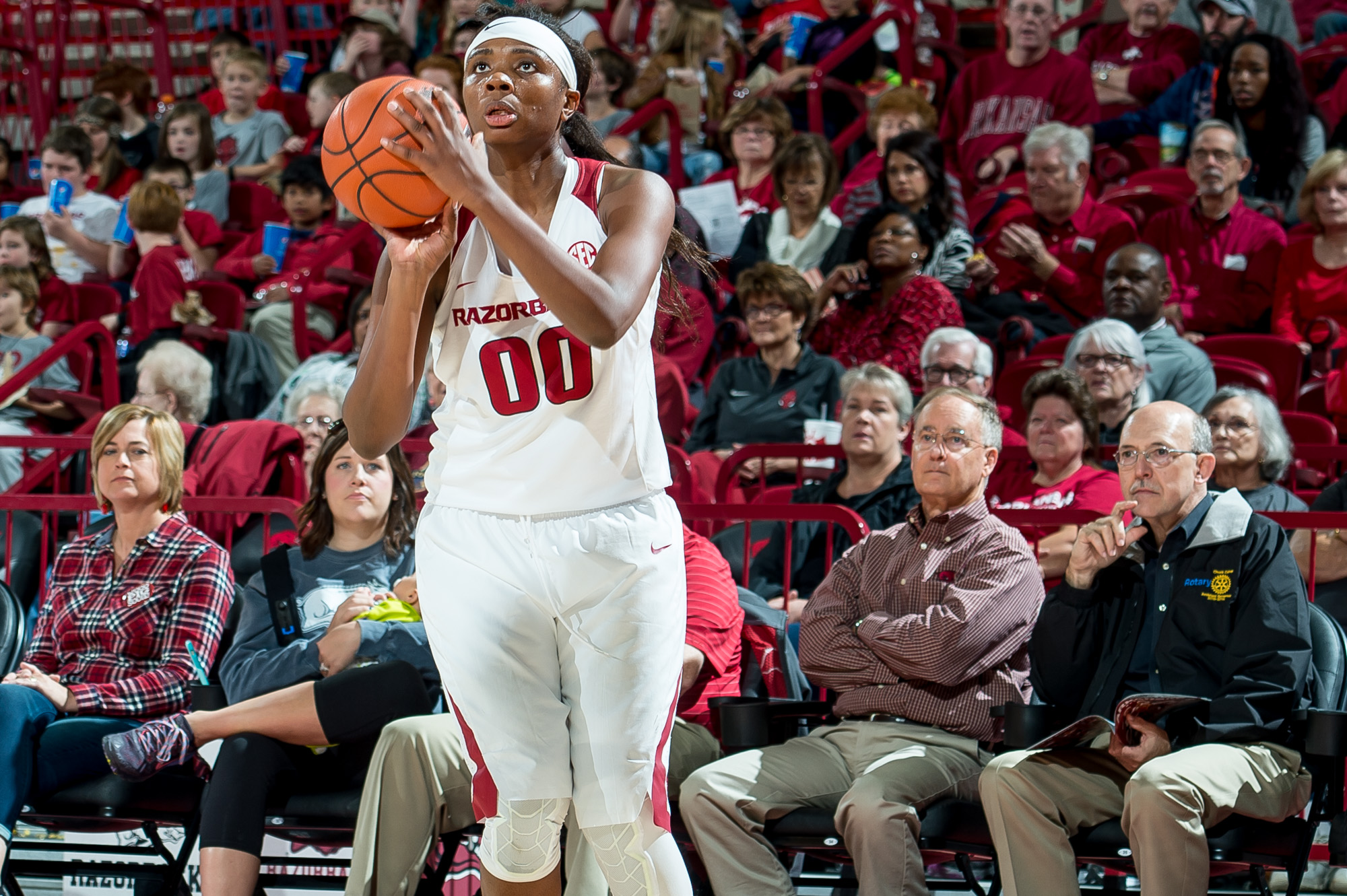 Nine Home Games Highlight Non-Conference Schedule
FAYETTEVILLE, Ark. – Nine home games and an exhibition contest in Bud Walton Arena highlight the University of Arkansas women's basketball 2016 non-conference schedule head coach Jimmy Dykes announced on Tuesday.
The 13-game regular season non-conference schedule features Women's National Invitation Tournament Champion South Dakota, and two other postseason teams. The Coyotes have a new coaching staff but return 10 letterwinners including five upperclassmen to this year's roster. South Dakota won 32 games last season and went 12-4 on the road.
The Razorbacks face NCAA Tournament participant Missouri State on the road and WNIT participant Memphis on a neutral court. Arkansas also draws Texas Tech in early December as part of the expanded SEC/Big 12 Challenge.
The season opens with an exhibition contest followed by Elementary Day against Sam Houston State on Nov. 11, in a 10:30 a.m. tip. Arkansas is a perfect 6-0 against the Bearkats and this is the second time the Razorbacks and SHSU have met as part of the Elementary Day promotion in Bud Walton Arena.
Area elementary schools wanting more information or to participate in Elementary Day should contact Associate Athletics Director Elvis Moya at 479-575-6055.
Three November home games feature Louisiana-Monroe, South Dakota and Stetson before Arkansas travels to Reno, Nevada for a Thanksgiving tournament featuring Memphis, Navy and the host Wolf Pack as the month comes to a close.
December begins with back-to-back games in Bud Walton tipping off a five-game home stand opening with Texas Tech in the SEC/Big 12 Challenge. Ten teams from each conference will play five games with the SEC hosting each contest this year.
The lone road game in December sends Arkansas across the border to Missouri State in a recently renewed rivalry game followed by home games with Northwestern State, Oral Roberts and Houston Baptist as the non-conference schedule wraps up.
Arkansas returns nine players from last year's team including All-SEC First Team selection Jessica Jackson. The other returners include Malica Monk, Keiryn Swenson, Briunna Freeman, Devin Cosper, Bailey Zimmerman, Jordan Danberry, Tatiyana Smith and Alecia Cooley.
In addition, the Razorbacks welcome five talented newcomers including McDonalds All-American Aaliyah Wilson. The other freshmen include Kiara Williams, Jailyn Mason, Sydney Stout and Yasmeen Ratliff, all of whom will challenge for playing time.
Notes
• Thirteen game schedule plus the exhibition game
• Arkansas will play three teams who were in the postseason a year ago
• Arkansas faces Nevada or Navy, South Dakota and Houston Baptist for the first time in program history
• Arkansas is a combined 118-39 against non-conference opponents
For more information about Arkansas women's basketball follow @RazorbackWBB on Twitter.
| DATE | OPPONENT | SITE | TIME# | MEDIA |
| --- | --- | --- | --- | --- |
| THURS. NOV. 3 | OKLAHOMA BAPTIST (Exh.) | BUD WALTON ARENA | 7 P.M. | TBA |
| FRIDAY, NOV. 11 | SAM HOUSTON ST. (Elem. Day) | BUD WALTON ARENA | 10:30 A.M. | TBA |
| SUNDAY, NOV. 13 | LOUISIANA-MONROE | BUD WALTON ARENA | 2 P.M. | TBA |
| THURSDAY, NOV. 17 | SOUTH DAKOTA | BUD WALTON ARENA | 7 P.M. | TBA |
| MONDAY, NOV. 21 | STETSON | BUD WALTON ARENA | 7 P.M. | TBA |
| 2016 Nugget Classic (Reno, Nevada) | | | | |
| Friday, Nov. 25 | Memphis | Reno, Nev. | TBA | -- |
| Saturday, Nov. 26 | Nevada/Navy | Reno, Nev. | TBA | -- |
| Wednesday, Nov. 30 | at Tulsa | Tulsa, Okla. | 7 p.m. | -- |
| SEC/BIG 12 Challenge (Campus Sites) | | | | |
| SATURDAY, DEC. 3 | TEXAS TECH | BUD WALTON ARENA | 2 P.M. | TBA |
| WEDNESDAY, DEC. 7 | BUTLER | BUD WALTON ARENA | 7 P.M. | TBA |
| Sunday, Dec. 11 | at Missouri State | Springfield, Mo. | TBA | -- |
| SUNDAY, DEC. 18 | NORTHWESTERN STATE | BUD WALTON ARENA | 2 P.M. | TBA |
| WEDNESDAY, DEC. 21 | ORAL ROBERTS | BUD WALTON ARENA | 1 P.M. | TBA |
| WEDNESDAY, DEC. 28 | HOUSTON BAPTIST | BUD WALTON ARENA | 7 P.M. | TBA |