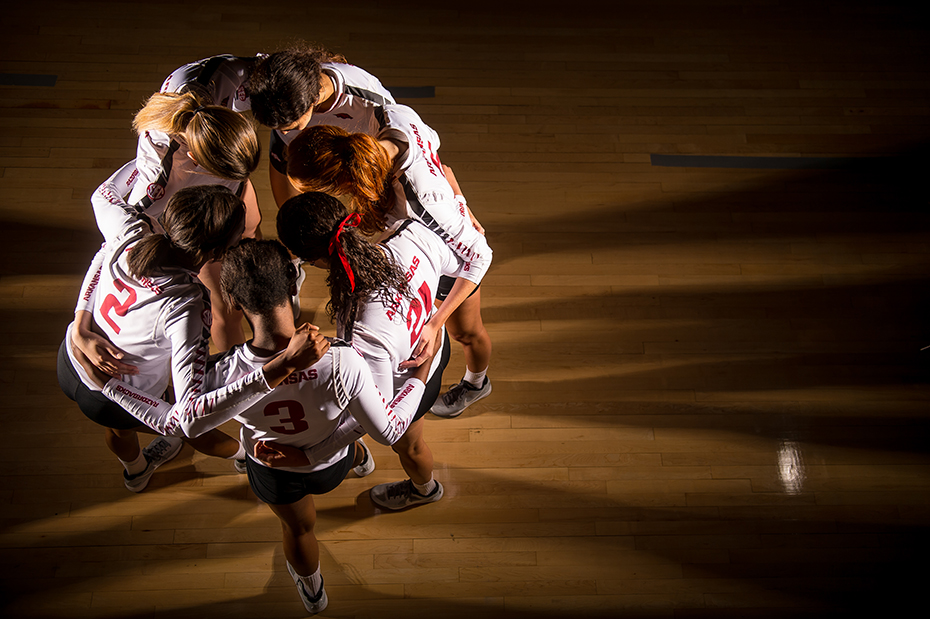 Nine NCAA Opponents, 12 Home Matches Highlight 2016 Schedule
FAYETTEVILLE, Ark. – Highlighted by 12 home matches at Barnhill Arena and seven top-25 RPI opponents, head coach Jason Watson has announced the 2016 schedule for the University of Arkansas volleyball team. The Razorbacks' schedule also features 11 matches against nine teams that advanced to last year's NCAA Tournament. Arkansas begins its season Aug. 26-27 at the Illini Classic in Champaign, Illinois.
"Our goal is to put our team in the best possible situation to compete for a place in the NCAA Tournament," Watson said as he prepares for his first season at Arkansas. "The 2016 schedule is one that will challenge us and I believe our team is ready to be challenged. I'm exciting for the coming season and believe our student-athletes are doing all they can to prepare for a return to the NCAA Tournament."
#RazorFacts | The Schedule
• 30 matches (12 home, 13 road, five neutral)
• 11 matches against nine opponents that played in last year's NCAA Tournament
o Including defending national champion Nebraska
• Season opener: Aug. 26 at Illinois
o Home opener: Sept. 16 vs. Southern Miss & Kansas State
• SEC opener: Sept. 25 at LSU
o SEC home opener: Sept. 30 vs. Missouri
• First-time opponents: Chicago State and Maryland
Season tickets are also now available for purchase through the Razorback Ticket Center. With pricing options beginning at $40, each ticket package includes a free team knit hat. The Razorbacks' 12-match home slate features one non-conference tournament with the Arkansas Invitational (Sept. 16-17) and nine Southeastern Conference matches. For more information, call the Razorback Ticket Center at 800-982-HOGS (4647) or click HERE to purchase tickets online.
In addition to the season-opening Illini Classic, the Razorbacks are set to play in non-conference tournaments at Kansas and New Mexico. During the three-week road start to the season, Arkansas will face four teams that played in last year's NCAA Tournament including Illinois, Missouri State, national semifinalist Kansas and defending NCAA champion Nebraska.
The Razorbacks make their home debut with the Arkansas Invitational in hosting Southern Miss, Kansas State and UMKC. Kansas State is the first of five NCAA opponents coming to Fayetteville along with matchups during the SEC slate against Missouri (Sept. 30), defending conference champion Texas A&M (Oct. 5), Kentucky (Nov. 9) and regional finalist Florida (Nov. 26). SEC match times and broadcast schedule will be announced later this summer.
The postseason begins the first weekend of December at selected campus host sites with the first two rounds of the NCAA Division I Women's Volleyball Championship. The regional round of the national tournament takes place Dec. 9-10 at four pre-determined sites. The national semifinal and title match will be played Dec. 15 and 17 at Nationwide Arena in Columbus, Ohio.
For more information about Arkansas volleyball, follow @RazorbackVB on Facebook, Instagram, Snapchat and Twitter.