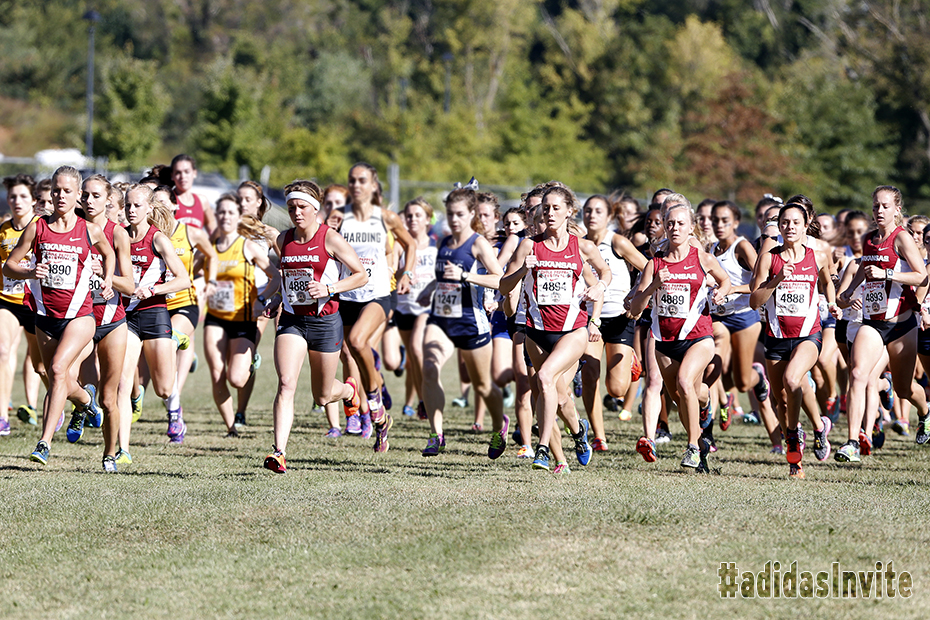 No. 11 Arkansas Heads to Wisconsin for Regular Season Finale
10.16 Wisconsin adidas Invitational
FAYETTEVILLE, Ark. – With four team titles already secured this season Arkansas heads to Madison, Wis. for its final competition of the regular season.
The Razorbacks are set to compete at the Wisconsin adidas Invitational, a meet that is considered by many, the most challenging meet of the season, second only to nationals.
Established just six years ago, the Wisconsin adidas Invitational has garnered national acclaim for hosting the best of the best prior to the end of season showdown at the NCAA championships. This year the tradition continues as the host team, 14th ranked Wisconsin has compiled a list of 36 entries of which 20 are nationally ranked.
2014 saw a dominant Arkansas five made up of Grace Heymsfield, Jessica Kamilos, Shannon Klenke, Diane Robison and Dominique Scott finish second behind the eventual 2014 national championship team, Michigan State. Iowa State junior, Crystal Nelson was the top finisher overall crossing the line in 19:35.00.
The only returner from last year's top five, Scott, will compete in her first 6K race of the season on the Thomas Zimmer Championship course. A two-time All-American with a best national finish just outside the top five, Scott boasts a solid personal best at that distance of 19:22.74.
Along with the senior standout, the Razorbacks will look to freshman Devin Clark to help their chances in securing a successful team finish. New to the world of 6Ks Clark currently holds the fourth best time at that distance among SEC runners with her PR of 20:39.00 from UC Riverside.
Head coach Lance Harter has developed an impressive blend of young and veteran runners including freshman Safee Belbina, Sydney Brown and Claudia Verstraten, sophomores, Kelsey Schrader and Nikki Hiltz, juniors, Valerie Reina and Regan Ward and senior, Kaitlin Flattmann. All have the potential to be major playmakers for the Razorbacks at Wisconsin and during the upcoming postseason.
Arkansas will be in action in Madison on Friday, Oct. 16 at 11:00 a.m. The USTFCCCA will be providing a live stream of updates featuring video, results and splits on their National Results Wall. Fans can engage in the event using the hashtag #adidasInvite on social media.
2015 Arkansas Women's Cross Country Schedule
Tuesday, Sept. 1, Oklahoma State Duals | Stillwater, Okla. | 2nd of 4
Saturday, Sept. 12, UC Riverside Invitational | Riverside, Calif. | 1st of 15 – 6K, 1st of 17 – 5K
Saturday, Sept. 19, Missouri Southern Stampede | Joplin, Mo. | 1st of 25
Saturday, Oct. 3, Chile Pepper Festival | Fayetteville, Ark. | 1st of 17
Friday, Oct. 16, Wisconsin adidas Invitational | Madison, Wis.
Friday, Oct. 30, SEC Championships | College Station, Texas
Friday, Nov. 13, NCAA South Central Regional | College Station, Texas
Saturday, Nov. 21, NCAA Championships | Louisville, Ky.
For more information on Arkansas track and field including in-meet updates, follow @RazorbackTF on Twitter.