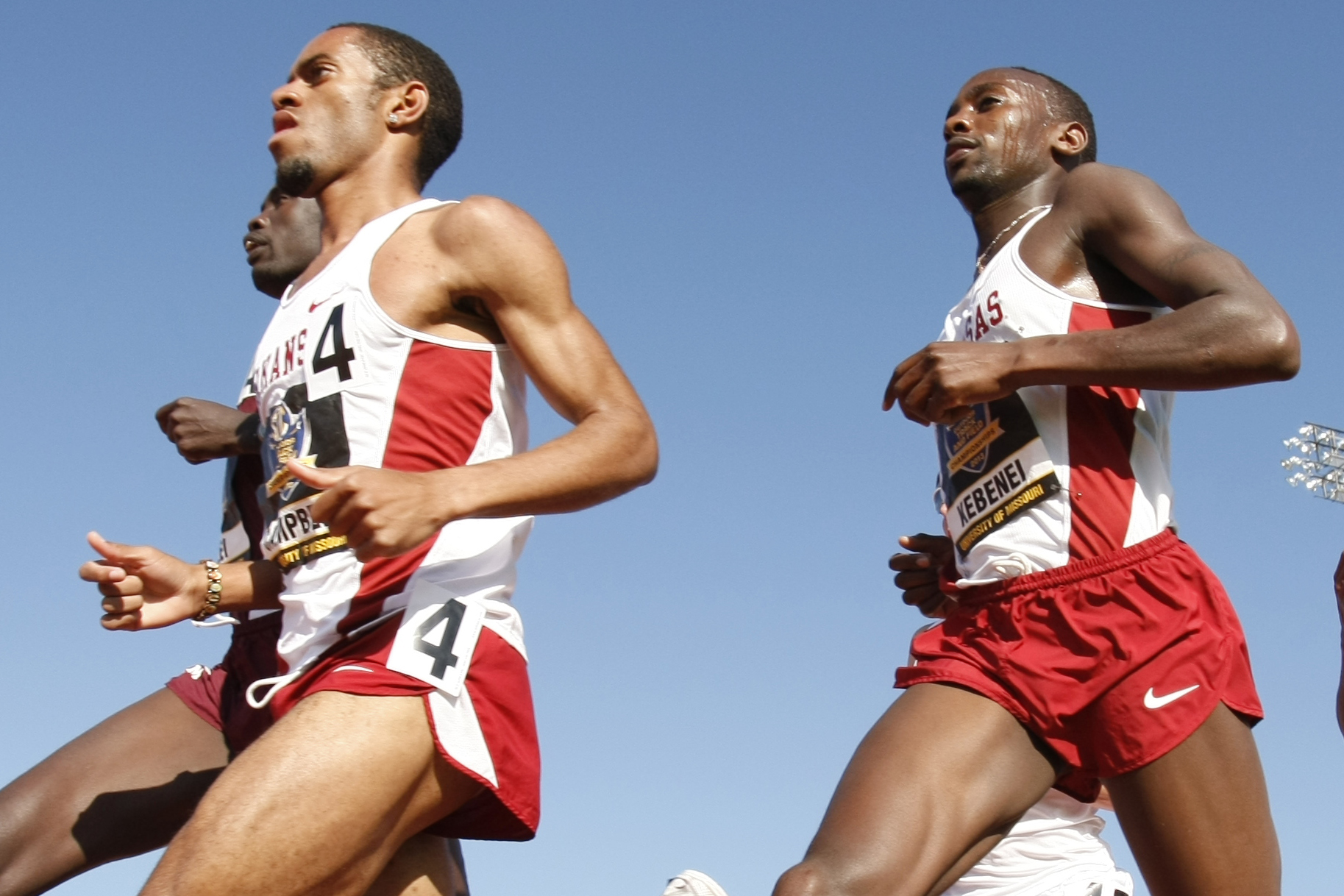 No. 12 Razorbacks Collect NCAA-Leading Times at #PaytonJordan
FAYETTEVILLE, Ark. – Highlighted by a near-school record showing by Stanley Kebenei and a blazing final lap for Kemoy Campbell at 5,000 meters, the 12th-ranked University of Arkansas men's track and field team had two collegiate-leading performances Saturday at the Payton Jordan Invitational in Palo Alto, Calif. Each of the Razorbacks' three runners at the distance-focused meet secured a personal-best time in his respective event.
Kebenei inched closer to Arkansas' school record with his winning effort of 8:23.93 in the 3,000-meter steeplechase. He trails only Razorback great and former American-record holder Daniel Lincoln in the program's history book. In addition to the personal best, Kebenei improved upon his collegiate-best time in the event. He opened his season with an 8:31.86 at the Mt. SAC Relays but increased his lead with Saturday's performance.
In the final event of the night for the Razorbacks, Campbell shaved more than 12 seconds off his previous best at 5,000 meters with his time of 13:20.39. With his showing, he not only took over the NCAA lead this season but he moved to No. 2 on the program's all-time performance list. Saturday's race his first 5K since the 2013 season. Campbell was the top collegiate finisher in the race and finished seventh overall in the 21-man field.
The Razorbacks opened the day with a PR from Frankline Tonui in section three of the 3,000-meter steeplechase. In just his second steeplechase at Arkansas, Tonui knocked more than 10 seconds off his previous best to finish second in a time of 8:45.91 which would move into the top 20 of the national ranking based on times entering the weekend.
Payton Jordan Invitational
Palo Alto, Calif. | Cobb Track and Angell Field
5,000 Meters
Section 1
7. Kemoy Campbell – 13:20.39 [PR – previous: 13:32.82]
3,000m Steeplechase
Section 1
1. Stanley Kebenei – 8:23.93 [PR – previous: 8:24.45]
Section 3
2. Frankline Tonui – 8:45.91 [PR – previous: 8:56.56]
The Razorbacks' next meet is the 2015 SEC Outdoor Championships. This year's conference meet will be contested May 14-16 at Spencer Stadium/Maddox Track in Starkville, Miss. Overall, the Arkansas men have won 18 SEC outdoor titles with their most recent triumph coming at the 2013 league meet.
For more information on Arkansas track and field including in-meet updates, follow @RazorbackTF on Twitter.