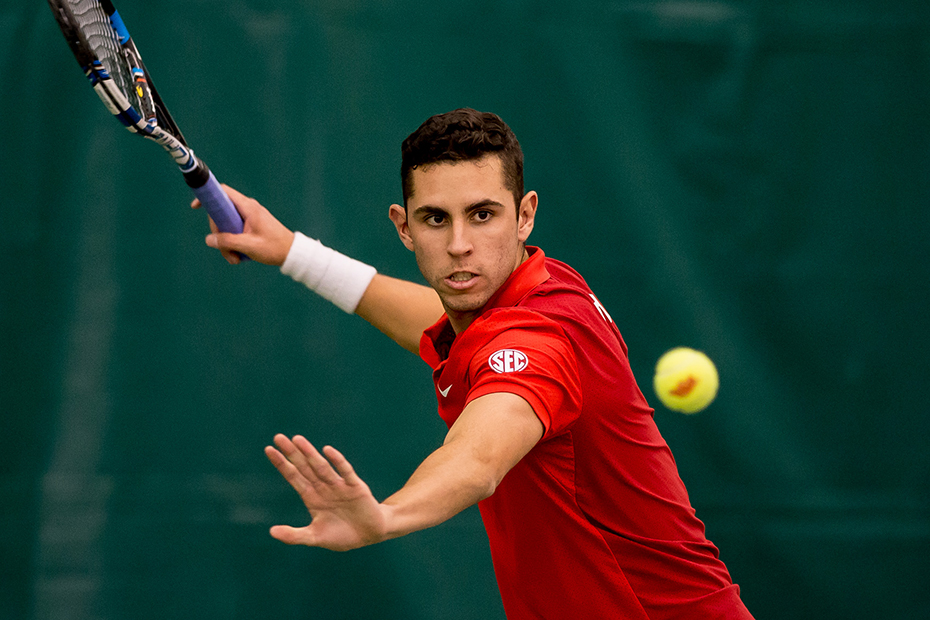 No. 12 Razorbacks To Host SEC's Top 'Dawgs
FAYETTEVILLE, Ark. — With two matches remaining in the Arkansas men's tennis team's regular season, the No. 12 Razorbacks must win both to secure a top-four seed at the SEC Tournament from April 20-24 in Columbia, South Carolina.
The two teams that stand in Arkansas' way of accomplishing that goal are No. 6 Georgia and the tournament host school, South Carolina.
First, the Bulldogs come to town for a 4:30 p.m. CDT match Friday, April 15 at George M. Billingsley Tennis Center. Georgia is riding a 12-match win streak, and with an undefeated 10-0 record in SEC play, the team has already clinched the regular season title with two contests remaining.
The Razorbacks, meanwhile, are 7-3 in conference competition and stand alone in third place in the league. With three other teams tied for fourth with four losses apiece, Arkansas must finish with an undefeated weekend to stay at No. 3. Otherwise, tiebreaker scenarios could muddy up the team's opportunity for a double bye as a top four seed.
At No. 12 in the nation, the Razorbacks have reached their highest ranking of the year. Mike Redlicki (No. 26) and Jose Salazar (No. 76) have also done just that, as the two have combined for a 26-7 record at the top two singles spots, including a 15-5 mark in SEC competition and a 15-6 record against ranked opponents.
Georgia counters with No. 24 Austin Smith, No. 34 Wayne Montgomery and No. 91 Paul Oosterbaan in singles play. The Bulldogs also boast the No. 7 doubles pair of Smith and Ben Wagland to combat Arkansas' No. 23 duo of Giammarco Micolani and Redlicki.
The Razorbacks will wrap up the regular season Sunday, April 17 at 1 p.m. against South Carolina. The Gamecocks have a 3-7 SEC mark, which puts them 11th in the conference out of 13 squads. Against the bottom seven teams in the league, Arkansas boasts an undefeated 6-0 record thus far.
Still, South Carolina has secured a win at Vanderbilt and dropped two close, 4-3 decisions at Kentucky and LSU earlier this season. At No. 60 in the nation, Gabriel Friedrich is the Gamecocks' most highly-ranked singles player.
There will be free pizza, popcorn, Keurig products and Pepsi soft drinks available for all Arkansas fans to come support the team at Billingsley Tennis Center. Fans can enter to win two tickets to Razorback Baseball's game Saturday, April 30 vs. Texas A&M and also register to win a Fitbit. The first 50 students in attendance will receive free Chick-Fil-A sandwiches, courtesy of Arkansas Student Government.
For more information on Razorback men's tennis, please follow @RazorbackMTEN on Twitter.