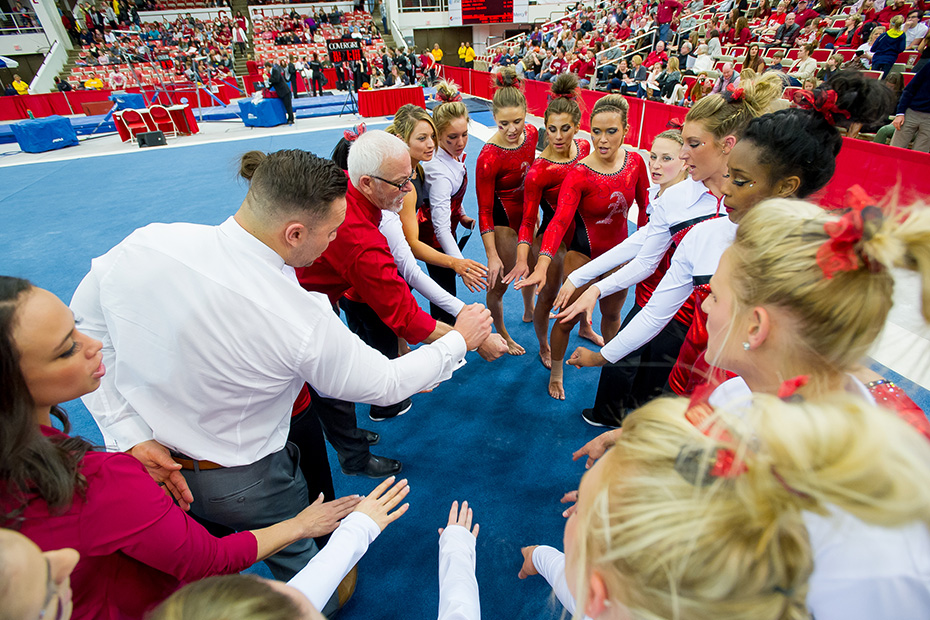 No. 13 @RazorbackGym Opens the Year at Co-Defending Champion, Oklahoma
NORMAN, Okla. – The No. 13-ranked University of Arkansas gymnastics team opens the 2015 season with a stiff test, as they face off against second-ranked and Co-Defending NCAA Champion, Oklahoma, on Friday night. The meet will be broadcasted live from the Lloyd Noble Center on Fox Sports Southwest starting at 7 p.m.
The Matchup
The Razorbacks come into the meet ranked as the No. 13 team in the nation according to the Gyminfo Preseason Coaches' Poll, and looks to knock off the No. 2 team in the preseason poll. The Sooners begin their defense of the program's first NCAA team championship after they tied Florida at last year's NCAA Super Six, when both teams posted a 198.175. Arkansas returns nine letterwinners from last season, including sophomore Amanda Wellick, who is the lone gymnast on this year's roster that competed in the 2014 NCAA Championship Session. While for Oklahoma, they return 12 gymnasts from last year's championships squad, including six NCAA All-Americans.
Series History
Oklahoma leads the all-time series, 10-1, in a series that dates back to 2005. The two teams have met every year since 2008. Arkansas' lone win came on Jan. 26, 2009, when they defeated the Sooners, 196.900-195.625, in Norman. Last season, OU defeated the Razorbacks, 197.425-196.950, in Barnhill Arena.
Razorback Openers
Arkansas is 17-11 all-time in season-opening meets. Last season, the Razorbacks opened the year with a tri-meet against Western Michigan and Bridgeport on Jan. 10, and posted the program's second-highest season-opening score of 196.200. The team's highest opening score came in 2012, when they scored a 196.450 to win the Cancun Challenge.
A New Era
Friday's meet marks the first time in program history that the Razorbacks will be under the guidance of one head coach. Mark Cook, who has served as co-head coach with Rene Lyst since the program's inception in 2002, will now head the program alone after Lyst took the head coaching job at Arizona State over the summer.
Oklahoma Connection
Junior Keara Glover is the lone gymnast from the Sooner State on Arkansas' roster. The Oklahoma City native will be competing head-to-head against her home state team for just the second time in her career head, and the first time in Oklahoma. Last season, Glover posted a 9.750 on the bars in her first action against the Sooners.
Wellick Leads Returners
Arkansas brings back nine gymnasts from a squad that finished third at the 2014 NCAA Fayetteville Regional. Sophomore Amanda Wellick highlights the returnees, as she is the only returning athlete that competed in the NCAA Championship Session last season and is the reigning Southeastern Conference Freshman of the Year. The Wheaton, Illinois native will be one of two all-around gymnasts to compete for Arkansas on Friday, as she looks to build off a strong rookie campaign where she scored a 9.90 on the vault, bars, and floor exercise. In fact, Wellick recorded a personal-best score of 9.90 in the floor exercise against Oklahoma last season.
An All-American Return
Senior Stephani Canizaro is the only returning All-American for head coach Mark Cook. The Nesbit, Mississippi native last earned NCAA All-American honors in 2012 for her performance in the floor exercise. Her previous accolades and national championship experience will play a vital role on this year's team, as they feature eight underclassmen (three sophomores, five freshmen). Last season was a banner year for Canizaro, as she set personal-best scores in the vault (9.85), bars (9.85) and floor exercise (9.85).
All-Around Performances
A pair of underclassmen will see action in all four events on Friday, as sophomore Amanda Wellick and freshman Paige Zaziski will compete as all-around gymnasts. This will be the second-straight season Wellick will compete in the all-around, while it will be a debut meet for Zaziski, a highly-touted recruit from Hunts Gymnastics in Michigan.
Lineups
Vault
Heather Elswick
Stephani Canizaro
Kathleen York
Paige Zaziski
Amanda Wellick
Bars
Keara Glover
Heather Elswick
Erin Freier
Stephani Canizaro
Amanda Wellick
Paige Zaziski
Beam
Samantha Nelson
Keara Glover
Amanda Wellick
Paige Zaziski
Erin Freier
Sydnie Dillard
Floor Exercise
Stephani Canizaro
Sydnie Dillard
Paige Zaziski
Samantha Nelson
Heather Elswick
Amanda Wellick
For more information on the Arkansas gymnastics team, follow @RazorbackGym on Twitter.