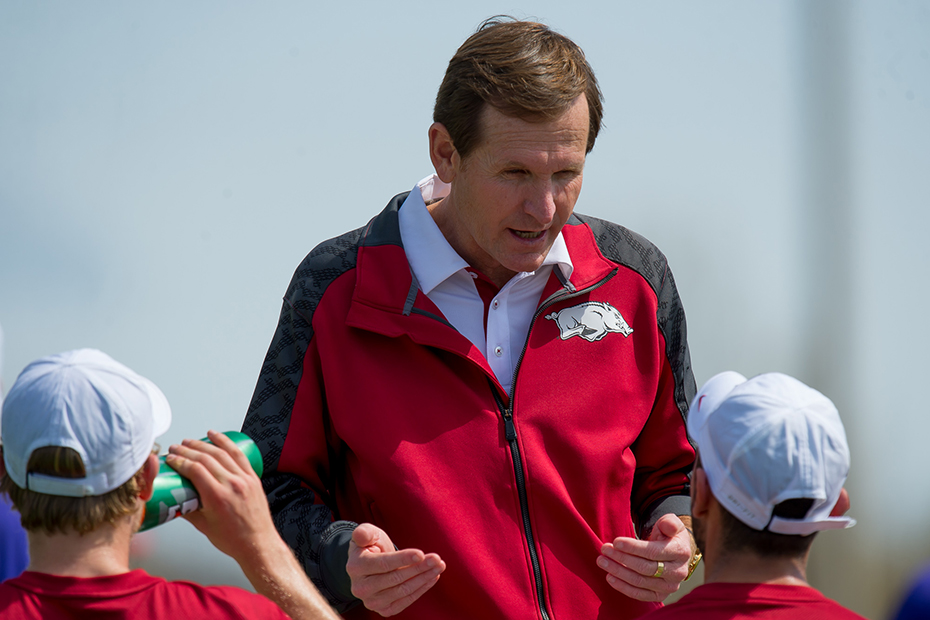 No. 13 Razorbacks Face SEC Road Swing
FAYETTEVILLE, Ark. — The Arkansas men's tennis team officially has a target in its back. With three straight SEC wins and a 13-3 overall record, the No. 13 Razorbacks enter a Friday, March 18th matchup at No. 24 Florida with their highest team ranking since 2006.
Following a weekend sweep of No. 7 Texas A&M and LSU, Arkansas improved to 3-1 in conference play and jumped from No. 32 to No. 13 in the Oracle/ITA Rankings. The Razorbacks are 3-2 away from Billingsley Tennis Center – one of only three SEC teams with a winning road record – and boast a win over No. 10 Oklahoma in Norman.
"We're eager to play again after an exciting weekend," head coach Andy Jackson said. "We have shown we can play well on the road with our wins at Oklahoma and SMU. Now Florida and Auburn are great opportunities for us."
At the top singles spot in Arkansas' lineup sits the only undefeated singles player in the SEC: red-hot Mike Redlicki. The defending SEC Player of the Week is 4-0 over his first two weekends against conference opponents, and will ride a seven-match win streak into Friday evening's face-off against Florida, who is 7-4 on the season with a 2-1 record in league play.
The No. 43 Redlicki is set to go up against No. 21 Diego Hidalgo of the Gators. Hidalgo is one of four Florida players ranked in the top 75 in the nation; joining No. 14 California, No. 2 North Carolina and No. 4 Ohio State as the only four schools to boast that fact.
The others are No. 33 Elliott Orkin, No. 75 Alfredo Perez and No. 51 Chase Perez-Blanco, who the Razorbacks expect to stack up against Jose Salazar, Santiago Munoz and Giammarco Micolani at the 2-3-4 spots in the singles lineup. Salazar has won all three times during the team's three-match streak, while Micolani has registered two consecutive victories.
Meanwhile, the duo of Micolani and Redlicki has its hands full once again after a top-10 doubles win over LSU's No. 8 pair of Boris Arias and Jordan Daigle. The Gators have the No. 2 team in the country of Hidalgo and Gordon Watson, which boasts only a 5-3 dual-match record, but has won two consecutive matches.
Following the trip to Gainesville, Arkansas moves its focus to Auburn on Sunday, March 20 at 1 p.m. The Tigers are 8-6 on the year with an 0-3 conference record, but they are a tough team at home, boasting a 5-1 mark at Yarbrough Tennis Center. Auburn is unranked, but has a singles player (No. 82 Marko Krickovic) and a doubles duo (No. 64 Krickovic and Edward Nguyen) on the Oracle/ITA charts.
For more information on Razorback men's tennis, please follow @RazorbackMTEN on Twitter.