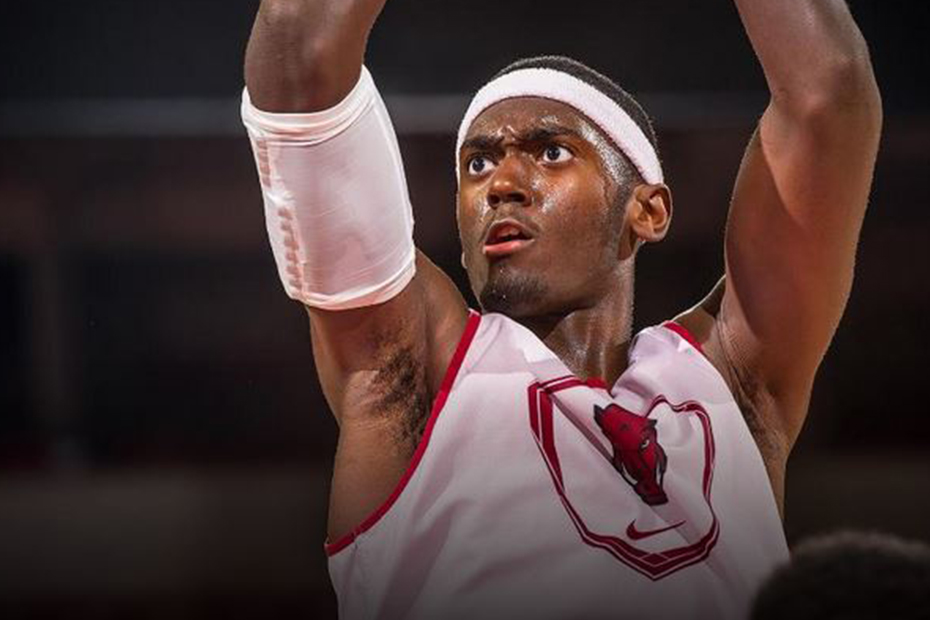 No. 18 Arkansas Ready For Road Test At Clemson
AT A GLANCE
No. 18 Arkansas (6-1) will play its third true road game of the young season on Sunday when it heads to ACC foe Clemson (4-3). The game is final part of home-and-home series with the Tigers after the Razorbacks were victorious at Bud Walton Arena last year. It will mark the first time since 1992-93 that Arkansas will play three non-conference road games the first time since 1999-2000 that Arkansas has played two ACC teams in the same season after defeating Wake Forest, 83-63, on Nov. 19.
RAZORBACKS IN THE NATIONAL POLLS
Arkansas appeared in the Associated Press Top 25 for the second straight week, jumping seven spots to No. 18. It marks the first time since December of 2000 that the Razorbacks have been ranked in the top 25 two straight weeks, while they also cracked the USA Today Coaches Poll for the first time this year at No. 21. Arkansas holds a 381-102 record all-time as a ranked team.
GAMEDAY #RAZORFACTS

GAME

 NO. 18/21 ARKANSAS (6-1) AT CLEMSON (4-3)

DATE | TIME

Sunday, December 7, 2014 | 4:05 P.M. CT

SITE | ARENA

Clemson, S.C. | Littlejohn Coliseum (10,000)

TV | VIDEO

ESPNU & WatchESPN App

TALENT

Rich Hollenberg (P-B-P) & Stan Heath (Analyst)

AUDIO

Razorback/IMG Sports Network

TALENT

Chuck Barrett (P-B-P) & Scotty Thurman (Analyst)

LIVE STATS

www.ArkansasRazorbacks.com

SOCIAL

Twitter | Facebook | Instagram

HASHTAGS

#Fastest40 | #WeHogs

STREAK

L1

ON THE ROAD

1-1

VS CLEMSON

2-0

VS THE ACC

15-19

NEXT UP

vs. Dayton (Dec. 13)
#RAZORSTAT
Arkansas is one of just four teams in the country to score 77+ points in every game this season, ranking fifth at 88.1 ppg.
STARTING 5 QUICK 5 HITS
#00 | Rashad MADDEN (G)
• Only player in the SEC averaging at least 10 points (11.4) and five assists (5.9).
• Tied for 26th nationally and second in the SEC in assists per game (5.9).
• Has 32 assists over the last five games, leading the team in assists each game.
• Among the SEC active leaders in career points (840/4th) and assists (247/3rd).
• 160 points shy of becoming the 36th player in Arkansas history to score 1,000 points.
#05 | Anthlon BELL (G)
• Third on the team at 11.9 points per game.
• SEC leader in threes per game (2.7) and total three-pointers (19).
• Scored 20 points in four of his last 12 games dating back to last season.
• 123 points in his last 148 minutes played at Bud Walton, hitting 31-of-52 from three.
• Arkansas is 15-2 all-time when he reaches double figures
#24 | Michael QUALLS (G)
• Scored a team-high 17 points off the bench against Clemson in 2013-14.
• Earned first career SEC Player of the Week honor on Monday.
• Had back-to-back 20-point games for the first time in his career.
• Second on the team and 10th in the SEC in scoring (14.6).
• Has five 20-point games in his last 16 contests after one over the first 55 of his career.
#02 | Alandise HARRIS (F)
• Coming off a season-high 15 points in 18 minutes at Iowa State.
• Just two points shy of 1,000 for his collegiate career (Houston & Arkansas).
• Returned from missing one game with a foot injury at Iowa State.
• Reached double figures three times and 50 times over his career.
• Started all six games he's played in.
#10 | Bobby PORTIS (F)
• Wooden Award Preseason Top 50 & a candidate for the Oscar Robertson Trophy.
• Top 25 in the SEC in both scoring (15.1/8th) and rebounding (6.4/14th).
• Reached the 20-point plateau twice.
• Scored 24 points in the season opener, the most in an opener by a Razorback since 2009.
• Has hit 7-of-8 from three-point land on the season.
@RAZORBACKMBB FAST BREAK FACTS
• First time since 1998-99 that Arkansas has played two ACC opponents in non-conference action.
• First road game against an ACC program since Dec. 23, 1998 at Wake Forest (W, 75-59).
• Looking for first 7-1 start since 2010-11.
• Won four of its last seven regular season road games dating back to last year – at SMU, at Kentucky, at Mississippi State & at Vanderbilt.
• Win at SMU was Arkansas' first road win as a ranked team since 1999 at Mississippi State and first true non-conference road win since 2008.
• Haven't won two non-conf. road games in the same season since 2001.
• Ranked for the first time since November of 2007, snapping a streak of 225 games played as an unranked team.
• Ranked back-to-back weeks for the first time since December of 2000.
• Own a 381-102 record all-time as a ranked team.
• Lead the nation in assists (20.9) and fifth in scoring (88.1).
• Only team in the SEC and one four teams in the country that hasn't been held below 77 points.
• First time since 1993-94 Arkansas has scored 77+ points in each of the first seven games.
• Hold the early lead in the SEC in scoring (88.1), three-pointers per game (8.9), three-point percentage (.443) and assists (20.9).
• Eight different players have reached double figures.
• Three different players have scored 20 points in a game with someone reaching 20 points in five of seven games.
• Held below 40 points in a half just four times, while scoring 50+ points in the second half three of the last five games.
• Forced its opponents into double-digit turnovers in six halves.
• Hold the early lead the SEC in steals (9.1) and assist/turnover ratio (1.7).
• Out-scoring opponents 160-93 in points off turnovers.
• Finished with a positive assist/turnover ratio in each game while two opponents has accomplished the feat.
• Scored 25+ points off turnovers in four games.
COACHING MATCHUP
@RazorbackMBB
Head Coach: Mike Anderson (Tulsa '82)
Record at Arkansas: 65-40 (4th Season)
Overall Record: 265-138 (13th Season)
Vs. Clemson: 3-0
Clemson
Head Coach: Brad Brownell (DePauw '91)
Record at Clemson: 78-62 (5th Season)
Overall Record: 245-146 (13th Season)
Vs. Arkansas: 0-1
ONE-TWO PUNCH
Either junior MICHAEL QUALLS or sophomore BOBBY PORTIS has been Arkansas' top scorer in six of seven games this season. One of the two has reached the 20-point plateau in five games, while they are just one of two duos in the SEC to both rank in the top 10 in scoring. Qualls and Portis don't just get it done on the offensive end, as they rank one and two on the team in rebounding, leading the way on the glass in the five of the last six contests. Below is a look at the top scoring duos in the SEC.
Program Points Per Game
Levi Randolph & Ricky Tarrant Alabama 33.5
Jarell Martin & Jordan Mickey LSU 31.7
KT Harrell & Cinmeon Bowers Auburn 30.5
Damian Jones & Luke Kornet Vanderbilt 30.1
Bobby Portis & Michael Qualls Arkansas 29.7
STICKY FINGERS
Sophomore MANUALE WATKINS seems to have a nose for the ball. Through seven games, Watkins' 18 steals is tied for the SEC lead in total steals with South Carolina's Sindarius Thronwell despite playing 81 less minutes. With at least one steal in every game, Watkins is 31st nationally and tied for second in the SEC in thefts per game, good for more than double the amount by any other Razorback. To put Watkins' hot start in perspective, Julysses Nobles led Arkansas in steals in 2010-11 with 35 over 768 minutes and in 2009-10, Rotnei Clarke's 36 thefts led the way over 1,058 minutes played. Watkins has seen 122 minutes of work.
INSIDE THE NUMBERS
•Arkansas has scored at least 70 points in 25 straight non-conference games and 41 of 48 under head coach MIKE ANDERSON.
•Arkansas is 6-0 when shooting 40 percent from three.
•10 different players are averaging double figure minutes.
•Senior RASHAD MADDEN is the only player in the SEC averaging at least 10 points and five rebounds.
•Sophomore BOBBY PORTIS is 7-of-8 from three this year and 10 of his last 16 dating back to last year.
•All four of junior ANTHLON BELL'S career 20-point games have come over the last 12 games compared to zero over his first 56 games.