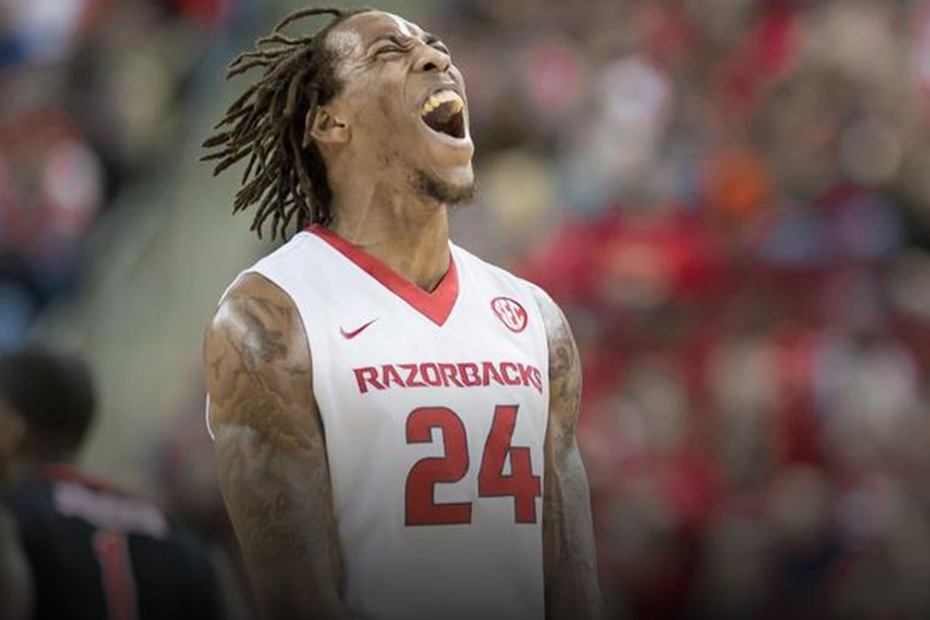 No. 18 Arkansas Ready For SEC Clash With Top-Ranked Kentucky
AT A GLANCE
Riding its first seven-game SEC win streak since 1994, No. 18/16 Arkansas will look for its fourth straight win over Kentucky on Saturday when it takes on the top-ranked Wildcats at Rupp Arena. The Razorbacks are the last team to leave Rupp Arena with a win and enter Saturday with eight wins over their last 12 SEC road appearances.
• Arkansas owns sole possession of second place in the SEC standings by two games at 12-3.
• Three-game win streak over Kentucky is a program-best while its taken four of the last five.
• Arkansas (No. 19) is one of six SEC teams in the ESPN RPI top 60.
• One of eight teams with three top 50 RPI road wins and owns a 5-2 mark vs. the top 50.
• Arkansas' lone win against the No. 1 team in the nation came in 1984 against North Carolina.
#RAZORFACT
Arkansas is 19-0 this season when forcing opponents into 15 or more turnovers. Over their seven-game win streak, the Razorbacks have a turnover margin of +8.9.
GAMEDAY #RAZORFACTS

GAME

NO. 18/16 ARKANSAS (23-5, 12-3) AT NO. 1/1 KENTUCKY (28-0, 15-0)

DATE | TIME

Saturday, February 28, 2015 | 3:08 P.M. CT

SITE | ARENA

Lexington, Kentucky | Rupp Arena (24,000)

TV | VIDEO

CBS

TALENT

Kevin Harlan (PBP) & Bill Raftery (Analyst)

AUDIO

Razorback/IMG Sports Network

TALENT

Chuck Barrett (P-B-P) & Scotty Thurman (Analyst)

LIVE STATS

www.ArkansasRazorbacks.com

SOCIAL

Twitter | Facebook | Instagram

HASHTAGS

#Fastest40 | #BeatUK

STREAK

W7

LAST 5

5-0

LAST 10

9-1

ON THE ROAD

6-4

STREAK

W3

VS KENTUCKY

11-25

STREAK

W3
@RAZORBACKMBB FAST BREAK FACTS
• No. 18 ranking equals its highest this season in the Associated Press Top 25 while No. 16 in the USA Today Coaches poll is a season-best.
• In sole possession of second place in the SEC by two games at 12-3.
• Best start through the first 15 SEC games since 1993-94.
• First time since 1994-95 that Arkansas has started 23-5.
• One of 15 teams in the country with 23 or more wins.
• Won 11 straight games in February and is 12-2 the last two seasons.
• Won 18 of its last 22 SEC regular season games dating back to last year.
• Own a 6-2 record in SEC games decided by five points or less and have won four conference games after trailing at the half, including three on the road.
• Own a 5-2 record in SEC road games, good for the second-most wins in program history.
• Won eight of its last 12 SEC road games dating back to last year … previous eight SEC road wins took 51 attempts.
• Currently No. 19 in the ESPN RPI with a 5-2 record against the top 50.
• One of eight teams with three top 50 RPI road wins – SMU (No. 17), Georgia (No. 28) & Ole Miss (No. 46).
• No. 5 seed in the South Region in Joe Lunardi's most recent Bracketology released on Feb. 27 that includes six SEC teams.
• Rank in the top 10 nationally in points (79.5/9th), assists (17.1/4th), assist/turnover ratio (1.5/9th) and turnover margin (+4.9/6th).
• Won 28 straight games when leading at the half.
• Lead the SEC in overall scoring (79.5) and in SEC games (75.3).
• Joins Kentucky as the only power conference teams to score 100 points in a league game this year.
• BOBBY PORTIS and MICHEL QUALLS have combined for 30+ points 17 times (14-3) and 40+ points in five games (5-0).
• Portis and Qualls are the third-best scoring duo in the SEC at 32.7 ppg.
• Own a 19-0 record when forcing 15+ turnovers.
FIRST TIME SINCE …
12 SEC Wins                                 1994-95
12-3 Start to SEC Play                  1993-94
7-Game SEC Win                          1993-94
5 SEC Road Wins                          1994-95
3-Game SEC Road Win Streak      1997-98
Winning SEC Road Record            1994-95
6 SEC Wins by 5 Points Or Less     1994-95
Back-to-Back 20-Point SEC Wins   1993-94
Ranked in February                       1999
SEC WINNING WAYS
Over the last two years, Arkansas has produced a seven-game and a six-game SEC win streak. Last year's six-game win streak came at the very end of the season and combined with their 12-3 SEC record this year, the Razorbacks are 18-4 in their last 22 league contests with 11 straight wins in February. Below is a look at the top records in the SEC over the last 22 conference games.
Arkansas      18-4
Kentucky      18-4
Georgia        14-8
Florida          13-9
Texas A&M    13-9
SERIES INFO.
All-Time Series: Kentucky leads, 25-11
Since Arkansas Joined The SEC: Kentucky leads, 20-11
At Rupp Arena: Kentucky Leads, 10-3
Arkansas and Kentucky met twice in the regular season in 2013-14 for the first time since the Razorbacks joined the SEC in 1991-92. Both meetings last year went into overtime and both times Arkansas came out on top to earn its first-ever season sweep of the Wildcats and extend its winning streak in the series to a program-best three games. The Razorbacks have won four of the last five games against Kentucky, including three that have gone into overtime.
MOMENT TO REMEMBER
Last year at Bud Walton Arena, MICHAEL QUALLS supplied one of college basketball's most memorable highlights of 2013-14 when Arkansas defeated No. 13/12 Kentucky in overtime. Qualls delivered a put-back dunk with 0.2 seconds left in OT for the 87-85 win. The play landed at No. 1 on #SCtop10.
COACHING MATCHUP
@RazorbackMBB
Head Coach: Mike Anderson (Tulsa '82)
Record at Arkansas: 82-44 (4th Season)
Overall Record: 282-142 (13th Season)
Vs. Kentucky: 4-2
Kentucky
Head Coach: John Calipari (Clarion '82)
Record at Kentucky: 180-37 (6th Season)
Overall (On-Court) Record: 625-177 (22nd Season)
Vs. Arkansas: 5-6
STARTING 5 QUICK 5 HITS
#31 | Anton BEARD (G)
• Named SEC Freshman of the Week on Monday.
• Started the last eight games (7-1), averaging 9.4 points.
• Hit 9-of-14 from three-point land the last four games.
• Reached double figures seven times in SEC play after once in non-conf.
• Taken a team-high 13 charges.
#00 | Rashad MADDEN (G)
• 34th all-time in program history with 1,038 career points.
• His 133 assists are the most by a Razorback since 2008-09.
• Seventh all-time in assists (339), just two back of Alvin Robertson.
• Team leader with a plus/minus rating of +247 on the year.
• Second in the SEC in assists (4.8) and free throw percentage (.878).
#24 | Michael QUALLS (G)
• Ninth in the SEC in scoring at 15.1 points per game.
• T-3rd in the SEC with nine 20-point games, including eight at home.
• Owns two of the top four scoring performances by an SEC player this year.
• Has appeared on the #SCtop10 12 times in his career.
• Increased scoring average by 10.5 points since his freshman season.
#02 | Alandise HARRIS (F)
• Returned to the starting lineup 11 games (10-1) ago.
• Three of five double figure games in SEC play have come on the road.
• Scored 1,151 points over his career at Arkansas and Houston.
• One of seven players in the SEC with 25 steals and 25 blocks.
• Coming off 11 points, four assists and four blocks vs. Texas A&M.
#10 | Bobby PORTIS (F)
• Two-time SEC Player of the Week.
• Watch List for the Naismith Trophy and the Wooden Award.
• Averaging 18.3 points and 9.1 rebounds in SEC play.
• SEC leader in double-doubles (8) in league action.
• Career-best 23 straight games in double figures.
BP MODE
Currently the only player in the SEC in the top 5 in scoring (17.6/2nd), rebounding (8.5/4th), offensive rebounds (3.5/2nd), field goal percentage (.564/1st) and blocks (1.6/5th), sophomore BOBBY PORTIS has continued to etch his name in the Arkansas record books.
• First player in program history with five straight double-doubles in SEC regular season action.
• First player in program history with 30 points and 10 rebounds in an SEC game against Vanderbilt with 32 points and 11 boards.
• Earlier in the year, Portis became the first player in program history to go for 18+ points and 7+ rebounds in six straight games since CORLISS WILLIAMSON did during his sophomore season in 1994.
• Just the fifth player to record multiple 30-point games in his career against SEC opponents, joining TODD DAY (4), JANNERO PARGO (3), SCOTTY THURMAN (3) and JONATHON MODICA (2).