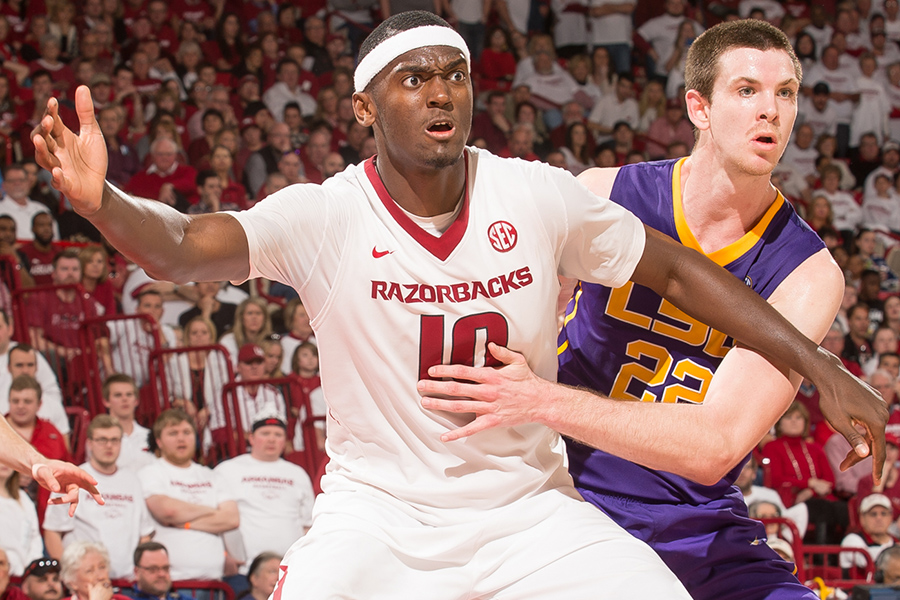 No. 18 @RazorbackMBB Drops Heartbreaker To LSU
FAYETTEVILLE, Ark. (AP) – Keith Hornsby hit a 3-pointer at the buzzer to give LSU an 81-78 victory over No. 18 Arkansas.
The Tigers (22-9, 11-7 Southeastern Conference) hit 3-pointers on their final two possessions to erase a 3-point deficit. Jalyn Patterson's 3-pointer with 57.8 seconds remaining tied the game 78-78.
After starring on offense, LSU forward Jarell Martin set up the game-winner with his defense. Martin blocked Arkansas forward Alandise Harris on a drive with 22.9 seconds remaining to give the Tigers the ball.
Jones took a timeout to set up the last play. Josh Gray penetrated and kicked the ball to Hornsby, who made the game-winner from the corner over the outstretched arms of Arkansas defender Michael Qualls.
Martin scored 27 points while playing all 40 minutes for LSU. He continually got near the basket, often making off-balance shots to answer Arkansas runs.
Patterson added 20 points for the Tigers. LSU was playing without its second-leading scorer and leading rebounder, Jordan Mickey, who injured his shoulder in the Tennessee game.
LSU led by 12 points in the first half and 41-35 at halftime. But Arkansas chipped away at the lead the entire second half before taking a one-point lead on two free throws by Harris with 3:32 remaining.
Harris made six free throws in the closing minutes and Anthlon Bell added a 3-pointer to help the Razorbacks extend their lead to three points. Harris, who scored 10 points in his final home game, didn't practice with the team Friday and didn't return to Fayetteville until after midnight Saturday after attending a family funeral.
"You can imagine his emotion and you could see it in the first half, it wasn't the same Alandise Harris," Anderson said. "I was proud of him in the second half when he started to settle down and got to the free throw line and made plays for us."
The Tigers made 9 of 21 attempts from 3-point range, including six by Patterson. LSU added 18 points off 12 Arkansas turnovers.
Bobby Portis scored 21 points and had a career-high 15 rebounds for the Razorbacks (24-7, 13-5). Qualls added 15 points.
Arkansas, which finished second in the SEC standings, has lost two of three games entering next week's conference tournament.
"I still don't believe we've played our best basketball for a full game," Anderson said.
Worthy Of A Hog Call (#WPS)
Junior Michael Qualls became the 37th player in program history to reach the 1000-point plateau, joining teammates Rashad Madden and Alandise Harris. Fittingly, it was a Qualls dunk with 2:54 remaining that have him career points number 999 and 1,000. The dunk is the 84th of Qualls' career and team-leading 31st of the season. He finished with 15 points, seven rebounds and four assists.
#RazorStat Of The Game
Entering the final SEC regular season game of the season with a program record eight double-doubles in league play, sophomore Bobby Portis added to that total with 21 points and a career-high 15 rebounds, including an outstanding 10 on the offensive end. Portis' 15th rebound gave him 499 for his career, while the 20-point game was his 12th of the year after one as a freshman. It was his second 20-point game of the week and eighth in SEC play.
@RazorbackMBB Quick Hits
• As the No. 2 seed in the SEC Tournament, Arkansas will play in the quarterfinals on Friday night at 6 p.m. against the winner of the No. 7 and No. 10 seed showdown.
• Third straight year under head coach Anderson that Arkansas has improved its seed in the SEC Tournament by two spots.
• Arkansas' 24 regular season wins are the most since 1994-95.
• Arkansas' 13 SEC wins are tied for the second-most in program history with the 1991-92 team (16 games).
• Today marked Arkansas' 10th (7-3) SEC game this season decided by five points or less.
• Arkansas is now 67-8 at Bud Walton Arena under coach Anderson, as its six-game win streak was snapped.
• Portis and Qualls combined for 30+ points for the 20th time (15-5) this season.
• Portis and Qualls have both reached double figures in the same game 24 of 31 games.
• Portis extended his double figure scoring streak to 26 games, surpassing the most recent 25-game streak by Todd Day at the end of 1990-91 and into 1991-92.
• Portis is now 29 points and one rebound shy of becoming the first sophomore in Arkansas history with career totals of 1,000 points and 500 rebounds.
• Portis has 11 double-doubles and 12 20-point games on the year.
• Fifth time this season Portis has gone for 20 & 10.
• Portis' 15 overall rebounds and 10 offensive caroms are both career-highs and the most by a Razorback since Devonta Abron had 16 total and 10 offensive against UConn on Dec. 7, 2011.
• Just the ninth time since 2000 that a Razorback has grabbed 15 rebounds (via @HogStats).
• First 20 & 15 game by a Razorback since Nick Davis (24 & 15) against Vanderbilt on Feb. 7, 1998.
• Qualls in the 37th player in program history with 1,000 points.
• Madden moved into sole possession of fifth place in program history with 356 assists.
• Madden's 12 points helped him pass Mike Washington and Tommy Boyer for 30th place on the all-time scoring list (10,070).
• Bell moved into 10th place all-time with 142 career three-pointers.
• Bell has 10 three-pointers in his last two games.
Up Next
As the No. 2 seed in next week's SEC Tournament, Arkansas will have a bye into Friday night's quarterfinals where it will play the winner of Thursday's matchup between the No. 7 and No. 10 seeds. Friday's quarterfinal game will tip at 6 p.m. CT and can be seen on the SEC Network.