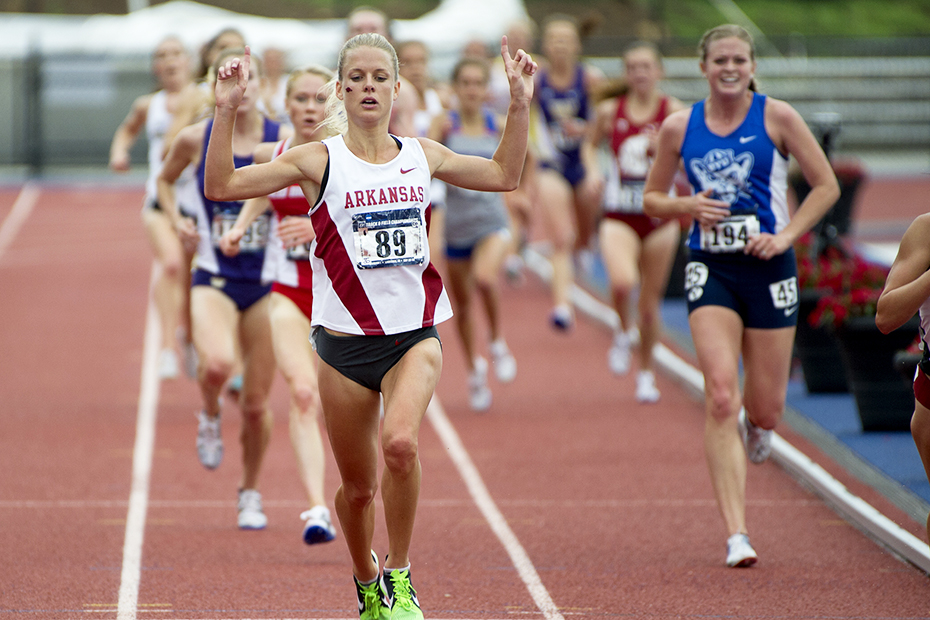 No. 2 Razorbacks Advance 12 To NCAAs
Meet Preview | Live Results | Revised Meet Schedule | Video Coverage
LAWRENCE, Kan. – Undaunted by the revised meet schedule due to the stormy conditions on day one, the No. 2 Arkansas women's track and field team ventured into the second day of the NCAA West Preliminary in Lawrence, Kansas ready to put out big performances.
Entering the meet with four NCAA qualifiers in hand (heptathlon), the Razorback women were able to add 12 more qualifiers throughout the day advancing 12 student-athletes in seven events.
2016 NCAA Qualifiers – Friday, May 27
100 Meters
• Kiara Parker advanced to the NCAA semifinals by posting the 10th-fastest time of the day of 11.50 seconds as the second-best performer of heat two. Parker is one of three freshman to make the cut and the fourth-fastest Southeastern Conference (SEC) performer in the event. She is the first Razorback to advance to the NCAA 100 semifinal since Olympian La'Shaunte'a Moore in 2004.
400 Meters
• Arkansas secured two NCAA qualifiers in the quarter-mile with Taylor Ellis-Watson advancing automatically as the top performer out of heat one in a time of 51.76 and Daina Harper qualifying with the eight-best time of the day at 52.93. The Razorbacks have now advanced a sprinter to outdoor nationals in the 400 eight consecutive seasons, including four with two qualifiers.
10,000 Meters
• Distance phenom Dominique Scott-Efurd was the first Razorback to earn a spot at Hayward Field following her first-place finish in the early morning 10K race. Scott-Efurd remains the top collegian in the event this season with her PR and Olympic A Standard time of 31:56.84 from the Payton Jordan Invitational.
400 Meter Hurdles
• The second Razorback freshman to advance to Eugene, Damajahnee Birch punched her ticket as the heat five runner-up in 57.89. In her first season taking on the intermediate hurdles, Birch has produced seven sub-59 performances and holds a personal best of 56.46, tied for No. 2 in school history behind only former Razorback great, 400 hurdle first team All-American Sparkle McKnight.
3,000 Meter Steeplechase
• Veteran and rookie duo Jessica Kamilos and Devin Clark each gained an automatic berth to NCAA outdoors, finishing as the top-two performers in heat three of the steeplechase. Clark is Arkansas' third freshman to advance to Eugene this season and currently ranks No. 10 in the NCAA as the fastest freshman competitor in the country. Kamilos is now a three-time NCAA qualifier with a personal best finish at the national meet of seventh place during the 2014 season.
Pole Vault
• For the third-consecutive year, Arkansas has advanced three vaulters to the NCAA Outdoor Championship. Senior Ariel Voskamp was a member of the past two trios and will guide Razorback freshmen Lexi and Tori Weeks through Arkansas' final competition of the 2016 season. All three vaulters finished well within the top 12 of the Western region to qualify for outdoor nationals at the historic Hayward Field in Eugene.
Long Jump
• Taliyah Brooks and Kelsey Herman jumped into the program history books this evening as the duos' NCAA qualification marked the first time Arkansas has advanced two long jumpers to the outdoor national meet. Up first in flight three, Herman secured her spot at NCAAs off a third round personal best mark of 6.24m/20-5 3/4. Brooks wasted no time following suit marking 6.33m/20-9 1/4 in flight four to finish as the third-best performer in the West.
Head coach Lance Harter sounds off on unexpected breakthroughs
"Today's performances went far beyond my expectations. I think every coach has a tendency to forecast those [competitors] that are going to be pretty secure, those that are going to be on the bubble and those that it's great that they got a chance to compete at the NCAA first round national meet, but we had people breakthrough and do things that were unpredictable. Kelsey Herman qualifying in the long jump and Taliyah Brooks qualifying in another event (long jump/heptathlon) jumping near a lifetime best. Kiara Parker as a freshman in the 100 meters, Dede [Damajahnee Birch] in the 400 meter hurdles as a freshman, Devin Clark in the steeplechase as a freshman and obviously our two freshmen pole vaulters Lexi and Tori Weeks – freshmen aren't supposed to be able to do that but I'm sure glad they are. Ariel Voskamp has had a real up and down season but she was able to put it together in the end and get the job done."
Lance Harter on key returners
"Dominique Scott-Efurd, Taylor Ellis-Watson and Jessica Kamilos all did what the team needed them to do and those type of things one never takes forgranted. Tomorrow is another day of business, couple another strong showing with our already qualified four heptathletes and we're a very formidable team."
Saturday, May 28
9:30 a.m. | Shot put – M. Dennis
10:00 a.m. | 4-x-100 relay – Arkansas A
10:30 a.m. | 1,500 (quarterfinals) – Therese Haiss, Nikki Hiltz, Annika Sisson
11:30 a.m. | 100H (quarterfinals) – Taliyah Brooks, Alex Gochenour, Kelsey Herman, Payton Stumbaugh
1:20 p.m. | 5K (semifinal) – V. Reina, D. Scott-Efurd
2:30 p.m. | 4-x-400 relay – Arkansas A
The top 12 qualifiers in each event from the two preliminary meets advance to compete June 8-11 at the NCAA Outdoor Championships in Eugene, Oregon. The NCAA East Preliminary is also being contested this weekend in Jacksonville, Florida. A live stream of the competition will be available to fans on Saturday, May 28 at 10 a.m..
Live results can be found in the NCAA West Preliminary home page.
NCAA West Preliminary Results May 26-28
Rock Chalk Park
Lawrence, Kansas
100 Meters
Kiara Parker (10) – 11.50Q
400 Meters
Taylor Ellis-Watson (3) – 51.76Q
Daina Harper (8) – 52.93Q
800 Meters
Ceara Watson (23) – 2:08.91
10,000 Meters
Dominique Scott-Efurd (1) – 34:20.35Q
400 Meter Hurdles
Damajahnee Birch (9) – 57.89Q
Brianna Swinton (14) – 58.42
Leigha Brown (22) – 59.23
3,000 Meter Steeplechase
Jessica Kamilos (5) – 10:04.76Q
Devin Clark (6) – 10:08.35Q
Pole Vault
Lexi Weeks (1) – 4.22m/13-10Q
Tori Weeks (5) – 4.22m/13-10Q
Ariel Voskamp (7) – 4.12m/13-6 1/4Q
Megan Zimlich (22) – 4.12m/13-6 1/4
Long jump
Taliyah Brooks (3) – 6.33m/20-9 1/4Q
Kelsey Herman (4) – 6.24m/20-5 3/4Q
Q denotes NCAA qualifier.
For more information on Arkansas track and field including in-meet updates, follow @RazorbackTF on Twitter.