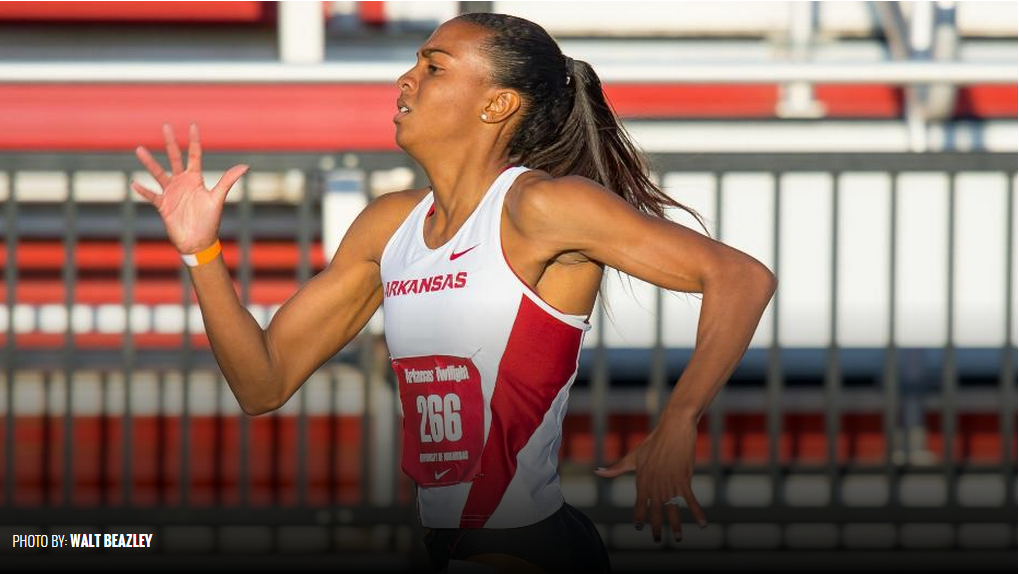 No. 2 Razorbacks Collect 11 Wins in Home Finale
FAYETTEVILLE, Ark. – In its final home meet of the year, the No. 2 University of Arkansas women's track and field team collected 11 event wins Friday at the Arkansas Twilight. The Razorbacks also posted 11 season-best performances with six personal bests along the way. For the second time this season, Taylor Ellis-Watson paced the team's efforts with three wins during the meet, while Taliyah Brooks also earned three wins of her own.
As she did at the John McDonnell Invitational, Ellis-Watson had wins at 200 and 400 meters before anchoring the 4×400-meter relay to victory in the final event of the evening. In winning the 400 meters, she clocked a season-best time of 52.16 which will place her in the nation's top 10 based on marks entering the weekend.
In preparation of upcoming heptathlon action, Brooks competed in five events Friday and posted three wins. She tallied individual victories in the high jump and long jump in addition to running a leg of the Razorbacks' victorious 4×400-meter relay. Fellow heptathlete Alex Gochenour won the 110-meter hurdles in 13.36 and had a pair of runner-up finishes in the high jump and long jump.
Brianna Swinton was a double winner in the home finale with a win in the 400-meter hurdles before leading off for the 4×400-meter relay team. In her individual event, Swinton crossed the finish line in a personal-best time of 59.63 to break the one-minute barrier for the first time this season. She opened the year with a time of 1:01.03 at the Texas Relays and has lowered her time in each of the past three races.
Arkansas also picked up field-event wins from Sandi Morris in the pole vault and Amethyst Boyd in the javelin. With victory in hand, Morris raised the bar to a would-be collegiate record of 15-3.75 but settled for a final clearance of 4.50m/14-9. In the javelin, Boyd unleashed a season-best 46.48m/152-6 in the second round of the competition to secure the win. That mark is the fourth best of her career at Arkansas.
Valerie Reina and Samantha Mohler were winners at 1,500 and 3,000 meters, respectively. In the women's final individual event of the evening, Reina raced to a personal-best time of 4:26.44 which is 13 seconds faster than the time she posted in the event earlier this season at the Arkansas Spring Invitational.
Arkansas Twilight
Fayetteville, Ark. | John McDonnell Invitational
100 Meters
2. Regine Williams – 11.67 (+0.7)
3. Shekara Boakye – 11.75 (+0.7) [PR – previous: 12.10]
7. Kaylee McCarthy – 12.58 (+0.7)
200 Meters
1. Taylor Ellis-Watson – 23.14 (-0.1)
14. Kaylee McCarthy – 25.68 (+0.5)
400 Meters
1. Taylor Ellis-Watson – 52.16 [SB]
2. Regine Williams – 54.08 [PR – previous: 54.43]
800 Meters
3. Victoria Feole – 2:11.90
1,500 Meters
1. Valerie Reina – 4:26.44 [PR – previous: 4:39.55]
11. Kara Kalisz – 5:04.71
3,000 Meters
1. Samantha Mohler – 9:50.51
3. Chandler Crumblish – 10:11.09
100m Hurdles
1. Alex Gochenour – 13.36 (+0.0)
5. Leigha Brown – 14.34 (+0.0) [SB]
–. Taliyah Brooks – DNF
400m Hurdles
1. Brianna Swinton – 59.63 [PR – previous: 1:00.47]
4x400m Relay
1. Swinton/R. Williams/Brooks/Ellis-Watson – 3:41.06
4. Brown/Feole/Boakye/McCarthy – 4:09.05
High Jump
1. Taliyah Brooks – 1.73m/5-8
2. Alex Gochenour – 1.68m/5-6
4. Leigha Brown – 1.63m/5-4.25
5. Alyssa Parker – 1.58m/5-2.25
Pole Vault
1. Sandi Morris – 4.50m/14-9
3. Desiree Freier – 4.28m/14-0.5
4. Ariel Voskamp – 4.08m/13-4.5
5. Megan Zimlich – 3.98m/13-0.75
6. Ariel Lachance – 3.78m/12-4.75 [PR – previous: 12-1.5]
–. Stephanie Diettinger – NH
Long Jump
1. Taliyah Brooks – 6.06m/19-10.75 (+0.3)
2. Alex Gochenour – 6.00m/19-8.25w (+2.4)
6. Aatiyah Henry – 5.42m/17-9.5 (+0.7)
8. Leigha Brown – 5.16m/16-11.25 (+1.6)
Triple Jump
4. Aatiyah Henry – 11.75m/38-6.75 (+0.8)
Javelin
1. Amethyst Boyd – 46.48m/152-6 [SB]
4. Leigha Brown – 36.68m/120-4 [SB]
5. Alex Gochenour – 35.63m/116-11 [SB]
8. Taliyah Brooks – 29.18m/95-9 [PR – previous: 88-8]
With the Arkansas Twilight in the books, the Razorbacks' distance crew is set to compete Saturday at the Payton Jordan Invitational in Palo Alto, Calif. The team will be represented at the Stanford event by Therese Haiss, Jessica Kamilos, Shannon Klenke, Diane Robison, Rebekka Simko, Dominique Scott, Regan Ward and Chrishuna Williams. Live results for the meet will be available through Record Timing.
This weekend marks the final competition before the 2015 SEC Outdoor Championships are held May 14-16 at Spencer Stadium/Maddox Track in Starkville, Miss. Arkansas is the defending meet champion and has won five of the past seven SEC competitions overall, dating back to the 2013 indoor meet in Fayetteville.
For more information on Arkansas track and field including in-meet updates, follow @RazorbackTF on Twitter.