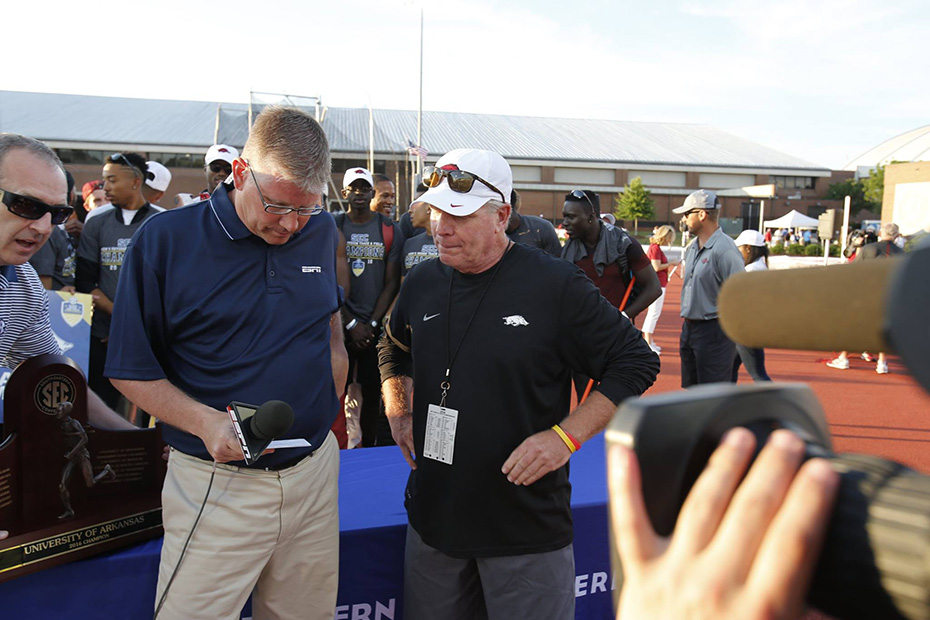 No. 2 Razorbacks Narrowly Edged Out For Program of the Year
NEW ORLEANS – Coming off its best showing at the NCAA Outdoor Championship since 2003, the Arkansas men's track and field team capped its season at No. 2 in the USTFCCCA Program of the Year standings.
The USTFCCCA Program of the Year Award annually recognizes the most outstanding cross country and track & field programs in each NCAA division for each gender. In order to be eligible for the award, an institution must qualify for each NCAA Championship. Points are assigned based on a team's finish at each national championship (1st = 1 point, 2nd = 2 points, 31st = 31 points) with the lowest total combined score determining the award-meriting program.
An annual contender for the Program of the Year Award, Arkansas is the only Southeastern Conference team to have ever received the honor and the only program in the conference this season to finish inside the top 10.
The 2013 recipients of the John McDonnell Program of the Year award, the Razorbacks were narrowly edged out by a one point margin by the Oregon Ducks who took home the honor with a score of nine points.
Arkansas' road to contention for the top award began in November during the 2015 NCAA Cross Country Championship in Louisville, Kentucky.
Led by international standouts Jack Bruce (Brisbane, Australia) and Frankline Tonui (Nakuru, Kenya) who finished as All-Americans, the Razorbacks raced to a sixth-place team finish on a wet and chilly course at E.P. 'Tom Sawyer' Park – its best performance in 10 years.
During the indoor track and field season, Arkansas put its versatility on full display revealing to the nation its depth in the sprints and jumps accompanying its distance crew.
At the 2016 NCAA Indoor Championship in Birmingham, Alabama, the Razorbacks scored 39 points placing second as the highest-finishing SEC team with the help to two individual event national champions, Jarrion Lawson (long jump) and Clive Pullen (triple jump).
Arkansas completed the academic year with another NCAA silver medal team finish at the outdoor nationals accumulating 56 points to place second behind Florida.
During the last four years, the Razorbacks have placed third or higher in the Program of the Year standings.
Final Program of the Year Standings – combined score
1. Oregon – 9
2. Arkansas – 10
3. Stanford – 25
4. Washington – 33.5
5. Virginia – 37.5
6. Virginia Tech – 50
7. Oklahoma State – 58.5
8. Syracuse – 63.5
9. Colorado – 70
10. BYU – 72
For more information on Arkansas track and field including in-meet updates, follow @RazorbackTF on Twitter.