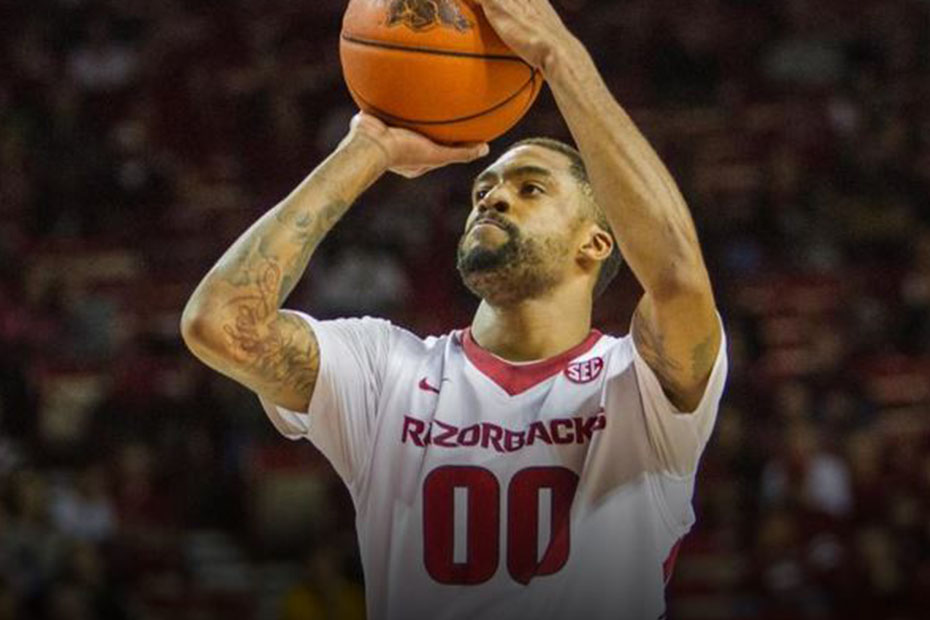 No. 23 Arkansas Opens SEC Play At Georgia On ESPN Super Tuesday
AT A GLANCE
After closing out non-conference play on a five-game win streak, No. 23 Arkansas will open SEC play on the road for the third straight year when it head to Georgia on ESPN Super Tuesday.
• Arkansas (No. 28) and Georgia (No. 18) are two of the SEC's four teams in the top 35 of the ESPN RPI while the SEC has 10 teams in the top 100.
• Own an 8-0 record when reaching at least 80 points, Arkansas leads the country in assists (19.2) and is ninth in scoring (84.5).
• Arkansas completed non-conference play 11-2 for the second straight year, playing three true road games for the first time since 1996-97.
• Sophomore BOBBY PORTIS is the only player in the SEC in the top 5 in scoring (16.8/3rd), field goal percentage (.568/1st), rebounding (7.8/4th) and offensive rebounds (3.2/3rd).
• Arkansas' +6.6 rebounding margin is its best since the 1978-79 campaign.
#RAZORSTAT
Arkansas has out-rebounded its last three opponents by an average of 19.3 per game with 55 offensive caroms.
RAZORBACKS IN THE NATIONAL POLLS
Arkansas returned to the Associated Press (AP) Top 25 Poll on Monday at No. 23. It marks the third time this year the Razorbacks have been in the AP Top 25, appearing two straight weeks at the end of November and start of December. On Dec. 1, Arkansas jumped seven spots to No. 18. It marked the first time since December of 2000 that the Razorbacks had been ranked in the top 25 two straight weeks, while they also cracked the USA Today Coaches Poll for the first time this year at No. 21. Arkansas holds a 381-103 record all-time as a ranked team.
GAMEDAY #RAZORFACTS

GAME

No. 23 Arkansas (11-2) vs Georgia (9-3)

DATE | TIME

Tuesday, January 6, 2015 | 6:00 P.M. CT

SITE | ARENA

Athens, Ga. | Stegeman Coliseum (10,523)

TV | VIDEO

ESPN

TALENT

Brad Nessler (PBP), Sean Farnham (Analyst) & Shannon Spake

AUDIO

Razorback/IMG Sports Network

TALENT

Chuck Barrett (P-B-P) & Scotty Thurman (Analyst)

LIVE STATS

www.ArkansasRazorbacks.com

SOCIAL

Twitter | Facebook | Instagram

HASHTAGS

#Fastest40 | #WeHogs

STREAK

W5

LAST 5

5-0

SEC OPENERS

11-12

STREAK

L2

SEC ROAD OPENERS

5-18

VS. GEORGIA

18-14

NEXT UP

vs. Vanderbilt (Jan. 10) – SEC Network
@RAZORBACKMBB FAST BREAK FACTS
• One of four teams (BYU, Davidson, Ohio State) nationally in the top 10 in scoring (9th) and assists (1st).
• Won 20 straight games when leading at the half with the last loss coming at Georgia on Jan. 15, 2014.
• Off to an 11-2 start for the second straight year.
• Tied for second in the SEC with 11 non-conference wins.
• Looking to snap a six-game losing streak in SEC road openers.
• Won three of its last five SEC road games to close 2013-14.
• Own a 9-0 record when forcing 15+ turnovers and 8-0 mark when scoring 80+ points.
• Hold the early lead in the SEC in scoring, three-pointers per game (7.7) and assists.
• Only SEC team to score at least 65 points in every game.
• BOBBY PORTIS or MICHAEL QUALLS has led Arkansas in scoring 11 of 13 games.
• Portis and Qualls have combined for 30+ points eight times (7-1).
• Out-scored all but one opponent in bench points and 342-200 for the year, good for a 10.9 points per game difference.
• Out-rebounded five straight opponents and eight of the last nine.
COACHING MATCHUP
@RazorbackMBB
Head Coach: Mike Anderson (Tulsa '82)
Record at Arkansas: 70-41 (4th Season)
Overall Record: 270-139 (13th Season)
Vs. Georgia: 4-2
Georgia
Head Coach: Mark Fox (Eastern New Mexico '91)
Record at Georgia: 94-80 (6th Season)
Overall Record: 217-123 (11th Season)
Vs. Arkansas: 5-3
BOARD WORK
A year removed from finishing 301st in the NCAA in rebounding margin, Arkansas has improved its rebounding margin by over 10 boards per game this season. The Razorbacks rank 41st nationally at +6.6 rebounds per game after being out-rebounded in 21 of 34 games in 2013-14. The +6.6 margin is the program's largest since the 1978-79 season. Arkansas has out-rebounded its last three opponents by an average of 19.3 thanks in part to 55 offensive caroms over that span. Below is a look at Arkansas' rebounding numbers the last two seasons.
| | | |
| --- | --- | --- |
| | 2014-15 | 2013-14 |
| Won Rebound Battle | 9 | 12 |
| Rebounding Margin (NCAA) | +6.6 (41) | -3.5 (301) |
| Rebounds Per Game | 39.2 | 35.9 |
| Offensive Rebounds Per Game (NCAA) | 14.0 (22) | 11.9 (102) |
| 10+ Offensive Rebounds | 10 | 23 |
| 20+ Offensive Rebounds | 3 | 1 |
ONE-TWO PUNCH
Either junior MICHAEL QUALLS or sophomore BOBBY PORTIS has been Arkansas' top scorer in 11 of 13 games this season, combining for 30+ points eight times (7-1), highlighted by 50 points against Northwestern State. Both have finished in double figures 10 times while combining for 9 of the team's 11 20-point games. One of the two has reached the 20-point plateau in eight games, while they are just one of two duos in the SEC to both rank in the top 10 in scoring. Qualls and Portis don't just get it done on the offensive end, as they rank one and two on the team in rebounding, leading the way on the glass 11 times. Below is a look at the top scoring duos in the SEC.
          Program        PPG    Mins Per
Jarell Martin & Jordan Mickey                   LSU               34.5    67.4
>>> Bobby Portis & Michael Qualls          Arkansas        32.2    56.4
KT Harrell & Cinmeon Bowers                  Auburn           31.6    61.7
Damian Jones & Riley LaChance               Vanderbilt      29.7    61.1
Levi Randolph & Ricky Tarrant                 Alabama        29.2    58.2
MAKING THE MOST OF HIS MINUTES
Already with more assists than his freshman and sophomore season totals, senior RASHAD MADDEN is the only player in nation averaging at least five assists while playing under 25 minutes per night. Out of the eight games Madden's played 25 minutes or less, he's reached double figures five times and led the team in assists six times. Madden is the only player in the SEC averaging 10 points and five assists, while he's fifth among active SEC players in points (894) and third in assists (276).
SHARING THE WEALTH
After leading the SEC in assists last season, Arkansas is back at it again. The Razorbacks are leading the nation with 19.2 assists per game, highlighted by six games of 20+ assists. The six 20-assist games equals Arkansas' total from all of last year and marks the first time since 2000-01 that Arkansas has passed out 20+ assists in six of its first 13 games. Senior RASHAD MADDEN is second in the SEC in helpers per game (5.4). Madden has led the team in assists 11 times, while nine different players have passed out three or more assists in a game. Arkansas has assisted on 249 of its 388 made field goals, good for a staggering 64 percent clip.