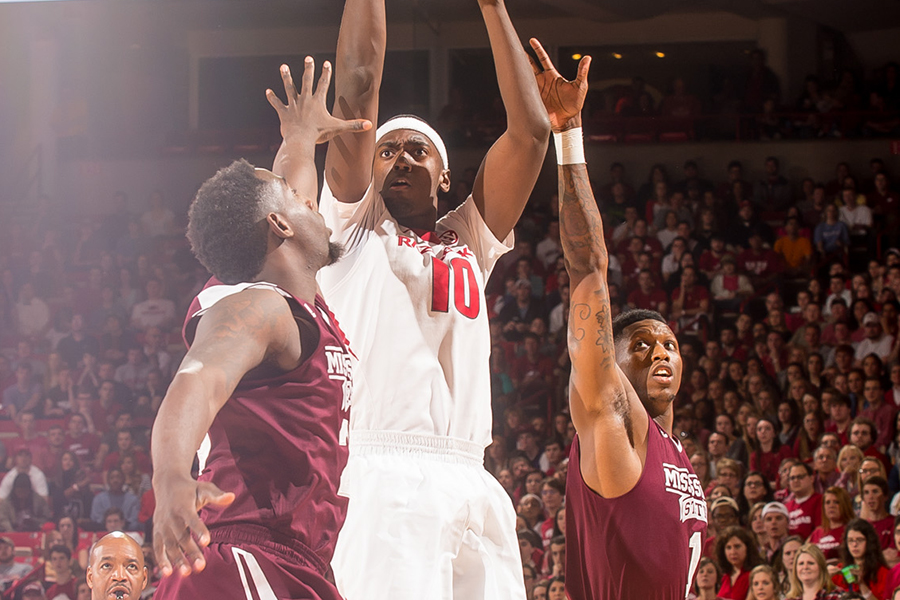 No. 23 @RazorbackMBB Rallies On SEC Opening Night
ATHENS, Ga. – Trailing by as many as 13 points in the first half, the No. 23 Arkansas men's basketball team rallied behind a combined 53 points from the trio of Bobby Portis, Michael Qualls and Alandise Harris for a 79-75 road win over Georgia on the opening night of SEC play at Stegeman Coliseum.
Playing on a national stage as the first game of the ESPN Super Tuesday series, the Razorbacks upped their win streak to six games while improving to 12-2 on the season. Arkansas' fourth win in its last six SEC road games snapped Georgia's (9-4) six-game win streak and was the Bulldogs' first loss at home this season (7-1).
Trailing 57-49 just under seven minutes into the second half, the Razorbacks held Georgia without a field goal for a seven-minute stretch while unleashing a 14-4 run that resulted in their first lead of the game at 63-61 following a jumper by Harris from the left wing. The Bulldogs went 0-for-7 from the field with three turnovers during the seven-minute run.
The jumper was the start of seven straight points from Harris, who finished with 15 points off the bench following a 17-point performance last time out. Harris gave Arkansas the lead (65-64) for good with a jumper from the same spot while his final points came from beyond the arc with 4:57 left, giving Arkansas its first two-possession lead at 68-64.
Georgia cut the Arkansas lead to two, 70-68, with 3:16 to play, but the Razorbacks responded with a tip-in by sophomore Manuale Watkins and jumper by Portis along with two straight defensive stops to building the advantage up to six, at 74-68.
The Arkansas lead grew to as large as seven, 77-70, with 19 seconds left before Georgia cut it to 77-75 with 4.1 seconds left. Qualls sealed the Razorbacks' second road win this season over a top 40 RPI team by hitting both free throws for the 79-75 victory.
Portis' fifth 20-point game of the season was highlighted by 15 points in the first half, as the versatile 6-foot-11 forward scored in a variety of ways during an 8-of-14 night from the field. Qualls turned in 17 points and a team-high seven rebounds, combing with Portis for 30+ points for the ninth time (8-1) this year.
Harris' 15 points were part of a 34-19 in bench points for Arkansas that also included six each from Watkins and freshman Anton Beard who joined Harris on the floor for the final buzzer.
After shooting 58 percent (15-26) in the first half, Georgia was limited to 35 percent (10-29) in the second half with 11 of its 17 turnovers. Arkansas was able to overcome the 44-37 halftime deficit by shooting 58 percent (15-26) in the final frame and 52 percent for the game.
#RazorStat Of The Game
Taking on a Georgia team that allows its opponents to shoot just 37 percent from the floor, Arkansas went 7-for-8 from the field over the final 6:35 of the game en route to shooting 52 percent for the game. The 52 percent clip is the highest given up by the Bulldogs this season while the Razorbacks are just the second team this year to shoot over 40 percent at Stegeman Coliseum.
Coach Anderson Postgame Sound
"Tonight showed our toughness. This team was tested during the non-conference play and we learned from the two losses.  We knew those lessons would be very valuable come SEC time and our guys rallied for each other tonight. I'm proud of these guys."
@RazorbackMBB Quick Hits
• Arkansas has won four of its last six SEC road games dating back to last season.
• Arkansas now has three wins over teams in the top 40 of the RPI (at SMU, Dayton and at Georgia).
• Arkansas is now 12-12 all-time in SEC openers.
• Win snapped a six-game losing streak in SEC road openers.
• Marked the third straight season Arkansas has opened SEC play on the road.
• Improved to 5-0 this season when shooting 50 percent.
• Arkansas now owns a 19-14 edge all-time against Georgia.
• Georgia is the 11th team this season to finish with more turnovers than assists against Arkansas.
• Six different players made Arkansas six three-pointers.
• Portis is tied for the team lead with five 20-point games after having just one in 2013-14.
• Portis reached double figures in 17 of the last 18 games.
• Portis or Qualls has led Arkansas in scoring 12 of 14 contests.
• Duo of Portis and Qualls has combined for 30+ points nine times (8-1).
• Harris is averaging 16 points the last two games, going 12-of-15 from the field.
• Arkansas improved to 6-0 with Jabril Durham in the starting lineup.
Up Next
Arkansas will begin its SEC home schedule on Saturday when it welcomes Vanderbilt to Bud Walton Arena. The Commodores (11-3) also opened SEC play with a win, defeating Auburn at home. Tip is slated for 3:30 p.m. on the SEC Network.