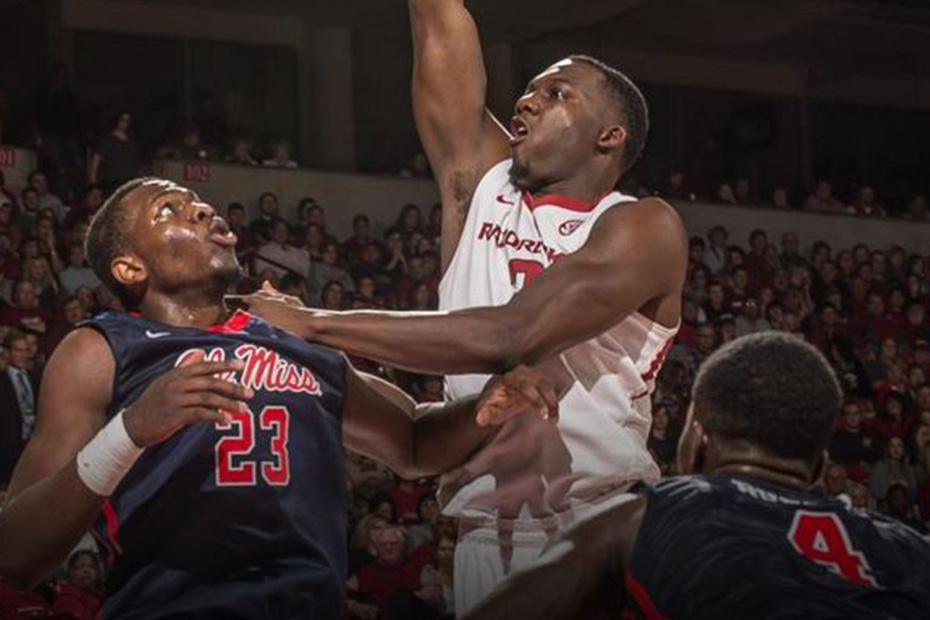 No. 24 Arkansas Ready For Road Showdown At Ole Miss
AT A GLANCE
With wins in six of its last seven games, No. 24/23 Arkansas caps a two-game road week on Saturday at Ole Miss. The Razorbacks and Rebels are tied for second in the SEC at 8-3. Arkansas will be looking to snap Ole Miss' six-game wins streak while looking to extend its own win streak in the month of February to eight. After playing four straight games decided by five points or less, Arkansas has won three straight SEC games by double figures for the first time since 1994.
• Arkansas (No. 21) is one of five SEC teams in the ESPN RPI Top 50.
• Arkansas is one of five teams in the nation with two top 25 RPI road wins.
• Over its last three games, Arkansas' opponents have 61 turnovers and 54 made field goals.
• Arkansas is one of three teams in the top 10 in scoring (80.2/9th) & assists (17.1/10th).
• Sophomore BOBBY PORTIS is averaging 19.3 points and 10.0 boards in SEC play.
#RAZORFACT
Arkansas scored 101 points in Tuesday's win at Auburn, marking the first 100-point game by a power conference team in league play this season.
GAMEDAY #RAZORFACTS

GAME

NO. 24/23 ARKANSAS (19-5, 8-3) AT OLE MISS (17-7, 8-3)

DATE | TIME

Saturday, February 14, 2015 | 8:00 p.m., CT

SITE | ARENA

Oxford, Miss. | Tad Smith Coliseum (8,867)

TV | VIDEO

SEC Network | WatchESPN App

TALENT

Dave Baker (PBP), Daymeon Fishback (Analyst) & Laura Rutledge

AUDIO

Razorback/IMG Sports Network

TALENT

Chuck Barrett (P-B-P) & Scotty Thurman (Analyst)

LIVE STATS

www.ArkansasRazorbacks.com

SOCIAL

Twitter | Facebook | Instagram

HASHTAGS

#Fastest40 | #BeatOleMiss

STREAK

W3

LAST 5

4-1

ROAD RECORD

4-4

STREAK

L1

VS. OLE MISS

42-31

STREAK

L1
@RAZORBACKMBB FAST BREAK FACTS
• No. 24 in the Associated Press Poll and No. 23 in the USA Today Coaches Poll.
• Tied for second place in the SEC with Ole Miss at 8-3.
• Best start through the first 11 SEC games since 1997-98.
• Won seven straight games in February and is 9-2 the last two seasons in February.
• Currently No. 21 in the ESPN RPI with a 3-2 record against the top 50.
• One of five teams (Duke, Kansas, Providence, Virginia) with two top 25 RPI road wins – Georgia (No. 20) & SMU (No. 25).
• No. 6 seed in the South Region in Joe Lunardi's most recent Bracketology released on Feb. 12 that included six SEC teams.
• Rank in the top 20 nationally in points (80.2/9th), assists (17.1/10th), assist/turnover ratio (1.4/12th) and turnover margin (+4.5/9th).
• Won 25 straight games when leading at the half.
• Own a 4-2 record in SEC games decided by five points or less and have won three conference games after trailing at the half.
• One of just 12 teams averaging 80 points per game.
• Two 100-point games this season is the same total produced by the rest of the SEC combined while it has six the last two seasons which is also the same total by the rest of the league.
• Only power conference team to score 100 points in a league game this year.
• BOBBY PORTIS leads the SEC in overall scoring (17.9) and in league play (19.3).
• Own a 16-0 record when forcing 15+ turnovers.
HITTING THE CENTURY MARK
Arkansas' 101-point outing on Tuesday at Auburn was its 17th all-time in SEC play, including the sixth on the road. The Razorbacks are 17-0 all-time in SEC action when hitting the 100-point plateau while nine of those 17 performances have come against Auburn (5) and Ole Miss (4), including the last five. Arkansas has six 100-point games the last two seasons, which is the same total produced by the other 13 SEC programs combined.
SERIES HISTORY
Ole Miss handed Arkansas its only home loss of the season on Jan. 17 at Bud Walton Arena behind 56 percent shooting night that included a scorching 74 percent (20-27) in the first half. The Rebels have taken 10 of the last 12 meetings in the all-time series and seven of the last eight at Tad Smith Coliseum.
COACHING MATCHUP
@RazorbackMBB
Head Coach: Mike Anderson (Tulsa '82)
Record at Arkansas: 78-44 (4th Season)
Overall Record: 278-142 (13th Season)
Vs. Ole Miss: 1-4
Ole Miss
Head Coach: Andy Kennedy (UAB '91)
Record at Ole Miss: 188-108 (9th Season)
Overall Record: 209-121 (10th Season)
Vs. Arkansas: 11-4
STARTING 5 QUICK 5 HITS
#31 | Anton BEARD (G)
• Started the last four games (3-1), averaging 25.3 minutes.
• Averaging 8.1 points the last seven games.
• Reached double figures four times in SEC play after once in non-conf.
• Set season-bests for points (12) and three-pointers (3) at Tennessee.
• Has taken a team-high 12 charges.
#00 | Rashad MADDEN (G)
• Four points shy of 1,000 for his career.
• His 117 assists are the most by a Razorback since 2008-09.
• Seventh all-time in assists (323), just 18 back of Alvin Robertson.
• Team leader with a plus/minus rating of +218 on the year.
• Second in the SEC in assists (4.9) and free throw percentage (.884).
#24 | Michael QUALLS (G)
• Seventh in the SEC in scoring at 15.3 points per game.
• T-3rd in the SEC with eight 20-point games, including 30 vs. Bama.
• Owns two of the top four scoring performances by an SEC player this year.
• Has appeared on the #SCtop10 11 times in his career.
• Increased scoring average by 10.7 points since his freshman season.
#02 | Alandise HARRIS (F)
• Returned to the starting lineup seven games (6-1) ago.
• Had back-to-back double figure performances at Mizzou & vs. Tennessee.
• Scored 1,126 points over his career at Arkansas and Houston.
• Went 7-for-8 from the field for 15 points during SEC road win at Georgia.
• Out of his 20 double figure outings at Arkansas, 12 have come off the bench.
#10 | Bobby PORTIS (F)
• Averaging a double-double (19.2 & 10.0) in SEC play.
• SEC leader in 20-point games (5) & double-doubles (8) in league play.
• One of three high-major players averaging 17.5 points and 8.5 rebounds.
• Leads the SEC in scoring (17.9) and field goal percentage (.564).
• Career-best 19 straight games in double figures.
ONE-TWO PUNCH
The top scoring duo in the SEC, either junior MICHAEL QUALLS or sophomore BOBBY PORTIS has been Arkansas' top scorer in 21 of 24 games this season, combining for 30+ points 15 times (12-3), 40+ in five games (5-0) and two 50-point performances. Both have finished in double figures 18 times while combining for 17 of the team's 20 20-point games. One of the two has reached the 20-point plateau in 14 games. Qualls and Portis don't just get it done on the offensive end, as they rank one and two on the team in rebounding, leading the way on the glass 22 times. Below is a look at the top scoring duos in the SEC.
ELITE COMPANY
BOBBY PORTIS has put his name amongst the nation's elite in his sophomore campaign. Portis is one of just eight players on the current Watch List for the Naismith Trophy, Wooden Award, Lute Olson Award and Oscar Robertson Trophy. Below is a list of the eight players on that list with Portis being the only underclassman.
Ron Baker          Witchita State
Jerian Grant       Notre Dame
Montrez Harrell   Louisville
Frank Kaminski   Wisconsin
Georges Niang    Iowa State
Kevin Pangos     Gonzaga
Bobby Portis      Arkansas
Deion Wright      Utah
RAZORBACKS IN THE NATIONAL POLLS
Arkansas returned to the Associated Press poll for the fifth time this season at No. 24 on Monday. The Razorbacks are 6-4 as a ranked team in 2014-15, while it's the latest in the season that they've been ranked since the end of 1998-99.
MAKING THE MOST OF HIS MINUTES
Already with more assists than each of his first three seasons, senior RASHAD MADDEN is vying to become the first Razorback from the state of Arkansas with 1,000 career points and 300 assists. Madden is just four points shy of becoming the 36th player in program history with 1,000 points. He is sixth among active SEC players in points (996) and third in assists (323).