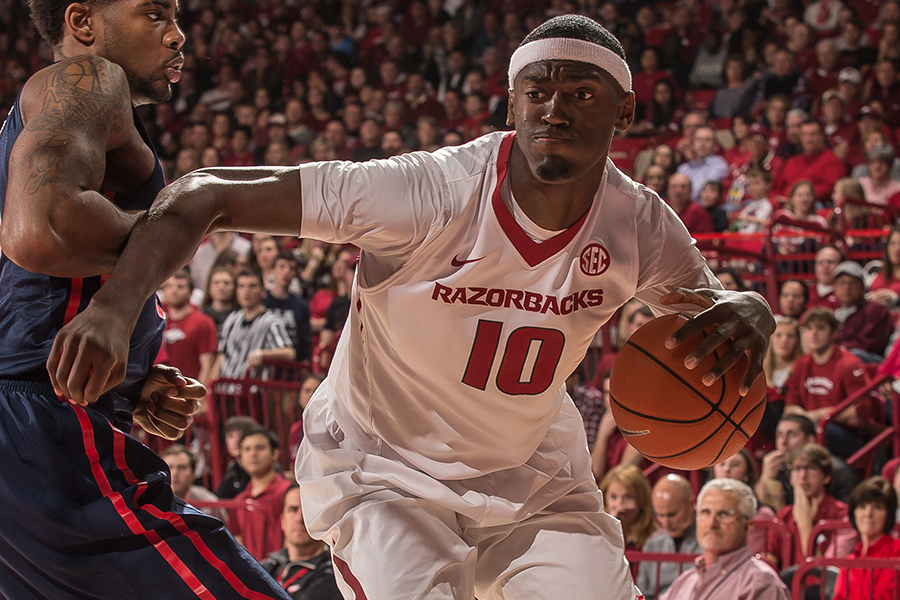 No. 24 Hogs Hit The Century Mark At Auburn
AUBURN, Ala. – Five players in double figures, including 22 points by SEC leading scorer Bobby Portis, and a 54 percent night from the field added up to 101-87 win for No. 24/23 Arkansas at Auburn Tuesday night at Auburn Arena.
The win is the sixth in the last seven games for the Razorbacks, who improve to 19-5 overall and own sole possession of second place in the SEC standings by a half-game at 8-3. The 100-point game is the first by an SEC team in league play this year and the sixth in head coach Mike Anderson's four seasons.
Leading the five players in double figures was Portis and junior Michael Qualls, who regained their status as the SEC's top scoring duo thanks to scoring a combined 40+ points for the fifth time this season. Celebrating his 20th birthday, Portis did a majority of his damage in the second half with 14 of his 22 points while also adding a game-high eight rebounds. Qualls fell just short of joining Portis with his ninth 20-point game of the season, going for 16 of his 19 in the first half.
Arkansas' 100-point night was fueled by good ball movement to the tune of 23 assists on its 35 made field goals. Senior Rashad Madden was the point-man a majority of the game, equaling a career-high with eight assists and no turnovers while passing Arkansas legend Todd Day for seventh all-time in career assists. Madden added 12 points in his 26 minutes, moving four points shy of becoming the 36th player in program history with 1,000 points.
In a game that featured 53 fouls and 65 free throws, Arkansas trailed for just 40 seconds in the wild 40-minute affair with its lead reaching as large as 21 on a pair of occasions. The last 21-point lead came with 4:35 remaining, as Portis capped his birthday bash with a layup to make it 95-74.
The win is Arkansas' eighth straight over Auburn, including all four at Auburn Arena, and its sixth SEC road win in its last 10 opportunities. The Tigers are now 11-13 and 3-8 in the SEC. The SEC's second-leading scorer KT Harrell and KC Ross-Miller led the Tigers with 21 points each.
Arkansas' 11 three-pointers equaled a season-high and is one more than its total threes over the previous three games combined. Junior Anthlon Bell reached double figures for the second straight game with 16 points on 4-of-7 shooting from long range. Madden and Qualls each contributed a trio of three-pointers, as the Razorbacks made double figure trifectas for the first time in 17 games.
Coach Anderson Postgame Sound
"Our offense was poetry in motion tonight. The ball was moving, guys were cutting and we found the open man. We were due for a breakout shooting night and we're due for a lot more if we move the ball like we did in this game."
Worthy Of A Hog Call (#WPS)
Senior Rashad Madden surpassed Arkansas legend Todd Day for seventh all-time on the career assist list with 323. Madden equaled his career-high of eight assists for the third time this season, while closing to within four points of 1,000 points for his career. With four more points, Madden will become the first Arkansas native to score 1,000 points and pass out 300 assists as a Razorback.
@RazorbackMBB Quick Hits 
• Arkansas has won six of its last 10 SEC road games.
• Arkansas is the only SEC team to score 100 points in league play this season.
• Marked the 10th game (6-4) this season Arkansas has played as a ranked team.
• Arkansas' last three opponents have 61 turnovers and 54 made field goals.
• 25th straight game Arkansas has won when leading at the half.
• Arkansas improved to 16-0 when forcing 15+ turnovers this season.
• Arkansas is 3-0 this season when playing on a player's birthday.
• Arkansas 58 first half points are its most in a half this season.
• Fifth time (5-0) this season that Portis and Qualls have combined for 40+ points.
• Portis has a team-best nine 20-point games after one all of 2013-14.
• Portis has scored double-digit points in 19 consecutive contests.
• Portis has led Arkansas in rebounding 17 of the last 18 games and 20 times on the year.
• Portis has led Arkansas in scoring and rebounding five straight games.
• Qualls has reached double figures in 19 games.
• Madden has 12 assists and one turnover the last two games.
• Madden has led Arkansas in assists 20 of 24 games.
• Arkansas is now 18-3 all-time when Anthlon Bell reaches double figures.
• Bell has 28 points over 34 minutes played the last two games, hitting 8-of-15 from three.
• Bell has shot 50 percent or better from three in seven games after five last year.
• First time since late November that Bell has reached double figures in back-to-back games.
• Arkansas improved to 6-1 since Harris returned to the starting lineup.
• Harris finished in double figures for the 20th time as a Razorback.
• Freshman Anton Beard started his fourth straight game (3-1) and set a season-high with five assists.
Up Next
Arkansas will hit the road for the second time this week when it travels to Oxford, Miss. to take on Ole Miss at an already-announced sold out Tad Smith Coliseum on Saturday night. Tip is slated for 8 p.m. CT on the SEC Network.