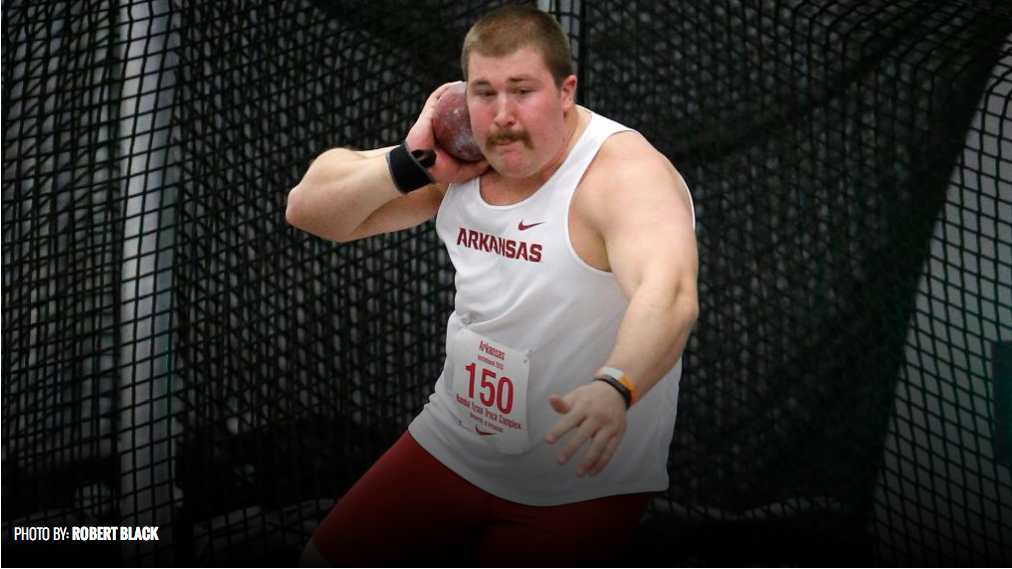 No. 3 Men's @RazorbackTF Set To Face Nation's Best In Kentucky
FAYETTEVILLE, Ark. – After defeating No. 8 Texas in dual meet action last weekend, the reigning SEC Indoor Track Champions and No. 3 Arkansas men's track and field team will travel to Lexington, Ky. to compete against some of the nation's best at the Rod McCravy Memorial (Jan. 23-24).
Arkansas is among 15 universities scheduled to compete this weekend. The No. 3 Razorbacks will battle seven teams ranked in the U.S. Track & Field and Cross Country Coaches Association (USTFCCCA) NCAA Division I Preseason Indoor Team Top 25 (released on Jan. 6), including No. 1 Florida, No. 2 Oregon, No. 8 Texas, No. 10 LSU, No. 11 Georgia, No. 20 Florida State and No. 24 Ohio State.
For the latest information on Arkansas men's track and field, follow @RazorbackTF on Twitter.
2015 ROD MCCRAVY MEMORIAL

DATE

Friday-Saturday, Jan. 23-24, 2015

PARTICIPANTS

No. 1 Florida, No. 2 Oregon, No. 3 Arkansas, No. 8 Texas, No. 10 LSU, No. 11 Georgia, No. 20 Florida State, No. 24 Ohio State, Kentucky, Missouri, Baylor, Illinois, Miami, USC, Virginia

VENUE

Nutter Field House | Lexington, Ky.

MEET INFO

Schedule of Events | Heat Sheets

LIVE RESULTS

FloTrack

LIVE VIDEO

SEC Network+ (Saturday Only)

ARKANSAS STATS

2015 Performance Lists | Indoor Record Book

SOCIAL

Twitter  |  Facebook  |  #TrackCapitalOfTheWorld
UP NEXT
After the McCravy Memorial, the Razorbacks will return to the Randal Tyson Track Center to host the Razorback Invitational Jan. 30-31.
BROADCAST
Fans will be able to watch the Razorbacks in action during Saturday's finale at this year's Rod McCravy Memorial, as the second day of the competition will feature live streaming video on SEC Network+ and the WatchESPN App. The coverage will also feature highlights of Friday's events from Nutter Field House.
BIG TIME MEET
The Rod McCravy Memorial is one of the premier meets of the indoor season. Alongside the 2014 NCAA Champion Oregon Ducks will be 2014 SEC Champions Florida (women) and Arkansas (men), Big 12 Women's Champions Texas and ACC Men's and Women's Champion Florida State.
The Rod McCravy Memorial Track & Field Meet is certainly one of the nation's leading competitions during the indoor season, and annually features some of the nation's top performances throughout the campaign. In 2014, athletes turned in four world-leading, eight NCAA-leading and 47 NCAA Top 10 marks along with four school records in two days of action at the Nutter Field House.
LAST TIME OUT | ARKANSAS-TEXAS DUAL
The No. 3 Arkansas men's track and field team won 10 of 16 events on Friday (Jan. 16) en route to a 94.5-74.5 dual victory over No. 8 Texas at the Randal Tyson Track Center.
Junior Marqueze Washington recorded a NCAA-leading mark in the 400 meter dash with his time of 46.76. Sophomore Omar McLeod took first place in the 60 meter hurdles with a time of 7.76 and second place in the 60 meter dash with a person-best time (6.71).
Senior Kemoy Campbell and junior Gabe Gonzales took first place in their events on the night. Campbell won the 1,000 meter (2:24.63) and Gonzales took the top spot in the 3,000 meter in 8:25.28.
In high jump action, sophomore Ken LeGassey dominated the field with his 6-11 to place first. Senior Andrew Irwin continued his solid start to the season, winning the pole vault (17-9.25).
Junior Jarrion Lawson and sophomore Trae Carey finished 1-2 in the men's long jump. Lawson won the event with his mark of 24-9.75, while Carey set a new personal-record with 23-10. Sophomore Clive Pullen and rookie Rubin Owens also finished 1-2 in their event (triple jump). Pullen registered a jump of 49-3.5 to win the title and Owens finished with a mark of 48-3.25 to come in second place.
The distance medley relay team of Cale Wallace, Nathanael Franks, Patrick Rono and Campbell earned a first-place finish at the Texas Dual and fifth-place nationally with a time of 10:06.33. Lawson, McLeod, Jamarco Stephen and Washington teamed up to take home the 4×400 meter relay crown. The quartet finished the race in 3:14.35.
SEC WEEKLY HONOR
Two-time NCAA pole vault champion Andrew Irwin was named Southeastern Conference Field Athlete of the Week by the league on Jan. 13. That marked the fifth time in his career that Irwin has earned a SEC weekly honor (2 – indoor; 3 – outdoor).
The senior turned in a strong showing in his opening pole vault competition of the 2015 season at the Arkansas Invitational (Friday, Jan. 9). Irwin captured the pole vault event with a winning mark of 18-1, which currently ranks as the second-best men's pole vault mark in the nation this season.
USTFCCCA PRESEASON RANKINGS
For the fourth season in a row, the Arkansas men's track and field program will begin the season ranked in the preseason top 3, as the United States Track & Field and Cross Country Coaches Association (USTFCCCA) ranked the Razorbacks No. 3 in its initial computer rankings that were released on Tuesday, Jan. 6.
Three SEC teams are ranked among the nation's top-four programs on the men's side, while six SEC teams are ranked in the top-13 nationally. Florida is the preseason No. 1 men's team, the Razorbacks check in at the No. 3 position Arkansas is No. 3 and Texas A&M is No. 4. LSU checks in at No. 10, while Georgia is No. 11 and Alabama is No. 13. The Florida men won three consecutive NCAA Indoor Championships from 2010-2012 and Arkansas won the indoor national crown in 2013.
BY INVITE ONLY
The USA Track & Field (USATF) and the US Olympic Committee (USOC) invited Arkansas men's track and field assistant coach Travis Geopfert and junior Jarrion Lawson to participate in a Jumps Initiative Camp at the Chula Vista Olympic Training Center in Chula Vista, Calif. In early December 2014.
The USATF Jumps Initiative was designed to help top collegiate horizontal jumps athletes and coaches by identifying physical, biomechanical, and technical components that are related to performance outcomes and injury prevention.
The USATF and the USOC hope that the information received from this camp will help with training design for the 2015 season, plus introduce student-athletes to the range of USATF and USOC sport science resources that will be available to them as a post-collegian.
Lawson's stellar 2014 indoor/outdoor track season helped him get the invite. He finished 2nd at the Outdoor USA National Championships and won the 2014 NCAA Indoor title after dominating the field with a world-leading 27-6.5 jump, a huge final leap that took him a foot further than his competitors. With his mark, Lawson ranks No. 4 all-time in NCAA history and No. 7 in all-time U.S. history. Lawson's jump just missed the NCAA Championship meet record of 8.48 set by the legendary Carl Lewis in 1981.
SOLID RECRUITING
Arkansas, the 2013 national champion, is looking to reclaim its spot atop the Division I indoor track & field mountain. The Razorback recruiting class for this season was ranked seventh in the country by Track & Field News.
This is the sixth recruiting class for Bucknam and his staff. The last three signing Arkansas track and field signing classes have ranked inside the top 10 in the nation.
The initial wave of future Razorbacks includes Stephen Mugeche (Blue Springs, Mo./Blue Springs HS), Laquan Nairn (Nassau, Bahamas/St. Johns College HS), Carlton Orange Jr. (Memphis, Tenn./Memphis University HS), Brendon Rivera (Edinburg, Texas/Robert Vela HS), Frankline Tonui (Nakuru, Kenya/Iowa Central Community College) and Joshua Washington Jr. (Woodbridge, Va./Richard Bland College).
A LOOK BACK AT THE 2014 INDOOR SEASON
Head coach Chris Bucknam and his team took the SEC Championship last season, marking the third-consecutive indoor title for the program, and finished second at the 2014 NCAA Division I Indoor Championships in Albuquerque, N.M. The Razorbacks scored 54 points over the two-day national meet, just eight points behind Oregon and 18 points ahead of third-place Florida.
The Razorbacks earned 19 All-American honors last season, highlighted by a pair of national champions in Jarrion Lawson (long jump) and 2014 SEC Freshman Runner of the Year Omar McLeod (60-meter hurdles). Lawson's NCAA-leading jump of 27-6.5 took down his previous personal record of 26-2.75 (set at the 2014 Tyson Invitational). With his mark, Lawson ranks No. 4 all-time in NCAA history and No. 7 in all-time U.S. history. Lawson's jump just missed the NCAA Championship meet record of 8.48 set by the legendary Carl Lewis in 1981. He currently ranks No. 2 all-time in Arkansas history. McLeod recorded a top-finishing time of 7.58 in the 60-meter hurdles for the title in his first-ever NCAA Championship. McLeod's time followed an NCAA-leading performance in the prelims (a school-best 7.57).
At the SEC Indoor Championships, the Razorbacks scored 121 points, earning three individual titles (high jump – Anthony May; long jump – Raymond Higgs; 5000m – Solomon Haile). Arkansas also had five events earn a silver medal (60m hurdles, pole vault, long jump, triple jump and 5000m).
Fayetteville, the "Track Capital of the World", will be at the center of the track and field universe on the weekend of March 13-14 as the Razorbacks will host the 2015 NCAA Indoor Track and Field Championships at the Randal Tyson Track Center, the home of the "Fastest Indoor Track in the World". Since the facility's opening in 2000, Arkansas and the Randal Tyson Track Center have hosted the event 11 times, including nine straight seasons and 11 of the last 13 championships.
A two-day, all-session ticket to the NCAA Indoor Championships is $40 for reserved seating and $30 for general admission adult ticket.
Season tickets and NCAA all-session passes are available online at HERE, by contacting the Razorback Athletics Ticket Center via phone at (800) 982-HOGS or in person at the Razorback Athletics Ticket Center, located just east of Baum Stadium at 1295 S. Razorback Rd. in Fayetteville.