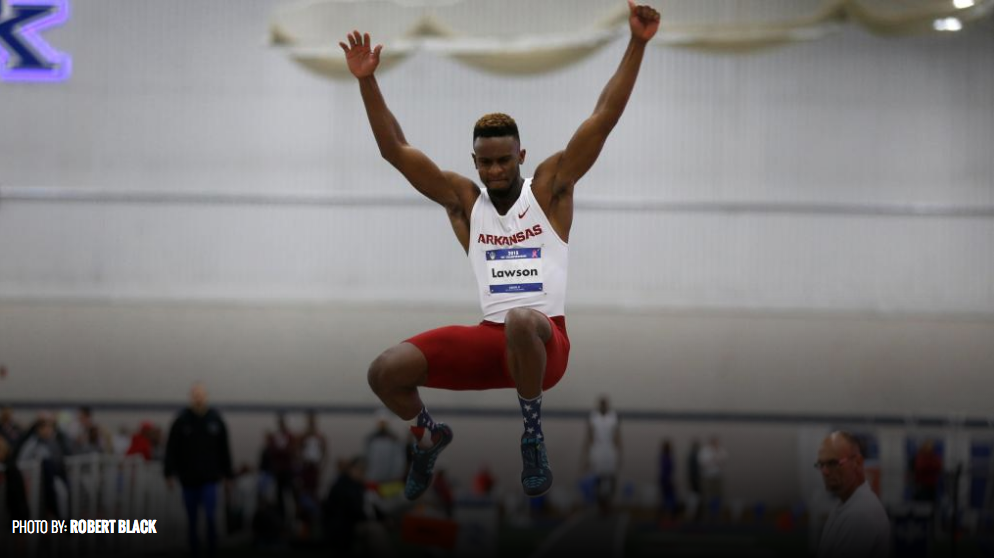 No. 3 Razorbacks Qualify 10 For #NCAATF Indoor Championships
FAYETTEVILLE, Ark. – Highlighted by three past national champions, the No. 3 University of Arkansas men's track and field team will have 10 national entries in nine events at the 2015 NCAA Indoor Championships. For the 12th time in program history, Arkansas and the Randal Tyson Track Center will serve as the host site for the national indoor meet which will be contested March 13-14 in Fayetteville.
A two-day, all-session ticket for the 2015 NCAA Indoor Championships is $40 for reserved seating and $30 for general admission. Tickets for the national meet are available for purchase HERE, by contacting the Razorback Ticket Center at 800-982-HOGS (4647) or visiting the Ticket Center located just east of Baum Stadium at 1295 S. Razorback Road.
Razorbacks at the 2015 NCAA Indoor Championships
• 400m – 16. Marqueze Washington – 46.46
• 3,000m – 3. Kemoy Campbell – 7:48.13
• 3,000m – 7. Stanley Kebenei – 7:49.74
• 5,000m – 12. Kemoy Campbell – 13:44.96
• 60mH – 1. Omar McLeod – 7.49
• 4x400m – 8. 3:06.98
• DMR – 3. 9:28.37
• PV – 2. Andrew Irwin – 5.75m/18-10.25
• LJ – 1. Jarrion Lawson – 8.03m/26-4.25
• TJ – 14. Clive Pullen – 15.99m/52-5.5
Among its collection of NCAA qualifiers, Arkansas owns five top-five marks in the country including the top-ranked marks by Omar McLeod in the 60-meter hurdles (7.49) and Jarrion Lawson in the long jump (8.03m/26-4.25). Both McLeod and Lawson are the defending NCAA champions in their respective events. The Razorbacks' NCAA roster also features two-time NCAA champion Andrew Irwin in the pole vault.
In its last outing, Arkansas registered a runner-up finish at the 2015 SEC Indoor Championships in Lexington, Ky. During the two-day conference meet, the Razorbacks tallied four event titles with Irwin in the pole vault, McLeod in the 60-meter hurdles and Kemoy Campbell at 3,000 and 5,000 meters. For his double-win performance, Campbell was the co-recipient of the Cliff Harper Trophy as the meet's high-point scorer.
Of Arkansas' 20 NCAA indoor titles, five of them have been won on its home track in Fayetteville including the program's most recent team crown in 2013. The Razorbacks also hoisted the first-place trophy at the Tyson Center in 2002, 2003, 2005 and 2006. At last year's national meet in Albuquerque, N.M., the Razorbacks tallied a second-place finish.
For more information about Arkansas track and field, follow @RazorbackTF on Twitter.