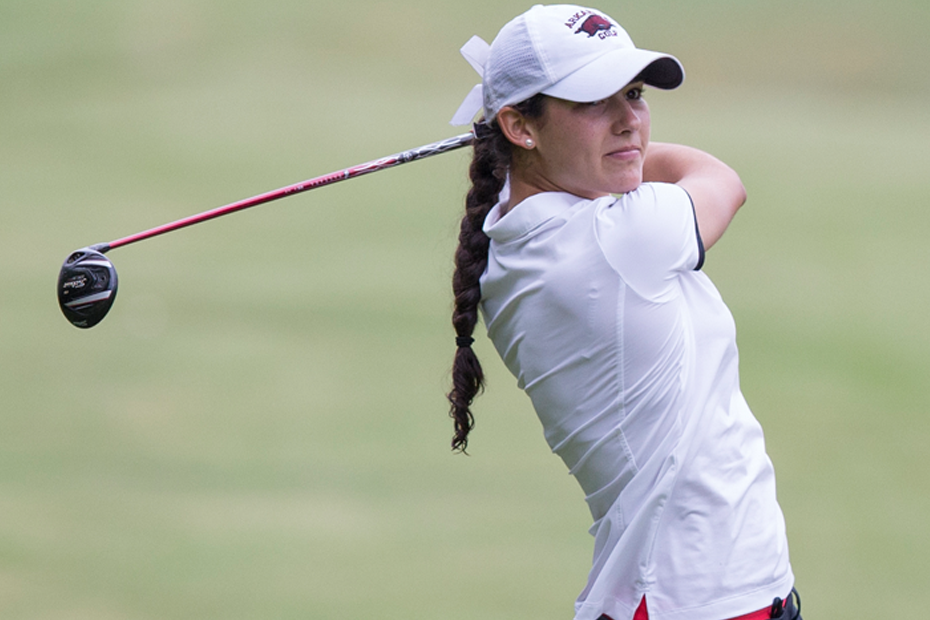 No. 3 W. Golf Second After Round 1
SAN ANTONIO, Texas – The third-ranked University of Arkansas women's golf team shot a first-round 294 and is in second-place at the Alamo Invitational in San Antonio, Texas, Sunday. The Razorbacks are just one stroke behind the leader, Florida, who is in the clubhouse with a 293.
Senior Regina Plasenica leads Arkansas and is tied for third overall after a one-under 71. Plasencia opened with a couple of bogies but rallied with three birdies on the back nine moving to one-under for the day.
Junior Summar Roachell posted a first-round 72 and is tied for seventh overall, followed by sophomore Alana Uriell who is tied for 12th overall with 73. Junior Samantha Marks is tied for 51st overall with a 78 and freshman Cara Gorlei is tied for 74th with an 83.
Sixteenth-ranked Florida leads the field with a 293, followed by Arkansas at 294. Number 53 TCU and No. 29 Texas Tech as tied for third with 297 and Texas State round out the top five with 298. The rest of the field includes No. 69 Mississippi State with 299, No. 67 Baylor, No. 59 Oklahoma and No. 88 Wisconsin are tied for seventh with 303, No. 44 SMU posted a 304, No. 89 UTSA, No. 36 Houston and No. 11Texas A&M are tied for 11th with 305 and No. 35 LSU and No. 63 Tulane round out the field with 307.
Play continues Monday and Tuesday in the final event of the fall for the Razorbacks.
For more information on Arkansas women's golf, follow @RazorbackWGolf on Twitter.