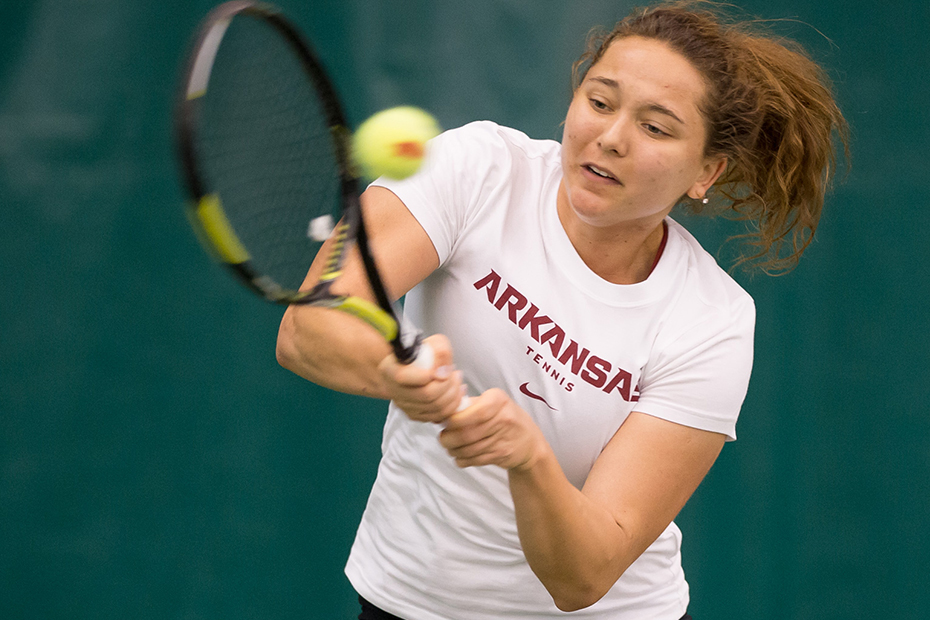 No. 38 @RazorbackWTEN Drops Match To No. 32 Purdue
WEST LAFAYETTE, Ind. – The University of Arkansas women's tennis team came up just short in its comeback bid Friday afternoon against No. 32 Purdue, losing a close 4-3 match to the Boilermakers at the Schwartz Tennis Center. The No. 38 Razorbacks' record slides to 10-3 overall.
Arkansas is 1-3 against ranked opponents this season, with two of those losses coming on the road.
"Definitely proud of our effort today," head coach Michael Hegarty said. "Both teams had plenty of chances to win the match and hats off to Purdue for finishing the job. Both teams have great seasons ahead of them no doubt."
Arkansas fell behind 1-0 early in the match after losing the doubles point for the fifth time this season.
A strong start to singles play highlighted by four first-set wins allowed the Razorbacks to work themselves back into the match. Junior Yuliya Lysa gave Arkansas its first point of the match as she knocked down No. 105 Daniela Vidal in straight sets on court one, 6-1, 6-4. The win was Lysa's first career over a ranked singles opponent and she improves her team-leading singles record to 10-1.
Following a loss on court two, junior Makenzie Craft tied the match score at 2-all as she defeated Deborah Suarez on court three, 6-3, 6-2. Craft improved her record on the third court to a perfect 5-0 and is 5-2 overall this season.
An Arkansas loss on court four put Purdue ahead 3-2 and the Razorbacks would need wins on courts five and six. Purdue's Nicole Robinson came back from a set down on court five to beat sophomore Oleksandra Shkorupeieva and clinch the Boilermaker win, 2-6, 7-5, 6-2.
Freshman Mia Jurasic closed out her win on court six in three sets, 7-5, 4-6, 6-4, earning her eighth win of the season and rounding out the match score to 4-3.
Friday was already the fourth match ending in a 4-3 score for the Razorbacks this season through 13 matches. In comparison, the Razorbacks played a total of four matches to a 4-3 score all of last season. Arkansas is 2-2 this season when the match is decided by a single point.
The No. 38 Razorbacks are back in action at the Schwartz Tennis Center in West Lafayette, Ind., Saturday at 12 p.m. ET/11 a.m. CT to take on No. 54 Memphis. Live scoring will be available.
RESULTS – NO. 32 PURDUE 4, NO. 38 ARKANSAS 3
Doubles:
1) Bernard-Feigenbaum/Vidal (PU) def. Lysa/Hudson (UA) 6-4
2) Xepoleas/Davila (PU) def. Craft/Jurasic (UA) 6-0
3) Araujo/Shkorupeieva (UA) vs. Robinson/Escribens (PU) 4-4, unf.
Singles:
1) Yuliya Lysa (UA) def. #105 Daniela Vidal (PU) 6-1, 6-4
2) T. Bernard-Feigenbaum (PU) def. Shannon Hudson (UA) 6-2, 6-2
3) Makenzie Craft (UA) def. Deborah Suarez (PU) 6-3, 6-2
4) Lynda Xepoleas (PU) def. Nastassia Rubel (UA) 6-1, 3-6, 6-3
5) Nicole Robinson (PU) def. Sasha Shkorupeieva (UA) 2-6, 7-5, 6-2
6) Mia Jurasic (UA) def. Claudia Escribens (PU) 7-5, 4-6, 6-4