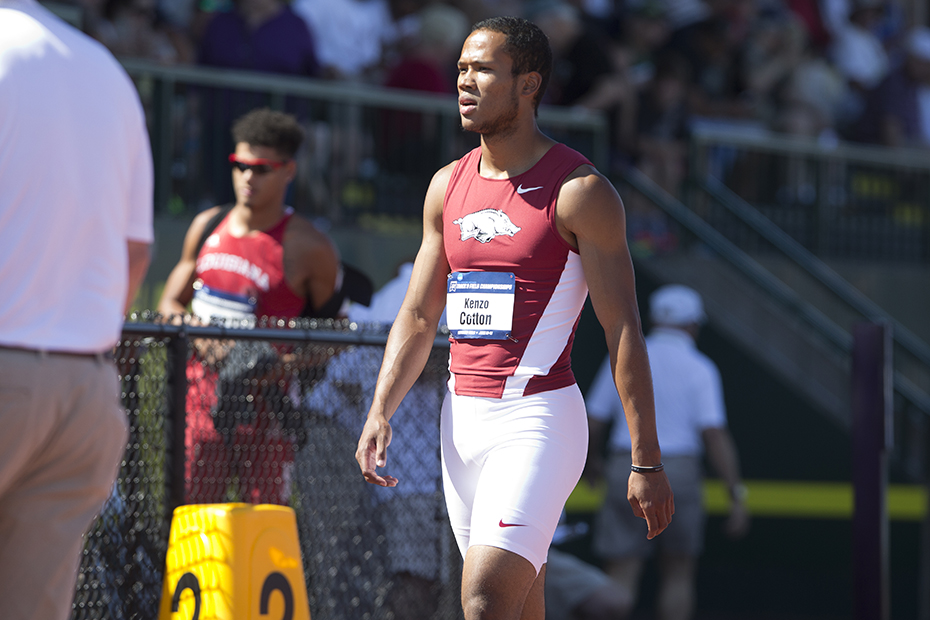 No. 4 Arkansas Returns To Action On The Road
Meet Notes
LSU Invitational Schedule
Payton Jordan Invitational Schedule
FAYETTEVILLE, Ark. – The Arkansas men's track and field team will head back out on the road this weekend traveling to Baton Rouge, Louisiana and Stanford, California for the LSU Invitational and Payton Jordan Invitational.
USTFCCCA Rankings
Following several strong performances at the John McDonnell Invitational, Arkansas returns into the top five in the latest USTFCCCA polls up three spots to No. 4.
The LSU Invitational will feature competition between seven of the best programs in the NCAA, including: No. 8 Alabama, No. 4 Arkansas, No. 2 Florida, Kentucky, No. 3 LSU, Miami and No. 1 Texas A&M.
Events to Watch
With five out of the 10 best teams in the country represented this weekend in Baton Rouge, almost every event at Bernie Moore Stadium will be one to watch this Saturday.
Sprint Domination
A three-time indoor All-American this year, sophomore Kenzo Cotton will make his outdoor debut in the 100 and 200-meter dashes Saturday at the LSU Invitational.
Cotton will be joined by 2015 NCAA outdoor 100 bronze medalist Jarrion Lawson in the 200 as Lawson prepares to potentially add another event to his NCAA agenda this June in Eugene, Oregon.
The 400 also promises to be one of the most dynamic races of the weekend featuring a talented Razorback lineup headlined by senior Marqueze Washington.
4-x-100-meter Relay
• Arkansas 4-x-100 pool: Cotton, Lawson, Kemar Mowatt, Marqueze Washington and Josh Washington
The defending 400-meter relay national champions will look to join LSU in the elite sub-39 club this weekend. Arkansas returns three members — Cotton, Lawson and Marqueze Washington — from the 2015 Hayward Field record-breaking team.
The Tigers currently have the No. 1 time (38.94) in the NCAA with the Aggies (39.02) close behind at No. 2 and the Gators (39.11) also narrowly trailing at No. 4.
Payton Jordan
Entering its 21st year of existence, the Payton Jordan Invitational remains one of the premier distance competitions on the track and field circuit.
The 2015 event produced two world-leading, seven American-leading, and nine collegiate-leading marks.
Freshman 1,500
Razorback middle-distance trio Austen Dalquist, Cameron Griffith and Ethan Moehn will take on the 1,500 at Cobb Stadium on Sunday.
All three underclassman have Southeastern Conference top-20 performances earned earlier this month at Azusa Pacific's Bryan Clay Invitational. Ranked 10th in the SEC, Dalquist leads the way with his season's best 3 minutes, 44.16 seconds.
5,000 Entries
• Jack Bruce – 2015 Cross Country All American | PR: 13:54.15
• Alex George – 2015 European Junior national champion | PR: 13:49.46
• Gabe Gonzalez – 2016 NCAA indoor All-American | PR: 13:45.98*
*indoor
Senior captain Cale Wallace will race alongside 2015 NCAA first round qualifier Frankline Tonui taking on some of the world's best athletes in the 3,000-meter steeplechase.
A live results link for both meets will be made available to fans at arkansasrazorbacks.com prior to the start of competition.
For more information on Arkansas track and field including in-meet updates, follow @RazorbackTF on Twitter.