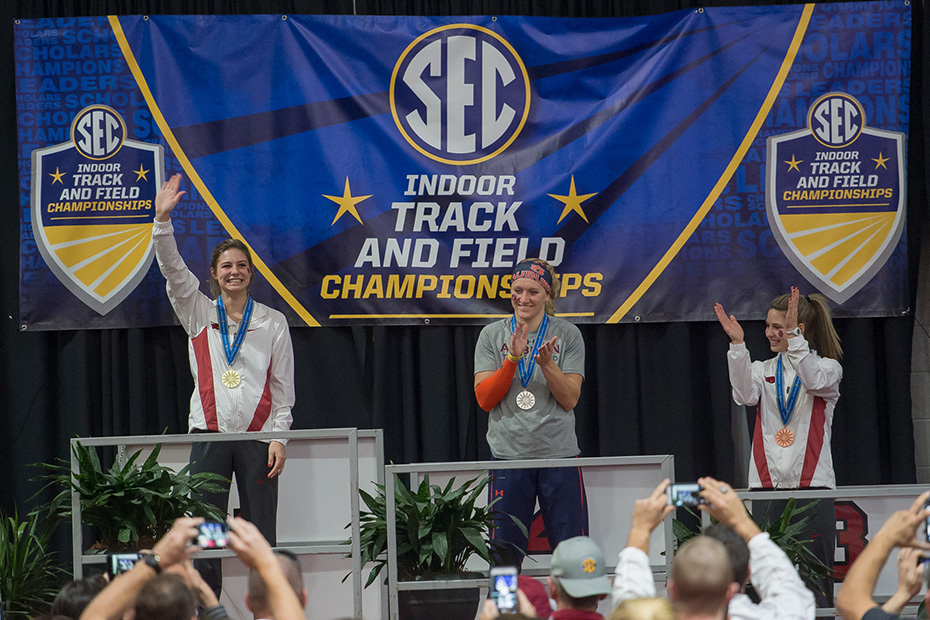 No. 4 Razorbacks Qualify 12 for NCAAs
NEW ORLEANS – Arkansas women's track and field remains one of the best teams in the nation at No. 4 in the latest USTFCCCA polls announced following completion of conference championships which were held over the last week. The Razorbacks qualified 12 for the upcoming 2016 NCAA Indoor Track and Field Championships, second only to No. 1 Oregon who qualified 16.
Freshman Lexi Weeks is the highest ranked qualifier for the Razorbacks as the NCAA co-leader in the pole vault. Weeks is undefeated in collegiate competition this season and is one of only five vaulters in NCAA indoor history to post a clearance over 15 feet. The Cabot Ark. native collected 10 points in her SEC championship debut to help the Razorbacks win the program's sixth SEC indoor title.
2015 NCAA indoor 400-meter silver medalist Taylor Ellis-Watson is another NCAA top-two ranked Razorback with the second best time in the 400 among collegians. A seven-time All-American Ellis-Watson ran a season best of 51.84 in the 400 meter finals at the SEC Indoor Championship picking up a gold and joining Courtney Okolo of Texas as the only other collegian under 52 seconds this year.
Along with Weeks and Ellis-Watson, Arkansas has two additional student-athletes who earned spots inside the NCAA top 10 in their respective events.
Redshirt sophomore Taliyah Brooks collected a personal record 4,457 points in the pentathlon earlier this season at the Razorback Invitational to gain recognition as the third best collegian in the event heading into the NCAA Indoor Championship. A jumps and hurdles specialist Brooks also gained entry into NCAAs in the open 60-meter hurdles and long jump.
Tori Weeks completes the quartet of NCAA top 10 ranked Razorbacks making the cut with the sixth best performance in the pole vault off her 4.40m/14-5.25 clearance. Part of an elite group of vaulters over 14-5, T. Weeks is the second highest nationally ranked freshman in the event. T. Weeks has the fourth best indoor pole vault performance in Arkansas history.
Other Razorback national qualifiers include Leigha Brown, Alex Gochenour and Payton Stumbaugh in the pentathlon. Stumbaugh also earned a spot in the 60-meter hurdles and as a member of Arkansas's 4×400-meter relay team which includes: Daina Harper, Brianna Swinton and Ellis-Watson.
Arkansas also qualified in the distance medley relay off the efforts of Nikki Hiltz, Harper, Therese Haiss and Jessica Kamilos. The relay team has a season best of 11:05.19 which they ran at the Alex Wilson Invitational.
Arkansas Qualifiers
(1) 400m – Taylor Ellis-Watson (51.84)
(2) 60mH – Payton Stumbaugh (8.15), Taliyah Brooks (8.18)
(1) 4x400m – Payton Stumbaugh, Daina Harper, Brianna Swinton, Taylor Ellis-Watson (3:30.63)
(1) DMR – Nikki Hiltz, Daina Harper, Therese Haiss, Jessica Kamilos (11:05.19)
(2) Pole Vault – Lexi Weeks (4.60m/15-1), Tori Weeks (4.40m/14-5.25)
(1) Long Jump – Taliyah Brooks (6.35m/20-10)
(4) Pentathlon – Taliyah Brooks (4,457), Leigha Brown (4,207), Alex Gochenour (4,229), Payton Stumbaugh (4,170)
For more information on Arkansas track and field including in-meet updates, follow @RazorbackTF on Twitter.