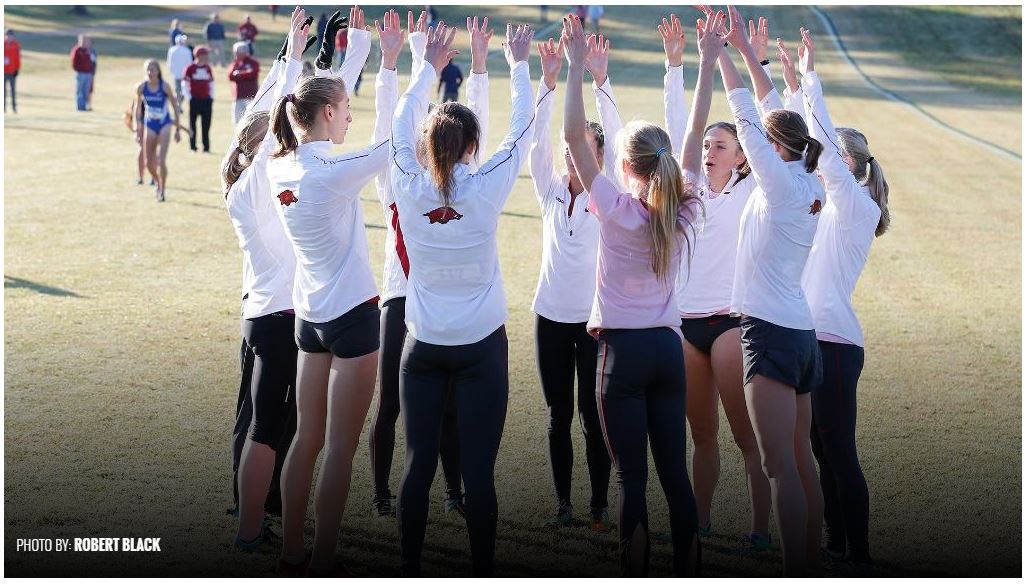 No. 4 Women's @RazorbackTF Seek NCAA South Central Regional Title
FAYETTEVILLE, Ark. — The No. 4 Arkansas women's cross country team will be looking to win the program's 19th NCAA Regional title when it hosts the 2014 NCAA South Central Regional Championships at Agri Park on Friday, Nov. 14.
This year's NCAA South Central Regional meet marks the third time in program history that Arkansas has hosted a regional championship, and is the second time in three years that Agri Park will serve as the site for the NCAA South Central Regional.
SCHEDULE OF EVENTS | NOV. 14, 2014
TIME
EVENT
8:00 a.m. CT
Course Opens to Competitors
11:35 a.m. CT
National Anthem
12:00 p.m. CT
Women's 6K Championship Race
1:00 p.m. CT
Men's 10K Championship Race
Head coach Lance Harter's team comes into Friday's meet as the No. 1-ranked team in the South Central Region according to the United States Track & Field and Cross Country Coaches Association Regional Poll. The Razorbacks have held the region's top spot all season and will be looking to win its fourth straight NCAA South Central titles.
Arkansas is led by 2014 Southeastern Conference Runner of the Year, Dominique Scott. The redshirt junior has led the pack for the Razorbacks in every race this season and has captured four event titles this season. In her most recent race, Scott won the SEC Cross Country Individual Title by completing the 6-kilometer race in a personal-best time of 19:22.74.
Scott is the highest returning champion from last year's NCAA South Central Regional, as she placed second in the 6-kilometer race in 19:40.70 to help Arkansas capture its third consecutive NCAA Regional Title.
Redshirt senior Grace Heymsfield has had an equally impressive 2014 campaign, as she has dominated in both the classroom and the cross country course. The Elkins, Ark., native has posted three second-place finishes this year, placing behind Scott each time. She recently placed second at the 2014 SEC Cross Country Championship, as she chased down and surpassed Tennessee's Chelsea Blaase in the final 25-meters. The placing earned Heymsfield her third straight All-SEC first team honor.
Teams from eight conferences which includes the American Athletic, Big 12, Conference USA, Southeastern, Southland, Southwestern Athletic, Sun Belt and Western Athletic Conferences will square off at Agri Park to compete for an automatic spot in the NCAA Championship which will be held Saturday, Nov. 22 in Terre Haute, Ind.
The Baylor Bears come into this meet ranked No. 2 in the South Central region, while Lamar University is ranked No. 3. The Razorbacks have faced off against both Baylor and Lamar this season, as each team was at the Chile Pepper Festival on Oct. 4. Arkansas ran away from every team on that day, as they collected 17 points to win the event. Lamar finished second with 78 points and Baylor placed 14th with 385 points.
The top two teams and top four individuals not on those squads will receive automatic spots in the NCAA Championship. At-large teams and individuals will be announced following the completion of all nine NCAA Regional championships.
For more information on the Arkansas women's cross country team, follow @RazorbackTF on Twitter.