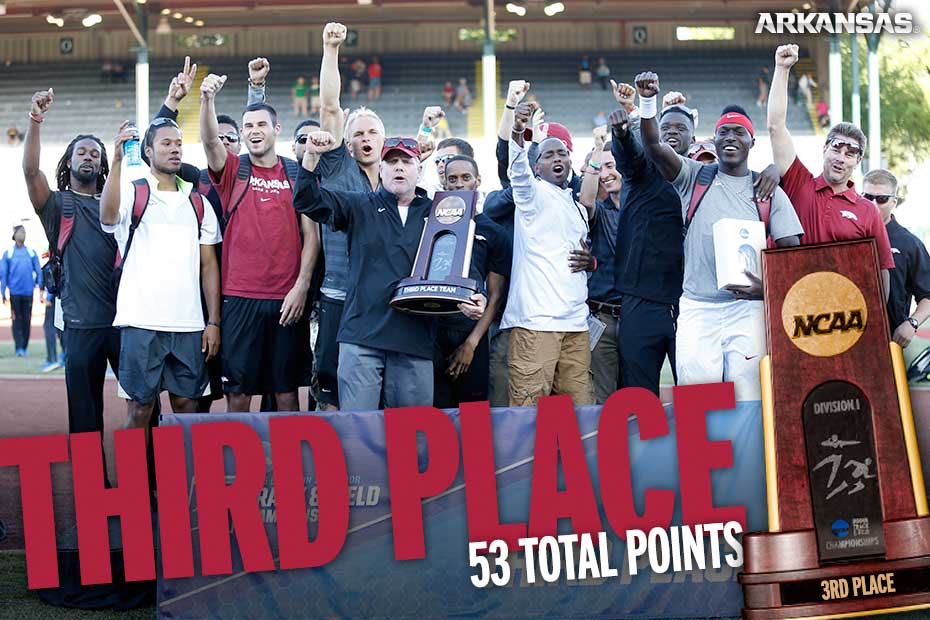 No. 5 Razorbacks Win Two Titles, Finish Third at NCAA Championships
EUGENE, Ore. – Behind a pair of national-title performances Friday, the fifth-ranked University of Arkansas men's track and field team finished in third place at the 2015 NCAA Outdoor Championships at Hayward Field. The Razorbacks tallied 53 points during the three-day meet to match the program's bronze finish in 2013. Overall, the Arkansas men have posted top-10 national finishes in five-consecutive years.
With the championship efforts by Omar McLeod and Arkansas' 4×100-meter relay, the men's program has collected 50 NCAA event titles at the outdoor national meet. Friday's victories were the Razorbacks' first since the 2006 season. The result for McLeod capped an undefeated hurdle indoor and outdoor season.
#NCAATF Points Breakdown | How They Scored
10 | Omar McLeod – 110m Hurdles
10 | Omar McLeod/Jarrion Lawson/Kenzo Cotton/Marqueze Washington – 4x100m Relay
8 | Stanley Kebenei – 3,000m Steeplechase
8 | Jarrion Lawson – Long Jump
6 | Jarrion Lawson – 100 Meters
6 | Kemoy Campbell – 5,000 Meters
3 | Kenzo Cotton/Jarrion Lawson/Marqueze Washington/Omar McLeod – 4x400m Relay
2 | Clive Pullen – Triple Jump
The Razorbacks opened the meet with the program's first-ever national title in the 4×100-meter relay. The quartet of McLeod, Lawson, Kenzo Cotton and Marqueze Washington passed the baton around the track in a time of 38.47, breaking its own school record and eclipsing the Hayward Field record of 38.53 set by Florida at the 2013 national meet. The time also moved Arkansas to No. 7 on the all-time collegiate performance list.
With his win in the 110-meter hurdles, McLeod became the program's second-ever national champion in the hurdle event and first since Olympian Clyde Scott in 1948. McLeod also became the first to sweep the 60- and 110-meter hurdles since 2009 when Ronnie Ash of Bethune-Cookman accomplished the feat. His winning, wind-aided time of 13.01 stands as the third fastest all-conditions performance in NCAA history, trailing on collegiate-record holder Renaldo Nehemiah (1979).
Arkansas' distance duo of Kemoy Campbell and Stanley Kebenei added 14 points with their respective performances at 5,000 meters and in the 3,000-meter steeplechase. For the second-consecutive season, Kebenei raced to a runner-up finish in the steeplechase, crossing the finish line in 8:34.28 to pick up eight points for the Razorbacks. Making his return to the national meet after redshirting in 2014, Campbell dashed down the final 100 meters to move from fifth to third in the 5,000-meter final. He clocked in at 13:49.23 for six points in the final individual race of the evening.
Lawson entered the NCAA Championships as the No. 11 national qualifier at 100 meters but exceeded that mark with a wind-aided 9.90 in Friday's final to secure third place. The standout performance came after his school-record showing of 10.04 in Wednesday's semifinal to advance. With his time of 9.90, Lawson tallied the fourth fastest all-conditions result in NCAA meet history. With the 4×400-meter relay team finishing sixth, he scored in four events—100 meters, long jump, 4x100m, 4x400m—at this week's NCAA Championships.
The Razorbacks also got contribution in the field events Friday with a seventh-place showing from Clive Pullen making his debut at the meet in the triple jump. On his third pass down the runway, the Razorback sophomore posted a day's best and wind-aided mark of 16.27m/53-4.5. Ken LeGassey capped his sophomore season with a 13th-place finish in the high jump, equaling the second-best clearance of his career at 2.16m/7-1.
2015 NCAA Outdoor Championships | Day 3
Hayward Field | Eugene, Ore.
Final Team Standings (top 10)
1. Oregon – 85
2. Florida – 56
3. ARKANSAS – 53
4. LSU – 45
5. USC – 40.5
6. Texas A&M – 27
7. Texas – 26
8. Mississippi State – 20
9. Texas Tech – 18
10. Illinois/Penn State – 17
100 Meters (final)
3. Jarrion Lawson – 9.90w (+2.7) [6 points]
5,000 Meters (final)
3. Kemoy Campbell – 13:49.23 [6 points]
110m Hurdles (final)
1. Omar McLeod – 13.01w (+3.9) [10 points]
3,000m Steeplechase (final)
2. Stanley Kebenei – 8:34.28 [8 points]
4x100m Relay (final)
1. McLeod/Lawson/Cotton/Washington – 38.47 (school record) [10 points]
4x400m Relay (final)
6. Cotton/Lawson/Washington/McLeod – 3:05.91 [3 points]
High Jump
13. Ken LeGassey – 2.16m/7-1
Triple Jump
7. Clive Pullen – 16.27m/53-4.5w (+4.2) [2 points]
For more information on Arkansas track and field including in-meet updates, follow @RazorbackTF on Twitter.