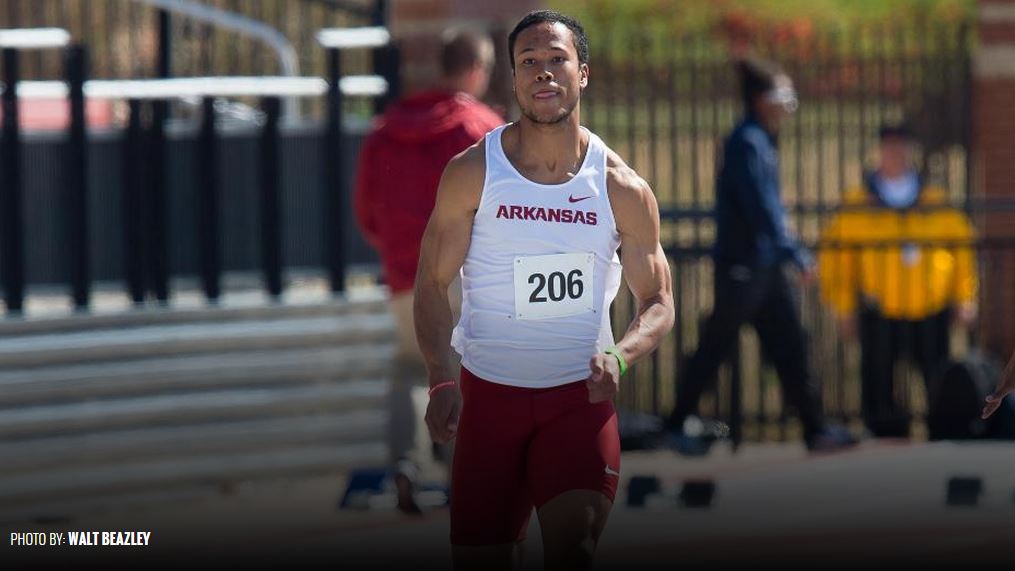 No. 6 Razorbacks Win Five Events In Outdoor Opener
FAYETTEVILLE, Ark. – The No. 6 University of Arkansas men's track and field team opened its outdoor season with five wins at the Arkansas Spring Invitational Saturday at John McDonnell Field. The Razorbacks had wins at 100 and 200 meters, and in the high jump, discus and javelin. Arkansas returns to competition April 3-4 with the Stanford Invitational in Palo Alto, Calif.
Kenzo Cotton and Marqueze Washington were the Razorbacks' winners on the track with first-place performances at 100 and 200 meters, respectively. Running in the final heat of the event, Cotton posted a wind-legal time of 10.44 to out-pace the field. Washington secured his win at 200 meters with a time of 21.39. Both were members of Arkansas' 4×100-meter relay that combined for a season-opening time of 40.33 and a runner-up finish.
Arkansas' first win of the day came from Devin Randall in the discus. Less than 24 hours after breaking the school record in the hammer throw Friday evening, he took first place in the discus with a day's best of 53.85m/176-8. He moved from second to first with fifth-round attempt. Randall was back in action for the shot put where he finished in second place.
Freshman Andrew Henn picked up a win in his collegiate debut with a day's best toss of 58.06m/190-6 in the javelin. He and teammate Alex Springer went 1-2 for the Razorbacks in the event. Arkansas had another 1-2 finish in the high jump with Ken LeGassey taking the win ahead of teammate Alex Campbell. LeGassey opened the outdoor season with a final clearance of 2.05m/6-8.75.
This weekend's meet was the first of three home events this outdoor season with the team also set to host the John McDonnell Invitational (April 10-11) and Arkansas Twilight (May 1). For ticket information about future home events, call 800-982-HOGS (4647), email raztk@uark.edu or visit the Razorback Ticket Center located next to Baum Stadium.
Arkansas Spring Invitational | Fayetteville, Ark.
Saturday, March 28, 2015
John McDonnell Field
100 Meters
1. Kenzo Cotton – 10.44
5. Ryan Green – 10.68
11. Zach Riley – 10.85
25. Trae Carey – 11.33
29. Nathanael Franks – 11.89
200 Meters
1. Marqueze Washington – 21.39
6. Ryan Green – 22.01
7. Jamarco Stephen – 22.24
11. Zach Riley – 22.37 (-3.1)
400 Meters
15. Ryan Thomas – 50.09
1,500 Meters (seeded section)
–. Tomas Squella – DNF
–. Andrew Pisechko – DNF
110m Hurdles
4. Lane Austell – 15.49
–. Nathanael Franks – DNF
4x100m Relay
2. Cotton/Washington/Hawkins/Stephen – 40.33
7. Greene/Riley/Green/Owens – 42.03
High Jump
1. Ken LeGassey – 2.05m/6-8.75
2. Alex Campbell – 2.00m/6-6.75
Pole Vault
2. Brad Culp – 4.75m/15-7
6. Lane Austell – 4.15m/13-7.25
Long Jump
3. Rubin Owens – 7.02m/23-0.5
–. Trae Carey – NM
Triple Jump
5. Rubin Owens – 14.05m/46-1.25
Shot Put
2. Devin Randall – 16.64m/54-7.25
Discus
1. Devin Randall – 53.85m/176-8
8. Nathanael Franks – 40.18m/131-10
9. Lane Austell – 35.70m/117-1
10. Brad Culp – 34.76m/114-0
Javelin
1. Andrew Henn – 58.06m/190-6
2. Alex Springer – 57.79m/189-7
5. Nathanael Franks – 50.84m/166-9
6. Lane Austell – 50.23m/164-9
For more information on Arkansas track and field including in-meet updates, follow @RazorbackTF on Twitter.