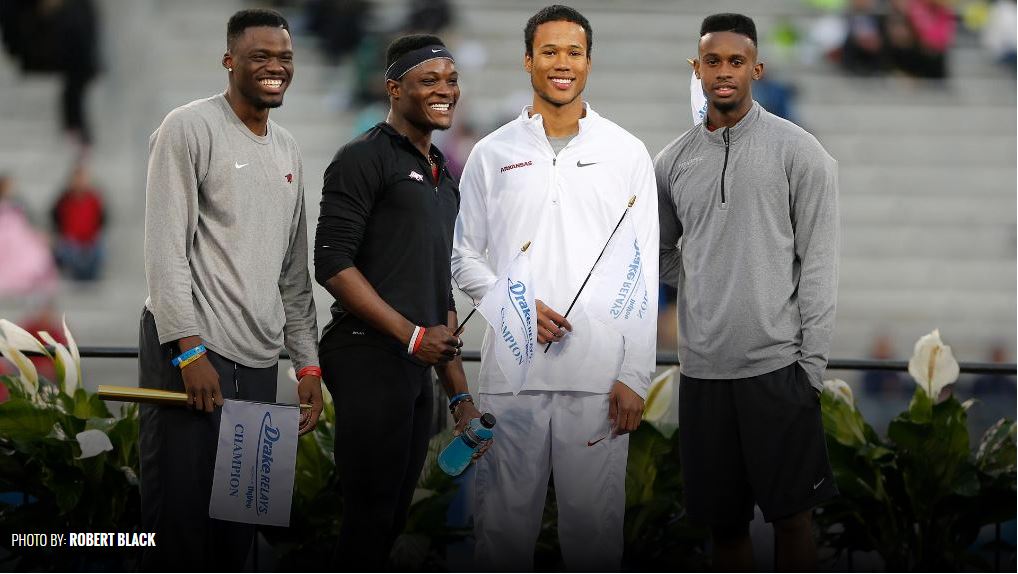 No. 7 Razorbacks Win Two #DrakeRelays Titles
DES MOINES, Iowa – The No. 7 University of Arkansas men's track and field team won a pair of titles Friday evening at the 106th Drake Relays. With their wins in the 4×200-meter relay and pole vault, the Razorbacks have now won 11 Drake Relays titles in program history. Arkansas also picked up two qualifying performances for Saturday's finals. Competition on day two begins at 9 a.m. (CT) with the men's discus.
Having already qualified earlier in the day in the 4×100-meter relay, Omar McLeod, Jarrion Lawson, Kenzo Cotton and Marqueze Washington were back on the track to win the 4×200-meter relay. The quartet combined for a winning time of 1:22.66, more than a second faster than the second-place team. The first-place effort was Arkansas' second win in the event at the Drake Relays having previously won in 2012.
In the rain-soaked pole vault, Irwin entered the competition at 5.42m/17-9.25 and used a second-attempt clearance at that height to secure the Drake Relays title. With the win in hand and the wet conditions, he passed on further attempts. Irwin has now won both meets he's entered this outdoor season coupled with his showing at the John McDonnell Invitational. The win is Arkansas' first Drake Relays title in the event.
McLeod made his outdoor season debut with the fastest-qualifying time in the preliminary round of the 110-meter hurdles. The Razorback sophomore clocked a time of 13.80 and was the only competitor under 14 seconds in the heats. He will run in Saturday's final at 2:24 p.m. Friday's race was McLeod's first since winning the 60-meter hurdles title and breaking the collegiate record at the NCAA Indoor Championships in March.
McLeod, Lawson, Cotton and Washington ran a season best of 39.79 in the prelims of the 4×100-meter relay. With its performance, the Razorback foursome also clocked the top time in qualifying to advance to Saturday's final which will be run at 3:20 p.m. Lawson and McLeod return from the team that finished second in last year's final.
The Razorbacks closed out the night with a runner-up finish in the 4×800-meter relay. The team of Andrew Pisechko, Tomas Squella, Cale Wallace and Ryan Thomas posted a time of 7:25.63. Saturday's schedule includes additional relay action in the sprint- and distance-medley relays.
In addition to season-best times by its 4×100- and 4×400-meter relays, Arkansas also saw personal-best performances from Trae Carey in the long jump and Andrew Henn in the javelin. Carey had a mark of 7.16m/23-6, more than a foot past his previous best in a Razorback jersey. Henn added nearly six feet to his previous best with a toss of 59.76/196-1.
Drake Relays, Day 1
Des Moines, Iowa | Drake Stadium
100 Meters (prelim)
24. Ryan Green – 11.18 (-2.4)
110m Hurdles (prelim)
1. Omar McLeod – 13.80q (-0.2)
4x100m (prelim)
1. McLeod/Lawson/Cotton/Washington – 39.79q [SB]
4x200m
1. – McLeod/Lawson/Cotton/Washington – 1:22.66
4x400m (prelim)
9. – Cotton/Washington/Janise/Stephen – 3:08.61 [SB]
4x800m
2. Pisechko/Squella/Wallace/Thomas – 7:25.63
Pole Vault
1. Andrew Irwin – 5.42m/17-9.25
Long Jump
12. Trae Carey – 7.16m/23-6 (+0.0) [PR – previous: 22-5]
Javelin
13. Andrew Henn – 59.76/196-1 [PR – previous: 190-6]
20. Alex Springer – 52.27m/171-6
The Razorbacks' next home meet is scheduled for May 1 with the Arkansas Twilight. For more information about tickets for home events, call 800-982-HOGS (4647), email raztk@uark.edu or visit the Razorback Ticket Center located just east of Baum Stadium.
Competing in the nation's toughest conference, Arkansas is one of nine SEC teams in this week's USTFCCCA national poll. All nine teams are within the top 18 spots including five inside the top 10. The 2015 SEC Outdoor Championships will be contested May 14-16 at Spencer Stadium/Maddox Track in Starkville, Miss.
For more information on Arkansas track and field including in-meet updates, follow @RazorbackTF on Twitter.