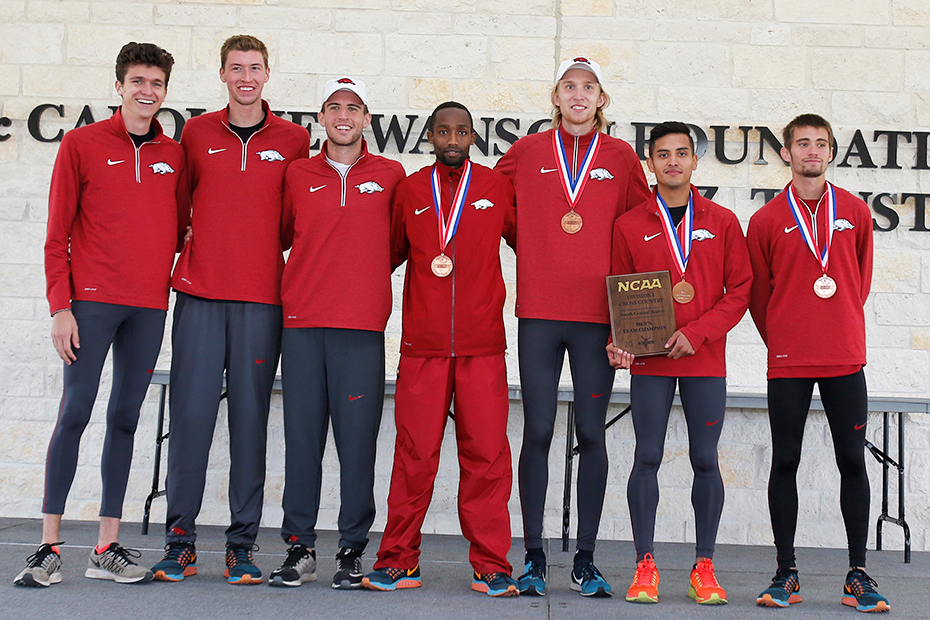 No. 8 Arkansas Wins Third-Consecutive Regional Title
NCAA South Central Results – M
COLLEGE STATION, Texas – Arkansas men's cross country team raced to their third-consecutive NCAA South Central Regional title Friday morning at Texas A&M. The victory marked the 35th win in program history for the Razorbacks at the regional championships.
Returning to the site of its SEC success Arkansas was led out by captain, Gabe Gonzalez. The Springdale, Ark. native maintained a comfortable pace with fellow captain Cale Wallace through the majority of the 10K race before surging ahead on the final straight away to finish third overall in 30:11.20.
Keeping with their pack-mentality, the Razorbacks ran as a unit from the start to finish. Arkansas' top five was completed by Frankline Tonui (fourth) in 30:12.70, Cale Wallace (sixth) in 30:15.70, Jack Bruce (13th) in 30:31.20 and Ethan Moehn (27th) in 31:11.8. Aidan Swain and Kyle Hosting were the final two finishers for Arkansas placing 34th and 48th respectively.
Gonzalez, Tonui, Wallace and Bruce were selected for the All-Region team for finishing within the top-25 runners.
Arkansas will have a short eight-day turnaround before travelling to Louisville, Ky. to compete at the NCAA Cross Country Championships on Saturday, Nov. 21. Healthy and confident, the Razorbacks look to finish their season strong and place inside the top-10 at the national meet.
More info to follow.
All-Region
Gabe Gonzalez
Frankline Tonui
Cale Wallace
Jack Bruce
NCAA South Central Regional Championships 10K Results – 1st of 24
1. Gabe Gonzalez (3) – 30:11.20
2. Frankline Tonui (4) – 30:12.70
3. Cale Wallace (6) – 30:15.60
4. Jack Bruce (13) – 30:31.20
5. Ethan Moehn (27) – 31:11.80
6. Aidan Swain (34) – 31:25.20
7. Kyle Hosting (48) – 31:43.80
2015 Arkansas Cross Country Schedule
Tuesday, Sept. 1, Cowboy Preview | Stillwater, Okla. | 4th of 4
Saturday, Sept. 19, Iona Meet of Champions | New York, N.Y. | 2nd of 10
Saturday, Oct. 3, Chile Pepper Festival | Fayetteville, Ark. | 1st of 15
Friday, Oct. 16, Pre-Nationals | Louisville Ky. | 3rd of 42
Friday, Oct. 30, SEC Championships | College Station, Texas | 1st of 13
Friday, Nov. 13, NCAA South Central Regional | College Station, Texas | 1st of 24
Saturday, Nov. 21, NCAA Championships | Louisville, Ky.
For more information on Arkansas track and field including in-meet updates, follow @RazorbackTF on Twitter.