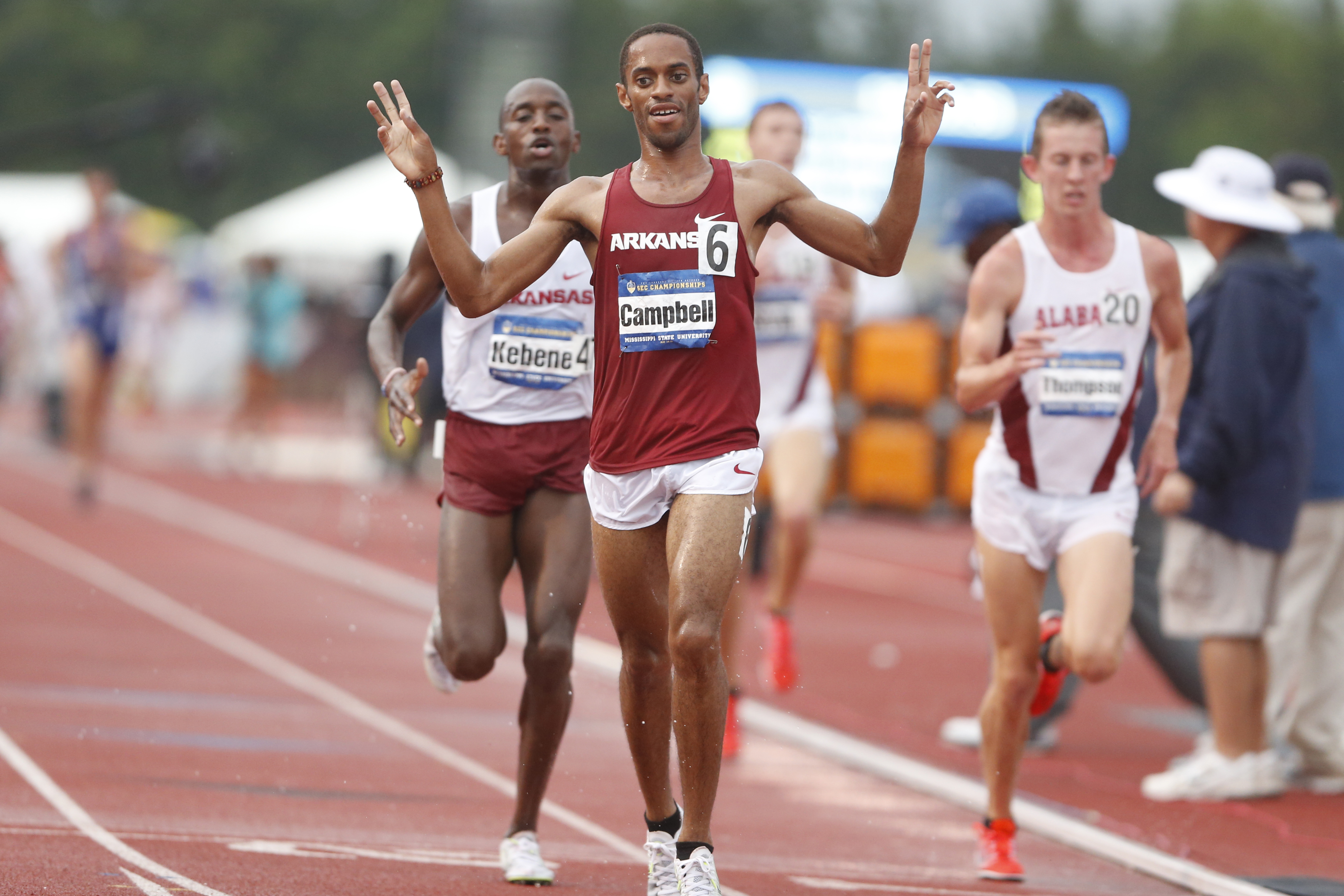 No. 8 Razorbacks Finish Second at #SECTF Outdoor Championships
STARKVILLE, Miss. – The No. 8 University of Arkansas men's track and field team opened its postseason with a second-place finish at the 2015 SEC Outdoor Championships in Starkville, Miss. During Saturday's competition, Kemoy Campbell and Omar McLeod won SEC titles at 5,000 meters and in the 110-meter hurdles, respectively. The Razorbacks finished the three-day meet with 95 points.
Overall, Arkansas finished the conference meet with three individual champions; Stanley Kebenei successfully defended his 3,000-meter steeplechase title during Friday's competition. The Razorbacks' finish capped an SEC slate that included a team title in cross country in the fall and a runner-up showing at the indoor meet in February.
"We really battled all weekend long and had some great performances," head coach Chris Bucknam said. "I'm really proud of these guys for not laying down. We knew we had a tough road up against a very experienced and deep Florida team but our guys didn't lay down. We went out and competed every day in every event. We had a great day today to finish 14 or 15 points above our projected score. In this league, that's pretty good and I'll take second over third any day of the week. We're a young team so we're just going to keep getting stronger."
With his championship performance, McLeod became Arkansas' fourth SEC champion in the 110-meter hurdles and its first since the 1997 season. He crossed the finish line in a time of 13.28 to remain undefeated in a hurdles race during the season. McLeod joins the list of past champions Chris Phillips (1992, '94), Harry Jones (1996) and Kevin White (1997). He also joins Phillips as the only Razorbacks to sweep the SEC indoor and outdoor hurdles titles in the same season.
Having already posted a fifth-place finish at 1,500 meters earlier in the day, Campbell was back on the track to win his second SEC title at 5,000 meters. He led a 1-2 finish for Arkansas across the finish line with teammate Stanley Kebenei to score 18 points for the team. Campbell previously won the SEC title at 5,000 meters at the 2013 meet in Columbia, Mo. With his effort, the Razorbacks have now won 17 titles in the event including the last four.
Arkansas picked up a pair of fifth-place results in the sprint finals from Jarrion Lawson at 100 meters and Kenzo Cotton at 200 meters. Lawson tied the No. 3 mark in school history with his time of 10.19 in a race where places three through six were separated by just .02 seconds. In his meet debut, Cotton added another four points with his finish of 20.84 at 200 meters.
Cotton and Lawson were also part of the Razorbacks' 4×100-meter relay team that opened competition on the track with a fifth-place finish. The quartet of Cotton, Lawson, Eric Hawkins and Marqueze Washington passed the baton around the track in a time of 39.12, good for four points and the No. 2 relay mark in program history. In the final event of the night, the Razorbacks added an eighth-place finish in the 4×400-meter relay.
The team's field efforts were paced by the performances of Andrew Irwin with a third-place finish in the pole vault and Clive Pullen with a fourth-place showing in the triple jump. In his opening-round pass down the runway, Pullen established an all-conditions best with a jump of 16.16m/53-0.25. Arkansas also got contribution from Ken LeGassey who had a final clearance of 2.09m/6-10.25 in the high jump to earn three points in a sixth-place finish.
2015 SEC Outdoor Championships | Day 3
Mike Sanders Track and Field Complex
Starkville, Miss.
1. #3 Florida – 130.5
2. #8 Arkansas – 95
2. #1 Texas A&M – 95
4. #2 LSU – 92
5. #9 Georgia – 71.5
6. Kentucky – 58
7. Ole Miss – 53
8. #18 Mississippi State – 52
9. #12 Alabama – 47.5
10. Auburn – 40
11. #22 South Carolina – 36
12. #24 Tennessee – 28.5
13. Missouri – 20
100 Meters
5. Jarrion Lawson – 10.19 (+0.4) [PR – previous: 10.97] [4 points]
200 Meters
5. Kenzo Cotton – 20.84 (+0.6) [4 points]
1,500 Meters
5. Kemoy Campbell – 3:46.20 [4 points]
5,000 Meters
1. Kemoy Campbell – 13:52.62 [10 points]
2. Stanley Kebenei – 13:53.11 [8 points]
15. Cale Wallace – 14:35.51
33. Aidan Swain – 15:00.54
–. Noah Findlay – DNF
110m Hurdles
1. Omar McLeod – 13.28 (+1.9) [10 points]
4x100m Relay
5. Hawkins/Lawson/Cotton/Washington – 39.12 [4 points]
4x400m Relay
8. Washington/Lawson/Cotton/Stephen – 3:08.64 [1 point]
High Jump
6. Ken LeGassey – 2.09m/6-10.25 [3 points]
13. Alex Campbell – 1.99m/6-6.25
Pole Vault
3. Andrew Irwin – 5.32m/17-5.5 [6 points]
Triple Jump
4. Clive Pullen – 16.16m/53-0.25w (+3.0) [5 points]
14. Rubin Owens – 15.02m/49-3.5w (+2.7)
17. Brandon Workman – 14.41m/47-3.5 (+1.3)
18. Trae Carey – 13.64m/44-9 (+1.5)
Discus
11. Devin Randall – 50.70m/166-4
The 2015 SEC Outdoor Championships will also air as a two-hour highlight show May 21 on ESPNU at 7 p.m. (CT) with Dwight Stones and Larry Rawson handling play-by-play and color commentary duties, respectively, with Jill Montgomery reporting from the track.
Arkansas will next compete May 28-30 at the NCAA West Preliminary in Austin, Texas. Qualifiers will then advance to the 2015 NCAA Outdoor Championships which will be contested June 10-13 at Hayward Field in Eugene, Ore.
For more information on Arkansas track and field including in-meet updates, follow @RazorbackTF on Twitter.