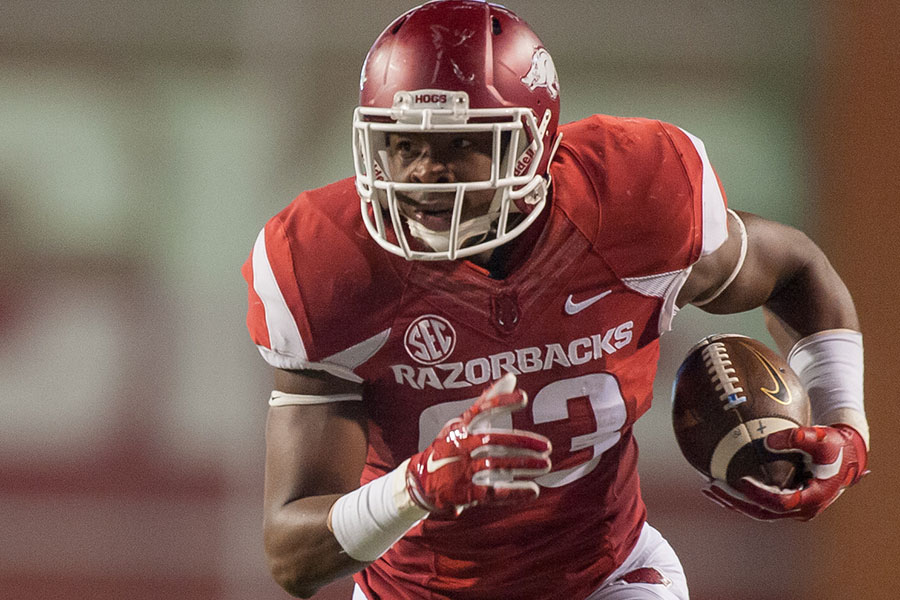 On The Air With Bret Bielema Finale On Wednesday
FAYETTEVILLE, Ark. – "On the Air with Bret Bielema," Coach Bielema's weekly radio show presented by AT&T and Lindsey, will close out its third season Wednesday night at 7 p.m. at the Catfish Hole in Fayetteville. Junior tight end Jeremy Sprinkle and junior defensive end Deatrich Wise Jr. will be the guests on the Thanksgiving-eve show before Arkansas hosts Missouri in the Battle Line Rivalry on Friday at Donald W. Reynolds Razorback Stadium.
Chuck Barrett, the voice of the Razorbacks, will host head coach Bret Bielema and fans can make reservations to attend the show by calling the Catfish Hole at 479-521-7008. Tickets are $25 and include all you can eat dinner buffet with catfish, shrimp and chicken.
On Monday, a new permanent trophy for the Battle Line Rivalry presented by Shelter Insurance® was unveiled. The Battle Line Trophy is made of silver and stands more than four feet tall and weighs more than 180 pounds. The trophy depicts the outline of the two states with the border of the two states being divided by interchangeable silver inserts with the words Battle Line in either gold or cardinal. Former Razorback football student-athlete David Bazzel was the designer and project lead.
Both Sprinkle and Wise will have a big hand in Arkansas obtaining the Battle Line Rivalry trophy, as both enter the regular season finale playing their best football of the season. Sprinkle is coming off a three-touchdown game against Mississippi State, equaling teammate Drew Morgan's program single-game SEC record set earlier this season against Auburn. A native of White Hall, Ark., Sprinkle leads all SEC tight ends with five receiving touchdowns on the year. He has also hauled in 23 catches for 308 yards compared to 11 receptions for 150 yards combined over his first two seasons.
Wise has five sacks over the last three games, highlighted by 2.5 sacks during the 31-14 win at No. 9 LSU. All six of his sacks on the season have come in SEC action, including four on the road, putting him a tie for third in the conference. He has also set a career-high for tackles in each of the last two games with seven most recently against Mississippi State.
The show will be carried throughout the state of Arkansas on the Razorback Sports Network and in Fayetteville on 92.1 FM and 93.3 FM.