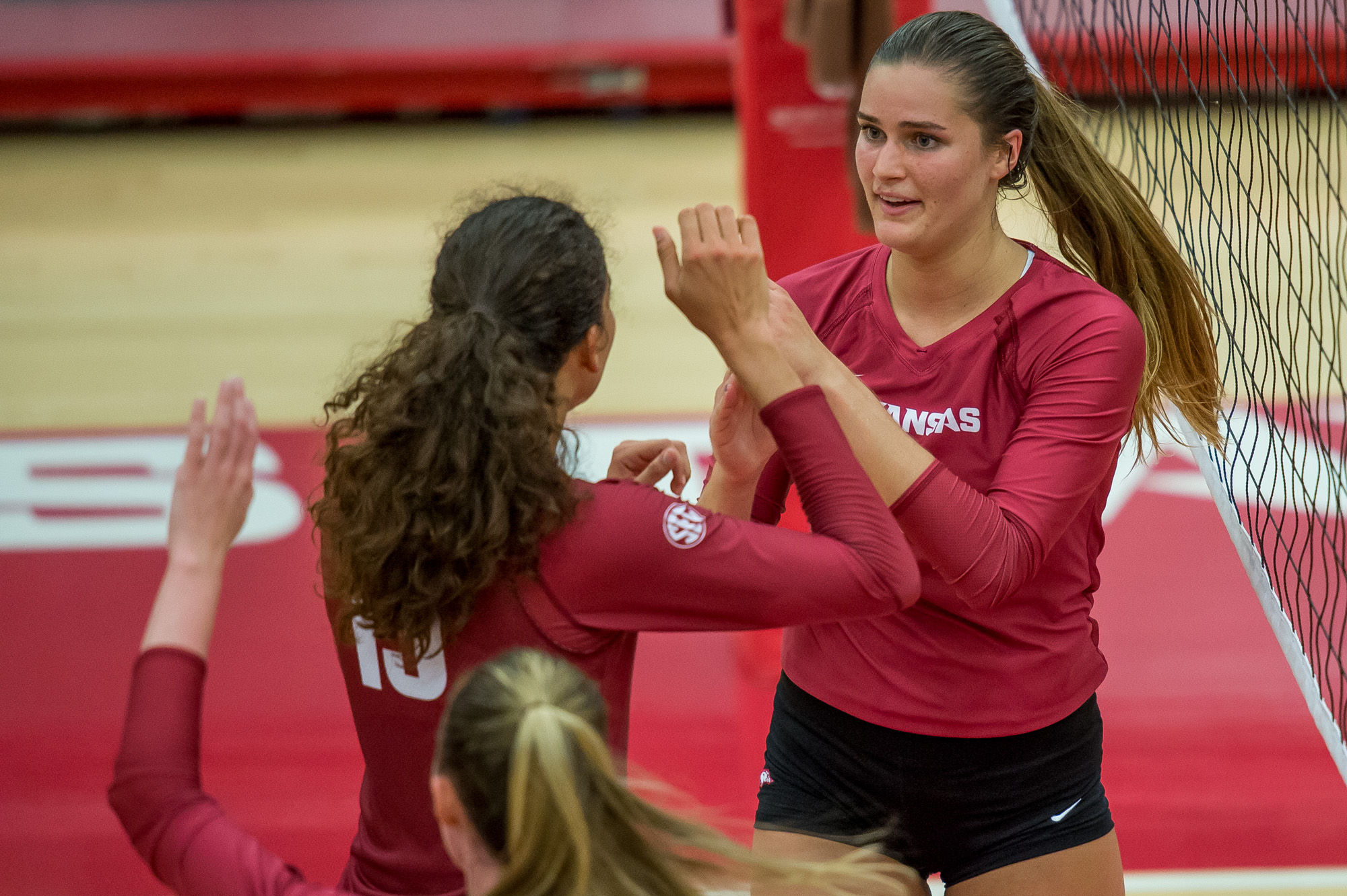 On the Road for 2016 Season Opener
FAYETTEVILLE, Ark. – In its first season opener on the road since 2009, the University of Arkansas volleyball team travels to Champaign, Illinois, as part of the four-team Illini Classic. The Razorbacks open their season Friday evening against host and preseason No. 14 Illinois with Saturday matches scheduled against Missouri State and Xavier.
2016 Illini Classic | Champaign, Ill. | Huff Hall
Friday, Aug. 26
7 p.m. – Arkansas at No. 14 Illinois – Live Stats | Video ($)
Saturday, Aug. 27
12:30 p.m. – Arkansas vs. Missouri State – Live Stats | Video
4:30 p.m. – Arkansas vs. Xavier – Live Stats | Video
Beginning its 23rd season in program history, Arkansas has won four-consecutive openers and carries a 15-7 mark all-time in season openers. The weekend slate features a pair of opponents—Illinois and Missouri State—that played in last year's NCAA Tournament. Arkansas will be renewing a trio of series this weekend having last played Xavier in 1995, Illinois in 2004 and Missouri State in 2006.
The Razorbacks' roster consists of 11 returners including preseason All-SEC pick Pilar Victoria. She along with fellow senior Breana Jones and libero Okiana Valle were all AVCA All-South Region selections last season. For a second-consecutive season, Arkansas was picked fifth in the preseason SEC coaches' poll.
"I feel fortunate to work with the athletes we have here," head coach Jason Watson said after Saturday's Red-White match. "We have a lot of work to do but it's good work. It's not something we're intimidated by."
After three road trips to begin the season, the Razorbacks return to Fayetteville for their home opener Sept. 16-17 with the Arkansas Invitational at Barnhill Arena. Season tickets are available for purchase through the Razorback Ticket Center with pricing options beginning at $40. Fans can call 800-982-HOGS (4647) or buy tickets online.
For more information about Arkansas volleyball, follow @RazorbackVB on Facebook, Instagram, Snapchat and Twitter.