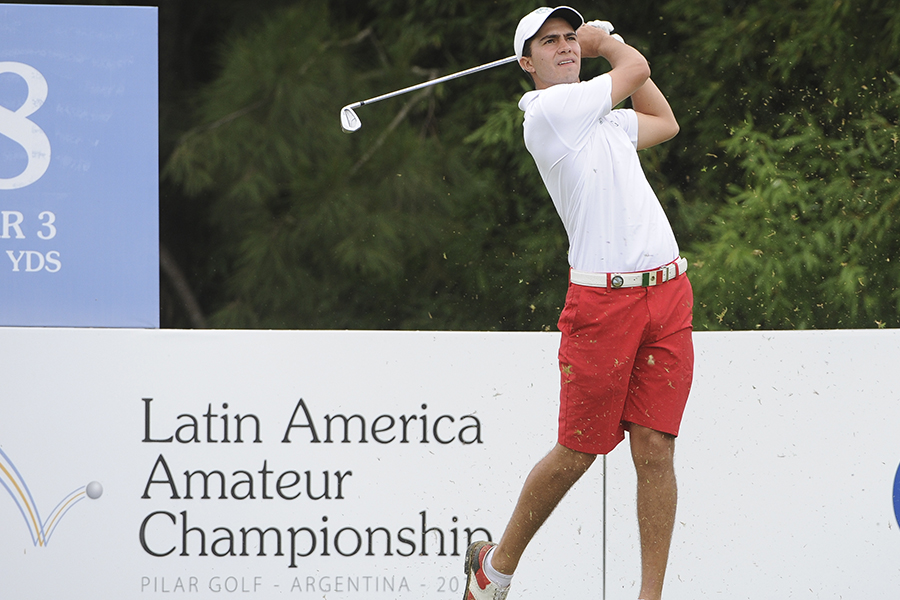 Ortiz Tied For First Round Lead At Latin Amateur
Buenos Aires, Argentina – Representing his home country of Mexico in the inaugural Latin America Amateur Championship (LAAC) at Pilar Golf Club in Buenos Aires, Argentina, Arkansas men's golf freshman Alvaro Ortiz finished Thursday's first round in a tie for the lead after a four-under 68.
Junior Nicolas Echavarria, the 2014 Mexican Amateur Champion, finished with an even-par 72 to sit in a tie for 23 in the 109-player field. The four-day stroke play event that features amateur players from 28 countries will be cut to the leading 60 players plus ties after Friday's second round.
With the winner of the event getting an invitation to compete in the 2015 Masters Tournament and The Amateur Championship, Ortiz is part of a four-way tie for first place at four-under. Ortiz was able to grab a share of the first round lead with a birdie on the par 4 18th hole, capping a first round that featured 12 pars and five birdies. Echavarria was as low as three-under during his round before finishing even-par. Out of the 109 players in field, just 34 shot even-par or lower.
Live coverage of Friday's second round can be seen from noon-2 p.m. on ESPN2 or ESPNEWS.
Ortiz and Echavarria (Colombia) each represented their countries last fall at the 2014 World Amateur Team Championships in Japan with both finishing under-par. That trip to Japan was the second in a matter of months for Ortiz who tied for sixth at the 2014 Toyota Junior Golf World Cup.
The brother of 2014 Web.com Tour money leader Carlos Ortiz, Alvaro turned in a counting score in each of his nine rounds played in the fall with a 72.6 stroke average and a pair of top 20s. Echavarria finished the fall with a team-low 72.2 stroke average.
The Opening Ceremony of the inaugural Latin America Amateur Championship took place on Wednesday with the presence of Billy Payne, Chairman of Augusta National Golf Club and The Masters Tournament; Wilson Sibbett, Chairman of the R&A; and Mike Davis, Executive Director of the USGA. Thomas O´Toole Jr., President of the USGA and Miguel Leeson, President of the Argentine Golf Association were also present.
The LAAC is developed by the three most important organizations in the golfing world: The Masters Tournament, the R&A and the United States Golf Association. The goal with which it was created was to promote the growth of and to inspire future youngsters to play the game in the region. This event will provide a unique opportunity since the winner will play the 2015 Masters, U.S. Amateur and the Amateur Championship. Likewise, the champion and runner-up(s) will be exempt to play the final qualifying of the 2015 Open and U.S. Open.
For more information on Arkansas men's golf, follow @RazorbackMGolf on Twitter.