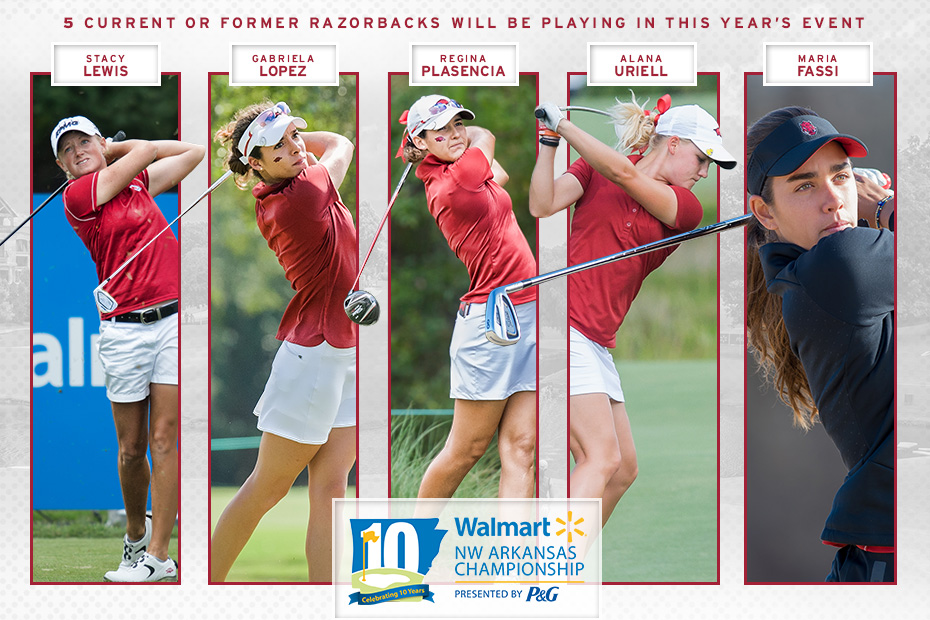 Pairings & Tee Times Released
WalmartNWA_pairings1 | NWAChampionship Website
FAYETTEVILLE, Ark. – Tee times and pairings for the 10th Annual Walmart NW Arkansas Championship presented by P&G have been released by tournament officials.
Five current or former Razorbacks are taking part in the event and the three Arkansas amateurs are getting the opportunity to play with some of their golfing role models.
#ProHogs Stacy Lewis begins her day at 8:47 a.m. from hole 10 on Friday. Lewis, a The Woodlands, Texas, native, is paired with Lydia Ko and Minjee Lee.
#ProHogs Gabriela Lopez, playing the event as a professional for the first time, is paired with Sydnee Michaels and Laetitia Beck. The group is also starting their round on No. 10.
The afternoon session begins at 1:58 p.m. for Razorback sophomore Alana Uriell. The Carlsbad, California, native tees off on No. 1 and is playing with Megan Khang and Cheyene Woods. Regina Plasencia, who, like Uriell, earned a spot on Friday's scorecard by way of a 1-2 finish in the qualifier, tees off at 2:09 p.m.
Plasencia is paired with Sandra Gal and Alison Lee. Freshman Maria Fassi, who earned the sponsor's exemption in the Road to the #NWAChampionship, rounds out the Razorback representatives. Fassi is scheduled for a 2:31 p.m. tee time and plays with Michelle Wie and Annie Park. Fassi and Plasencia also start from hole No. 1.
SUMMARY
Tee 10 — 8:47 AM
Stacy Lewis
Lydia Ko
Minjee Lee
Tee 10 – 8:58 AM
Sydnee Michaels
Gaby Lopez
Laetitia Beck
Tee 1 — 1:58 PM
Alana Uriell (a)
Megan Khang
Cheyenne Woods
Tee 1 — 2:09 PM
Regina Plasencia (a)
Sandra Gal
Alison Lee
Tee 1 — 2:31 PM
Maria Fassi (a)
Michelle Wie
Annie Park