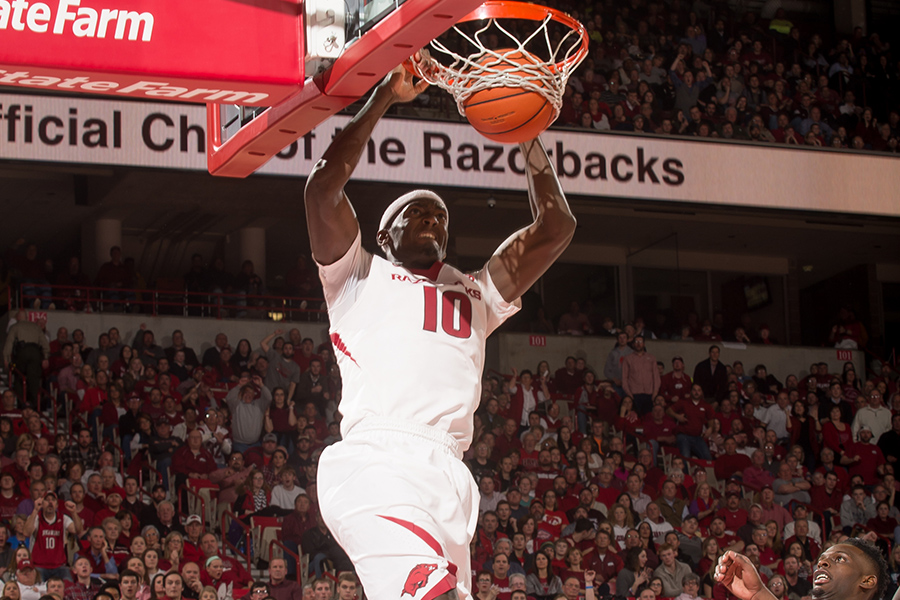 Portis Leads No. 18 @RazorbackMBB To Road Win
COLUMBIA, S.C. (AP) – Bobby Portis scored 24 points and pulled down eight rebounds to lead No. 18 Arkansas to a 78-74 victory over South Carolina on Thursday night.
The Razorbacks (24-6, 13-4 Southeastern Conference) trailed by 11 points with 7 minutes left in a wild game during which they led by 20 in the first half
With the win, Arkansas clinched second place in the SEC and will be on the opposite side of the league tournament bracket from top-ranked and undefeated Kentucky.
South Carolina (14-15, 5-12) managed only one point after leading scorer Tyrone Johnson left the game with cramps with 2:29 left. Johnson finished with 18 points.
The Gamecocks can finish no better than 11th in the SEC and will have to play on the opening day of the five-day conference tournament.
Rashad Madden had nine points, nine assists and seven rebounds for Arkansas.
Arkansas made 17 of its first 24 shots to take a 43-23 lead with just over 6 minutes to go in the first half. But the Gamecocks would outscore the Razorbacks by 31 points over the next 20 minutes, and Duane Notice's basket put South Carolina up 71-60 with 6 minutes left.
But Arkansas scored on six of its next eight possessions, with Anthlon Bell hitting two 3-pointers and a putback. Michael Qualls' jumper in the paint with 1:26 to go gave the Razorbacks the lead for good at 74-73.
Portis blocked a shot on South Carolina's next possession. The Gamecocks had one more chance at the free throw line down three. Sindarius Thornwell made the first free throw and missed the second, but the rebound soared over several heads into Qualls' hands.
Arkansas has won 24 games for the first time since 1997-98. The Razorbacks haven't won more since 1994-95, when they went 32-7 and lost in the national title game to UCLA.
Qualls finished with 18 points and seven rebounds.
Notice scored 16 points and Michael Carrera added 14 for South Carolina.
Worthy Of A Hog Call (#WPS)
Playing on the road for the fifth time in the last seven games, Arkansas clinched second place in the conference standings and the No. 2 seed in next week's SEC Tournament with its sixth road win of the league season. The six SEC road wins equals the program record set in 1993-94 by the National Championship squad. In 1993-94, the Razorbacks went 6-2 on the road in league action, playing one less game.
#RazorStat Of The Game
South Carolina committed two turnovers over a three-possession span late in the second half with the last miscue resulting in a Qualls bucket that gave Arkansas the lead for good. The two turnovers bumped South Carolina's final total to 16, as the Razorbacks improved to 20-0 when forcing its opponent into 15+ turnovers. The last turnover that led to Qualls' go-ahead bucket also helped Arkansas pick up its 29th straight win when leading at the half.
@RazorbackMBB Quick Hits 
• Clinched the No. 2 seed in the SEC Tournament.
• Third straight year under coach Anderson that Arkansas has improved its seed in the SEC Tournament by two spots.
• Seventh time this season Arkansas has won an SEC game by five points or less, breaking the record of six set in 1994-95.
• Six SEC road wins equals the program record set in 1993-94 (6-2).
• Arkansas' 13 SEC wins are tied for the second-most in program history.
• Arkansas' 24 regular season wins are the most since 1994-95.
• Win clinches the first season since 1997-98 that Arkansas will finish with single-digit losses.
• Arkansas has won 29 straight when leading at the half.
• Dating back to last year, Arkansas is 19-5 in its last 24 SEC games.
• Arkansas nine of its last 14 SEC road games.
• Win snapped a six-game road losing streak at South Carolina and was the program's first at Colonial Life Arena.
• South Carolina is the third different team (Mississippi State and Missouri) Arkansas has swept in the regular season.
• Arkansas is 20-0 this season when forcing 15+ turnovers.
• Sixth time (6-0) this season Portis and Qualls have combined for 40+ points.
• Seven of Portis' team-best 11 20-point games have come in SEC play.
• Portis has scored 20 points on the road five times this season.
• Portis has reached double figures in 25 straight games.
• Madden moved into fifth place all-time with 351 career assists.
• Madden's nine assists are a career-high.
• Madden is 10 points away from entering the top 30 in scoring all-time at Arkansas.
• Qualls closed to within 15 points of becoming the 37th player in program history with 1,000 points.
• Qualls had three dunks in the game to bring his season total to a team-best 29 and 82 for his career.
• Arkansas improved to 20-3 all-time when Bell reaches double figures.
• Bell has made three or three-pointers 22 times in his career with Arkansas gong 19-3 when it happens.
• Bell is just two three-pointers away from entering the top 10 all-time in program history.
• Bell has shot 50 percent or better from three 10 times this season compared to five last year.
Up Next
Arkansas will have less than 48 hours to prepare for its regular season finale on Saturday when LSU visits a sold out Bud Walton Arena. Senior Alandise Harris and Rashad Madden will be honored prior to the game as they make their final appearance at BWA. Fans will receive a free cardinal or white t-shirt on their seat upon arrival to #StripeOutLSU. Tip is slated for 1 p.m. CT on ESPN.