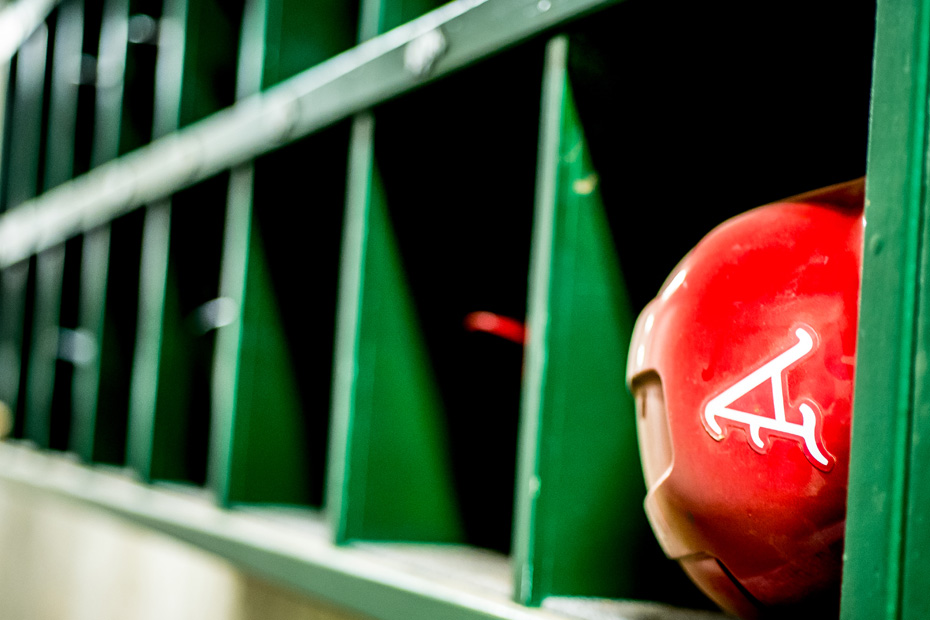 Preseason SEC Poll Released On Eve Of Opening Day
BIRMINGHAM, Ala. – On the eve of the program's 94th opening day, Arkansas has been tabbed to finish third in the SEC West in the 2016 SEC Baseball Coaches Preseason Poll released Thursday morning. In addition to the Razorbacks being picked third in the West Division, junior Clark Eagan, junior Zach Jackson and senior Rick Nomura all earned preseason All-SEC honors.
Already named a preseason All-American by three different media outlets while recently landing on the Golden Spikes Award Watch List and NCBWA Stopper of the Year Watch List, Jackson was named to the preseason All-SEC first team. Both Eagan (DH/Utility) and Nomura (2B) landed on the second team, as Arkansas joined Vanderbilt as the only two teams with multiple position players on the second team.
Predicted to finish fourth in the SEC West a year ago, the 2015 squad became one of just five teams in the nation to advance to the NCAA Tournament in each of the past 14 years and one of just 10 teams to advance to three of the last seven College World Series. Entering the program's 14th season under head coach Dave Van Horn, the Razorbacks return four position starters and five pitchers from last year's club that won 40 games for the sixth time in seven seasons.
Jackson was an All-SEC first team selection as a sophomore in 2015, finishing with a 5-1 record, nine saves, a 2.10 ERA and 89 strikeouts in 60 inning of work. Six of Jackson's nine saves in 2014 came in SEC action, while the other three came in NCAA postseason play, including back-to-back games against Oklahoma State and St. John's en route to earning a spot on the NCAA Stillwater Regional All-Tournament team.
Projected to play in center field or third base this season, Eagan's preseason All-SEC second team nod comes as a designated hitter/utility player after starting games at both first base and in the outfield last season. The Appleton, Wisc. native finished fourth on the team with a .288 batting average last season with 66 hits, including 13 doubles, four triples and two home runs with 31 RBI. Eagan hit .303 in SEC action and recorded nine hits in postseason play, highlighted by a 2-for-3 day at the plate with a double and season-high four RBI in the NCAA Fayetteville Super Regional against Missouri State.
In his first season as a Razorback, Nomura played in 57 games, hitting .298 with 11 doubles, one triple and four home runs. He tallied 16 multi-hit performances, coming up with a hit in his first seven games at Arkansas. Nomura ended 2015 on a high note, reaching base four times against Miami in the College World series, going 3-for-4 with a double, RBI and walk.
2016 SEC BASEBALL COACHES PRESEASON POLL
Eastern Division
1. Florida (13) – 91
2. Vanderbilt (1) – 78
3. South Carolina – 54
4. Kentucky – 53
5. Missouri – 47
6. Georgia  – 32
7. Tennessee – 30
Western Division
1. Texas A&M (8) – 85
2. LSU (5) – 79
3. Arkansas – 65
4. Mississippi State (1) – 49
5. Ole Miss – 46
6. Auburn – 33
7. Alabama – 28
SEC Champion: Florida (13); Vanderbilt (1)
Preseason All-SEC First Team
C – JJ Schwarz, Florida
1B – Peter Alonso, Florida
2B – Ryne Birk, Texas A&M
SS – Ryan Howard, Missouri
3B – Nick Senzel, Tennessee
OF – Nick Banks, Texas A&M
OF – Buddy Reed, Florida
OF – Anfernee Grier, Auburn
DH/UT – JJ Schwarz, Florida
SP – Alex Lange, LSU
SP – A.J. Puk, Florida*
SP – Logan Shore, Florida*
RP – Zach Jackson, Arkansas
Preseason All-SEC Second Team
C – Mike Rivera, Florida
1B – Evan White, Kentucky*
1B – Hunter Melton, Texas A&M*
2B – Rick Nomura, Arkansas
SS – Errol Robinson, Ole Miss
3B – Will Toffey, Vanderbilt
OF – Bryan Reynolds, Vanderbilt
OF – Stephen Wrenn, Georgia
OF – Jake Fraley, LSU
DH/UT – Clark Eagan, Arkansas
SP – Tanner Houck, Missouri
SP – Robert Tyler, Georgia*
SP – Jared Poche', LSU*
RP – Ryan Hendrix, Texas A&M
* – Ties were not broken