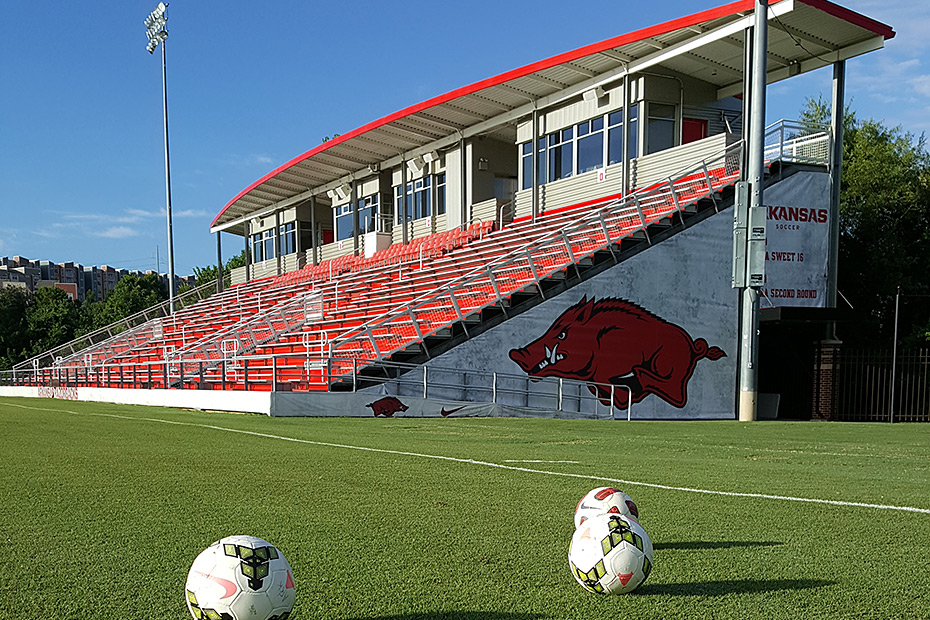 Preseason Underway For Competitive 2016 Slate
FAYETTEVILLE, Ark. – Arkansas soccer players gathered Wednesday morning at Razorback Field for the team's first practice of the 2016 season, marking 30 years of women's soccer at the University.
The morning session consisted of players going through a grueling multi-stage fitness test, commonly known as the "beep test," which gauges an individual's cardiovascular fitness.
With the team's 30th season set to begin in about two weeks on the road against James Madison and an exhibition against Kansas State at home on Aug. 11, getting the players ready physically and mentally are among the coaches' primary goals during the preseason.
"I'd say this is a very hungry group," head coach Colby Hale said. "There is a great mix of experience and youth in this team. I think we are all ready to get going."
Schedule
Arkansas will be tested in its 30th season by some of the most competitive teams in Division I soccer. Its 19-game slate will include five matches against teams ranked in the National Soccer Coaches Association of America Coaches Top 25, eight matches against 2015 NCAA Tournament teams, including national runner-up and current preseason No. 3-ranked Duke, and nine games will take place against teams that participated in the 2015 Southeastern Conference Tournament, including league champion and preseason No. 7-ranked Florida.
TV Broadcast and Streaming Schedule
Coverage of Razorback Soccer continues for the third-straight year on SEC Network and its digital extension, SEC Network +. Two Arkansas matches will be aired on broadcast television (at Ole Miss, Sept. 25 and vs. Vanderbilt, Oct. 6) while another two will be streamed online via WatchESPN (vs. Duke, Aug. 26 and vs. UMKC, Aug. 29).
Cox Sports Television will broadcast three matches – two on the road (at James Madison, Aug. 19 and at George Washington, Sept. 4) and one at home (vs. VCU, Aug. 21).
Roster
Arkansas returns 19 players from last year's roster, including seven seniors: Cameron Carter, Erika Miller, Alexandra Fischer, Claire Kelley, Katie Moore, Rachel Riggs and Lindsey Mayo.
"Nine new freshmen joined the team during the offseason as part of a 2016 recruiting class ranked No. 21 in the country by TopDrawerSoccer.com."
Tickets
Season tickets are available for purchase through the Razorback Ticket Center at 800-982-HOGS (4647) or online at ArkansasRazorbacks.com. Each season ticket package will include a new 2016 Razorback Soccer scarf.
For more information about Razorback Soccer, follow @RazorbackSoccer on Twitter, Instagram and Facebook.