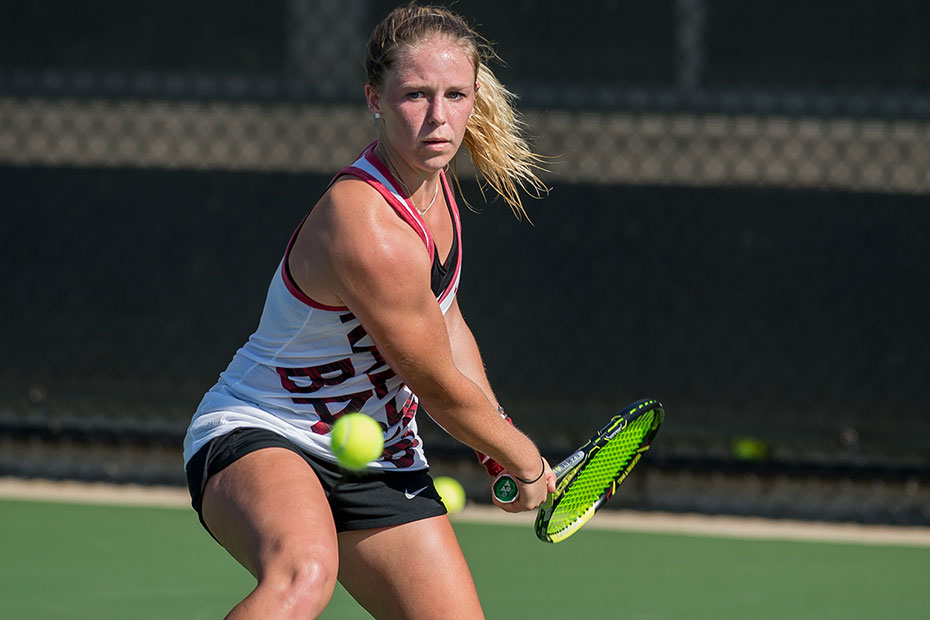 Fall Slate Begins Friday
FAYETTEVILLE, Ark. – Fresh off the program's 13th NCAA Team Championship bid last spring, Arkansas women's tennis begins its fall slate this weekend.
It will be a dual-event weekend for the Razorbacks as five players will travel to Charlottesville, Virginia and six players will go to Little Rock, Arkansas.
"We are definitely excited to open up tournament play this weekend," head coach Michael Hegarty said. "We expect both events to test us well and hopefully our early season practices will serve us well."
Competing for the Razorbacks at the UVa Fall Invite in singles will be No. 30 Yuliya Lysa, No. 96 Shannon Hudson, Ana Oparenovic, Mia Jurasic and Shwetha Prabakar.
In doubles action, the No. 11-ranked duo of Lysa and Hudson will reunite, while Oparenovic and Jurasic will make their debut as a pair.
The tournament consists of three singles draws and three doubles draws, and the field includes players from George Washington, Marshall, Maryland, Miami (Ohio), Old Dominion, Utah and Virginia.
Play begins Friday, Sept. 25  with one round of doubles followed by two rounds of singles. The singles draws consist of five rounds to decide a champion, while doubles will have three rounds to determine a winner.
Flavia Araujo, Makenzie Craft, Nicole Breaux, Oleksandra Shkorupeieva, Myrna Olaya and Peyton Jennings will represent Arkansas at the Little Rock Classic.
This will be the fourth consecutive year in which the Razorbacks have traveled to the state capital to open their fall schedule.
The tournament begins Friday, Sept. 25 and will run through Sunday, Sept. 27.
#RazorFact
For the second straight year, Hudson will have the opportunity to compete in her home state. Hudson led the way for the Razorbacks at the UVa Invite last season, claiming three singles wins as well as a doubles victory with Jurasic.
@RazorbackWTEN Quick Hits
Coach Hegarty enters his 13th season at the helm
Arkansas enters the fall with eight letterwinners and four newcomers
Of the eight letterwinners, four are seniors
Freshmen Oparenovic and Prabakar will make their collegiate debuts Friday
Lysa and Hudson begin the fall ranked No. 30 and No. 96 respectively in the ITA preseason singles rankings
The No. 30 ranking is Lysa's highest since joining the Razorbacks last season
Lysa and Hudson also check in at No. 11 in the ITA preseason doubles rankings
@RazorbackWTEN Opening Round Matchups
UVa Fall Invite:
Blue Flight Singles
Mia Jurasic vs. Meghan Kelly (UVa) – Friday, 9:30 a.m.
Yuliya Lysa vs. I. Vojcinakova (ODU) – Friday, 9:30 a.m.
Orange Flight Singles
Shannon Hudson vs. Luisa Rosa (Utah) – Friday, 10 a.m.
Ana Oparenovic vs. A. Pomyatinskaya (MA) – Friday, 10:45 a.m.
White Flight Singles
Shwetha Prabakar vs. M. Novakovic (ODU) – Friday, 11 a.m.
Blue Flight Doubles
Oparenovic/Jurasic vs. Morales/Carr (MA) – Friday, 8 a.m.
Orange Flight Doubles
Lysa/Hudson vs. Badileanu/Ponomareva (MU) – Friday, 8 a.m.
For more information on Arkansas women's tennis, follow @RazorbackWTEN on Twitter.