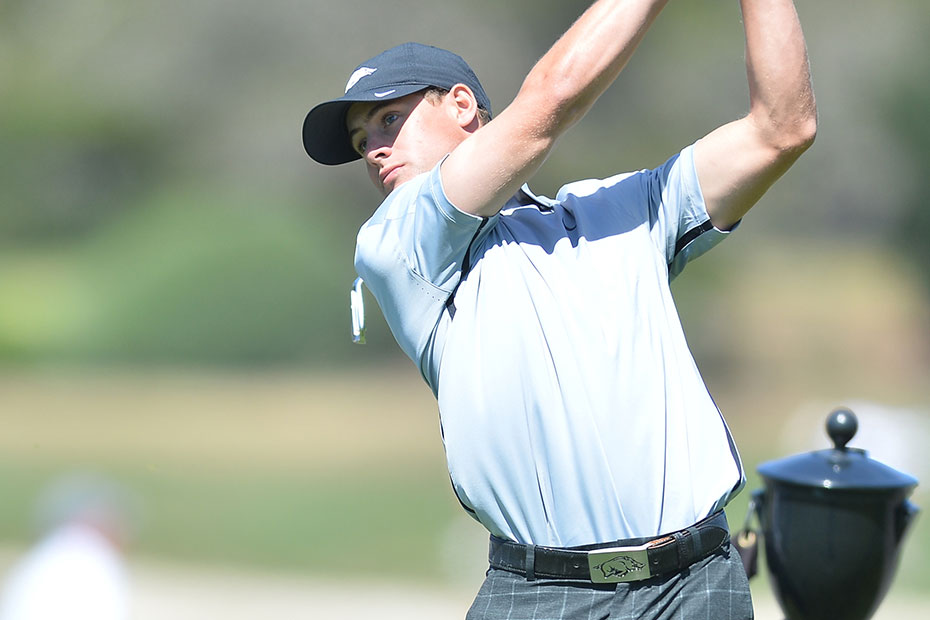 PREVIEW: Razorbacks Return To Olympia Fields
OLYMPIA FIELDS, Ill. – For the fourth straight year the Arkansas men's golf team will take on a loaded field at the Fighting Illini Invitational starting on Friday morning at Olympia Fields Country Club. The Razorbacks are one of 12 teams in the 15-team field that at least garnered votes in the preseason Bushnell Golfweek coaches poll.
#RazorFact
With Ortiz's top 10 finish at the Carmel Cup held at Pebble Beach, all five Arkansas starters this weekend have a top 10 finish in their career. The group has a combined 27 top 10 finishes and at least one member of the group has finished in the top 10 in seven of the last eight events.
@RazorbackMGolf Lineup
Taylor Moore, Sr.
Alvaro Ortiz, So.
Nicolas Echavarria, Sr.
Kolton Crawford, Sr.
Zach Coats, R-Jr.
@RazorbackMGolf Lineup Quick Nine
Same five-man lineup produced a top 4 finish in four of six events played together last spring.
All five players in this weekend's lineup have a top 10 finish in their career.
Four of the five starters shot even-par or lower in one round at Pebble Beach in the opening tournament.
One of the three seniors (Crawford, Echavarria, Moore) has been the team low-man in 12 of the last 15 events.
Ortiz picked up his first career top 10 in the season-opening Carmel Cup.
Ortiz has a counting score in 12 straight rounds and has been the team low-man three of the last four.
Moore has finished under-par in 15 of his last 32 rounds.
Moore's pair of one-under 71s at the Carmel Cup gave him 35 career under-par rounds.
Moore has a counting score in eight of nine career rounds played at the Fighting Illini Invite.
Fighting Illini Invitational Field (Bushnell Golfweek Preseason Coaches Poll)
Alabama (17)
Arizona State (6)
Arkansas (RV)
Baylor (25)
Florida State (4)
GRU Augusta
Illinois (1)
Indiana
UNLV (RV)
Northwestern
Oklahoma State (16)
Stanford (10)
Texas A&M (RV)
Texas (3)
Texas Tech (RV)