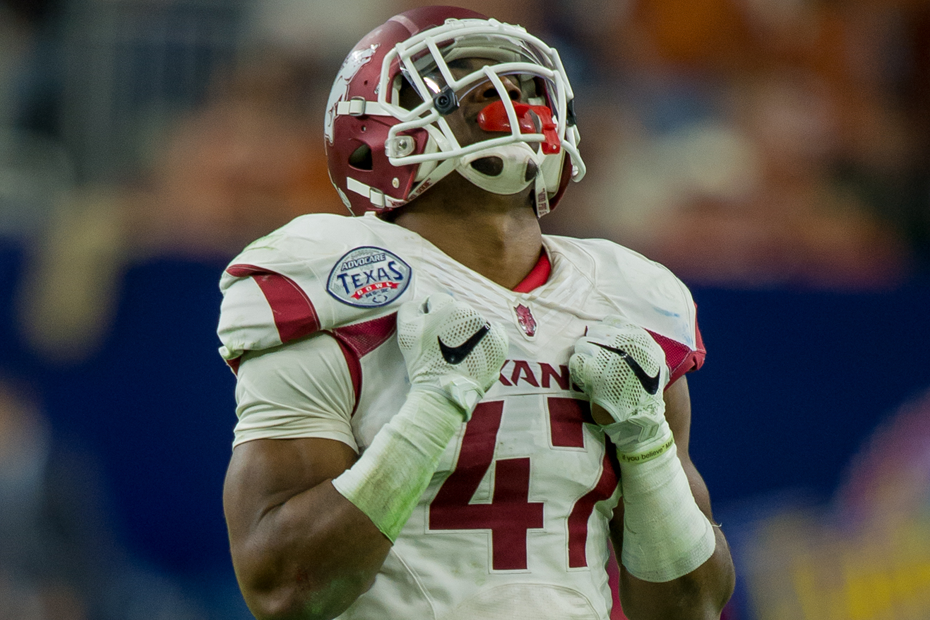 Pro Day Will Feature 16 Former Players
FAYETTEVILLE, Ark. – Arkansas will have 16 former football student-athletes participate in its annual football Pro Day on Wednesday, March 4 at noon in the Fred W. Smith Football Center. The on-field workout portion will be held in the Walker Pavilion beginning at 12:45 p.m.
The former players will be measured in a variety of typical football drills, including shuttle runs, vertical jumps, broad jumps, cone drills and the 40-yard dash. Participants will also have their height, weight, reach, hand size and wingspan measured for numerous NFL scouts.
There will be several notable names among the 16 Razorbacks participating. Linebacker Martrell Spaight was a consensus first-team All-SEC selection after becoming the first Razorback to lead the league in tackles (128) as a senior. Defensive linemen Trey Flowers and Darius Philon were both second-team All-SEC selections in 2014. Tight end AJ Derby participated in the NFL Scouting Combine and has drawn the attention of pro scouts after he converted from quarterback prior to the 2014 campaign.
A full list of participants:
Arinze, Patrick (FB)
Carr, Daunte (LB)
Cook, Brey (OL)
D'Appollonio, Alan (LS)
Derby, AJ (TE)
Flowers, Trey (DL)
Irwin-Hill, Sam (P)
Jefferson, Cam (OL)
Mitchel, Tevin (DB)
Mitchell, Braylon (LB)
Philon, Darius (DL)
Spaight, Martrell (LB)
Turner, Alan (DB)
Washington, Carroll (DB)
Wilson, Demetrius (WR)
Wright, Tenarius (DL)
Arkansas closed the 2014 season winning three of its final four games against powers LSU, Ole Miss and Texas. The Razorbacks finished 7-6 with a 31-7 win over Texas in the AdvoCare V100 Texas Bowl, marking Arkansas' first winning season since 2011.
Fans can put a deposit down for 2015 season tickets by visiting ArkansasRazorbacks.com. The 2015 home schedule includes six games in Fayetteville, four against opponents that played in bowl games last season – UTEP, Auburn, Mississippi State and Missouri. Arkansas will also take on Toledo at War Memorial Stadium in Little Rock.
For more information on Arkansas Football, follow @RazorbackFB on Twitter.