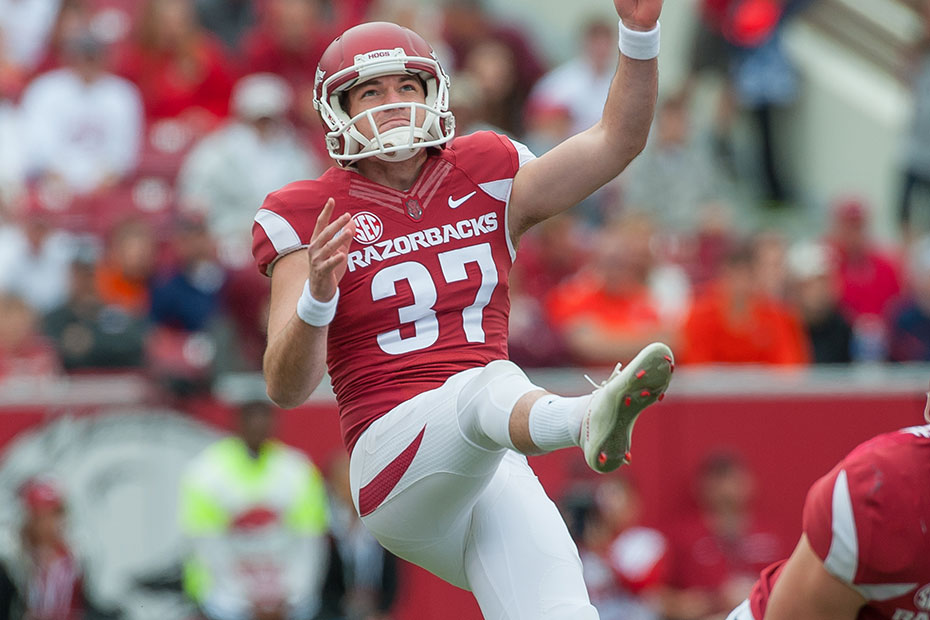 Ray Guy Award Nominee
FAYETTEVILLE, Ark. – Arkansas junior punter Toby Baker has been named a nominee for the 2015 Ray Guy Award, announced on Friday by the Augusta Sports Council. The Ray Guy Award is given to the nation's top collegiate punter.
Baker's solid 40.5 average is bolstered by 14 of his 26 punts landing inside the 20-yard line, including nine over the last two games against Alabama and Auburn. The Memphis, Tenn. native has boomed three punts of 50 yards or longer, including a season-best 52-yard kick last Saturday, while 14 of his 26 punts on the year have been fair caught. Baker has pinned opponents inside the 20 at least twice in four straight games.
The list of 79 candidates will be paired down to 10 semifinalists on November 13, while the three finalists will be unveiled on November 23. The presentation of the Ray Guy Award will be feature live on ESPN during the Home Depot College Football Awards, Thursday, Dec. 10, at 7 p.m.
The Razorbacks host UT Martin for Homecoming on Saturday, Oct. 31. Kickoff is slated for 3 p.m and the game will be nationally televised on SEC Network, WatchESPN.com and the WatchESPN app. Tickets are still available at ArkansasRazorbacks.com or by calling 1-800-982-HOGS.