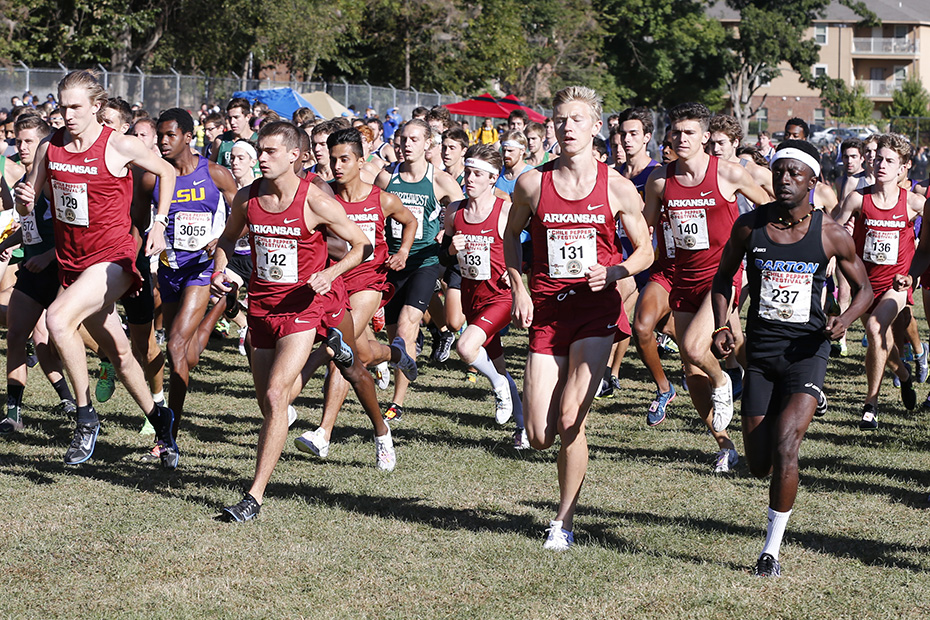 Razorback Rewind: Cross Country
FAYETTEVILLE, Ark. – The Arkansas men's cross country and track and field team capped an astounding 2015 season establishing its reputation as the most complete program in the Southeastern Conference with a national top-10 finish in three out of the past three seasons.
The Razorback men's cross country team entered the year as the 17th-best program in the nation. Prepared with a roster which boasted incredible depth, Arkansas featured a different top finisher in every race in which the Razorbacks competed. Their talent, made more apparent as the season wore on, helped the team improve in rank, climbing inside the top 10 to No. 8 by the time championship contests arrived.
Arkansas' regular season was highlighted by two SEC Runner of the Week honors for exceptional performances from Alex George and Austen Dalquist as they raced to personal bests at the Chile Pepper Festival and Pre-Nationals races, respectively.
The Razorbacks continued their run of success in the SEC and South Central Region as they collected their 23rd conference title and 35th regional crown. Their season came to a close with a sixth place finish at the NCAA Cross Country Championships marking their best finish since 2006. The first two Razorbacks to cross the line at the national meet, Jack Bruce and Frankline Tonui earned All-American honors placing individually inside the top-40 best runners in the country.
"The 2015 season was a huge stepping stone for us as a team," former captain Gabe Gonzalez said. "Having a strong season and finishing sixth in the country propelled us to have a great indoor and outdoor season. No one expected us to finish as high as we did because we were outside of the top 25 during the preseason but that shows you the leadership and determination of the team."
For his efforts in guiding the best conference and regional team, head coach Chris Bucknam was recognized as the SEC Coach of the Year and the South Central Region Coach of the Year.
Top 8K Times
Christian Heymsfield 23:25.20
Frankline Tonui 23:32.50
Alex George 23:35.68
Top 10K Times
Gabe Gonzalez 30:11.20
Frankline Tonui 30:12.70
Jack Bruce 30:15.30
Season Awards
• All-SEC: (First Team) Christian Heymsfield, Frankline Tonui, Alex George, Austen Dalquist | (Second Team) Gabe Gonzalez, Jack Bruce
• All-Region: Jack Bruce, Gabe Gonzalez, Frankline Tonui, Cale Wallace
• All-American: Jack Bruce, Frankline Tonui
• Christian Heymsfield – SEC Scholar Athlete of the Year, NCAA Elite 90, CoSIDA Academic All-District 6 First Team
• Chris Bucknam –SEC Coach of the Year, South Central Coach of the Year
For more information on Arkansas track and field including in-meet updates, follow @RazorbackTF on Twitter.