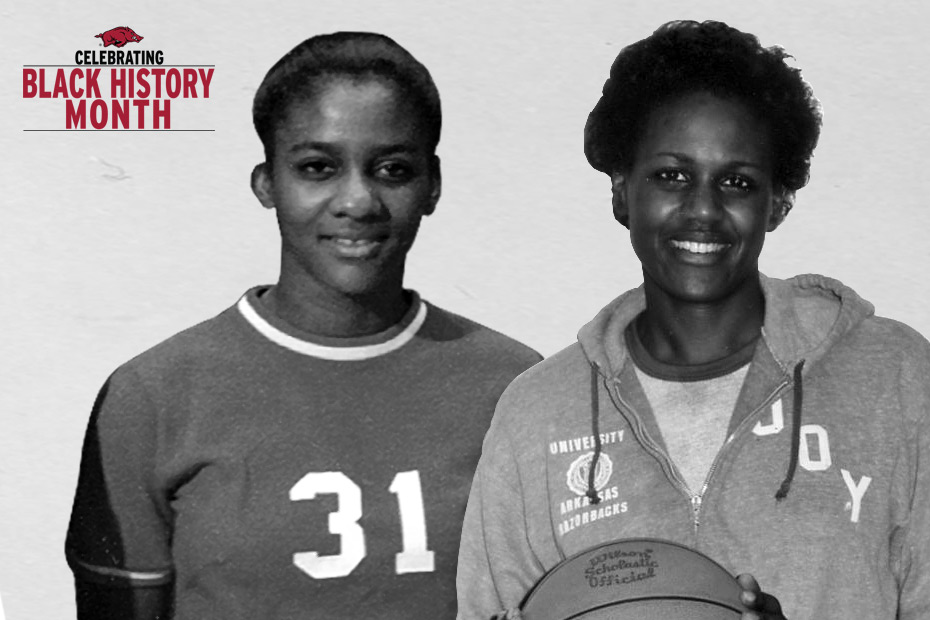 Razorback Trailblazers: Joy Dillard and Deborah Cooper
In honor of Black History Month, the Razorback Athletic department will release "Trailblazer" stories throughout February celebrating the success and accomplishments of some of the first African-American student-athletes in University of Arkansas history.
FAYETTEVILLE, Ark. – Almost since the turn of the century, women have banded together to play basketball at the University of Arkansas. In fact, yearbook references to women's basketball predate men's basketball at Arkansas.
Through the 1950s, some of the nation's best AAU teams came from the state of Arkansas. After years of "extramural" women's basketball in the late 1960s and early 1970s at the University, the first varsity Lady Razorback basketball team took the court in Barnhill Arena in 1976-77.
Under Coach Sharon Ogle, these Lady 'Backs established the winning tradition at Arkansas with a 10-6 season. Composed of walk-ons, the 1976-77 team was undefeated in Barnhill Arena (6-0) and set a school record for largest margin of victory that may never be broken – 79 points – with a 108-29 win over Bartlesville Wesleyan.
Three walk-ons received aid to become the first scholarship women at Arkansas: Camille Yancey of Marvel, Pat Keck from Rogers, and Carol Ann Riggs of Fayetteville.
As the Women's Athletics Department expanded during the 1970s, it took a dramatic step forward in 1976 and 1977 with the addition of women's basketball and track and field. These sports brought the first African-American female student-athletes to the University. It is notable that women of color were a part of the inaugural women's basketball team in 1976-77.
Joy Dillard was a two-year letter winner as a participant in the first two Lady Razorback basketball teams. Deborah Cooper also lettered on the inaugural basketball team.
Dillard played three seasons from 1977-79. She tallied 381 career rebounds in 53 games, ranking 31st all-time at Arkansas. Dillard led Arkansas to a 31-28 record, including an 18-4 home record.
Cooper played in the 1976-77 season, helping Arkansas to a 10-6 record. Cooper married Gene Cooper and the couple's son, Cobi Hamilton, was a wide receiver for the Razorback football program.