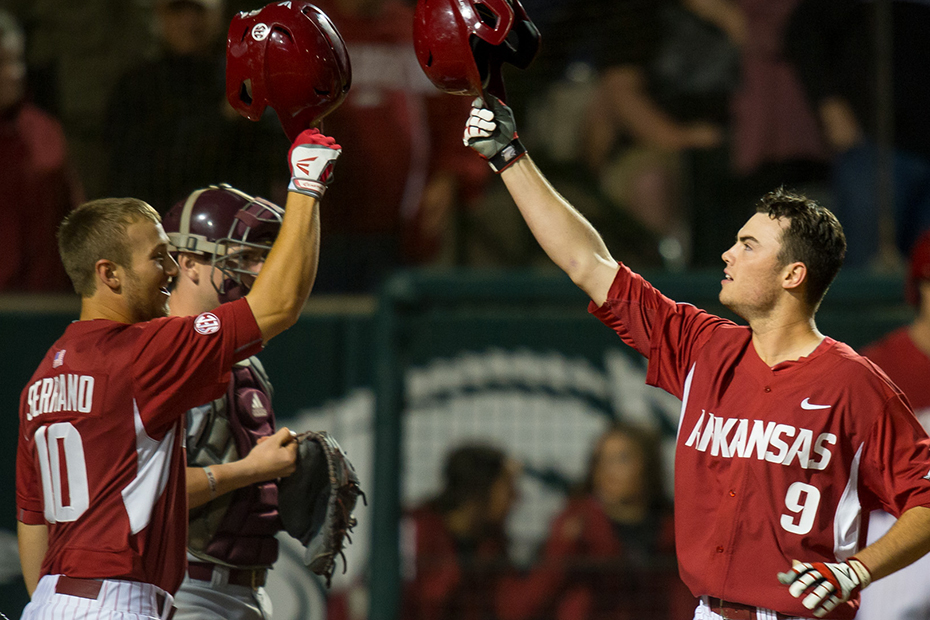 @RazorbackBSB Rallies Past Bulldogs in Series Opener
Box Score (PDF) | Photo Gallery
FAYETTEVILLE, Ark. – The University of Arkansas baseball team (25-17, 10-9) used a two-run eighth inning Friday evening to erase a late deficit and rally to pick up a 7-6 victory over Mississippi State (22-20, 6-13) in the series opener at Baum Stadium.
Arkansas continues its red hot stretch, winning 10 of the last 12 games and posting an 11-3 mark in the month of April. The Razorbacks have won five of their last six SEC series openers and are one victory away from claiming their fifth consecutive conference series victory.
Trailing 6-5 heading to the last of the eighth inning, Arkansas' late-inning magic took over again as Brett McAfee worked a leadoff walk, advanced to second on Brett McAfee's sacrifice bunt and Clark Eagan delivered a two-out RBI single up the middle to knot the score.
After Eagan moved over into scoring position on a wild pitch, Joe Serrano played the role of hero and lined a rope single up the middle to send Eagan racing home to score the winning run.
Four of Arkansas' last six conference wins have come when trailing in the seventh inning or later. Zach Jackson took the lead and slammed the door in the ninth inning, adding two of his seven strikeouts on the night to seal the victory.
Andrew Benintendi continued to impress at the plate, recording the fifth three-hit game of his career as he reached base in 13 consecutive plate appearances before Mississippi finally got him out in the eighth inning. Eagan added three hits of his own, drove in a pair and scored three times from the leadoff spot, while Bobby Wernes tallied two RBI's in the win.
Arkansas' early offense came in the third inning with four runs that included a two-run double from Wernes, while Eagan added a run in the fifth inning with a solo homer before Mississippi came storming back to take the lead.
Jackson (4-0) earned the win in relief, tossing 3.2 innings and giving up six hits and two runs, while striking out seven. Killian received a no decision after working the first 5.1 innings and giving up four runs, while striking out four.
Arkansas and Mississippi will play game two of the series Saturday evening on Dollar Hot Dog Night with first pitch slated for 6:05 p.m. at Baum Stadium.
Arkansas Head Coach Dave Van Horn opening statement: "It was just a gritty comeback win.  We didn't play great.  We pitched just good enough and we got a couple of timely hits, obviously.  We couldn't find a way to get Wes Rea out tonight.  He almost single handedly got after us there with five RBIs, five hits.  We just feel fortunate to win the game."
Van Horn on Joe Serrano's RBI single: "He (Brown) hangs a pitch to Joe and it was kind of a hanging breaking ball.  Joe sat back and he hit it hard.  It just shot into left field and all of a sudden we're winning the ball game.  A quick two outs and a little drama there at the end.  It was just a good win for our team."
Sophomore RHP Zach Jackson on his performance tonight: "I felt fine.  I'm not sure what my velocity was but I didn't feel like it was dropping or anything.  I felt like as I went along, my off-speed looked better.  We went a little bit more heavy fastball as the innings went on.  I feel like my off-speed and both my fastballs and the placement of it got a little better as I went."
Senior outfielder Joe Serrano on his 8th inning RBI single: "It felt good to get the lead back, but I just did what anybody else in the lineup would do.  I think if you were to replace me with anybody else in the lineup, they would've done the exact same thing I did.  I have that much confidence in our team and when we get on a roll it's almost like nobody can beat us.  It feels like even though we may be down, we're never out."
Game Notes
Arkansas has scored at least four runs in 12 consecutive games.
The Razorbacks are 11-3 in the month of April.
Arkansas improves to 18-17 all-time against Mississippi State in Fayetteville.
The Razorbacks are tied for third in the SEC with 38 home runs on the season.
Arkansas recorded double digit strikeouts for the 13th time this season.
The Razorback defense has only committed one error in the last seven games, compiling a .996 fielding percentage.
Clark Eagan collected his 13th multi-hit game on the season and scored a career-high three runs.
Andrew Benintendi has reached base safely in 15 straight games and has hit safely in 23 of 25 games.
Benintendi leads the SEC with 110 total bases
Benintendi has scored 11 runs in five games and is second in the SEC in runs scored with 44.
Benintendi is a perfect 8-for-8 in stolen bases in his last six games and has swiped 20 bags on the year for third in the SEC.
Benintendi reached base in 13 straight plate appearances and is third in the SEC with a .484 on base percentage.
For more information on Arkansas baseball, follow @RazorbackBSB on Twitter.