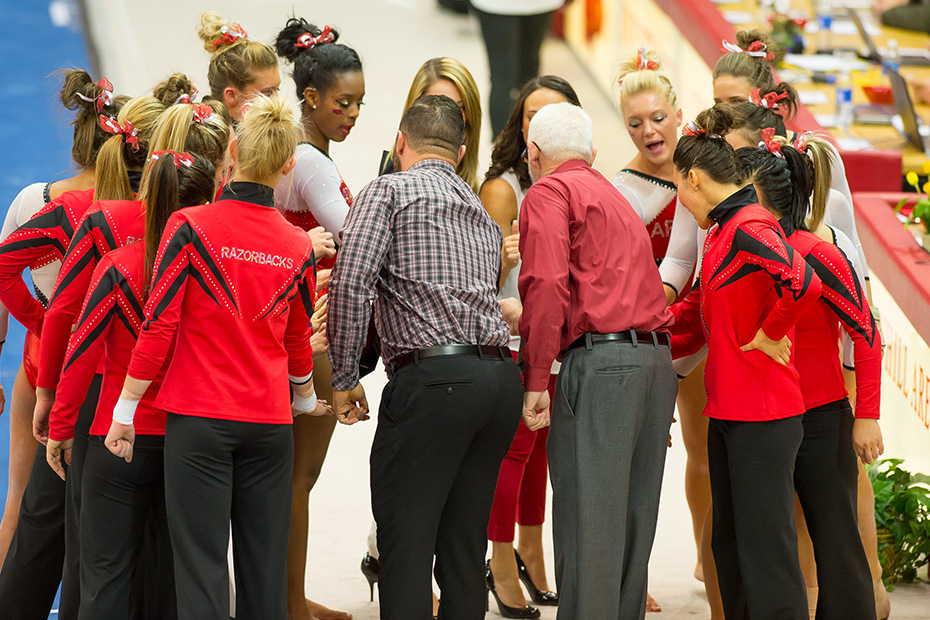 @RazorbackGym Places 14th In This Week's Gyminfo Rankings
FAYETTEVILLE, Ark. — The University of Arkansas women's gymnastics team dropped six spots in this week's Gyminfo Rankings, as they come in at No. 14 in the fifth edition of this year's regular season ranking.
The Razorbacks enter this week with the 14th-highest average score in the nation at 195.820. The No. 14 ranking ends a two-week stretch at No. 8 for the Razorbacks. The back-to-back weeks at eighth marked the second-consecutive year that the team had spent multiply weeks inside the Top 10 in the Gyminfo Rankings.
Arkansas did place inside the Top 10 in two event rankings, as they checked in at No. 7 nationally in both the vault and floor exercise.
The vault rotation has posted an average score of 49.240 this season, and moved up from No. 11 to No. 7 this week, thanks to a 49.425 score against the Gators. The score was tied the fifth-highest rotation score in program history on the vault. While on the floor exercise, the Razorbacks made their fifth-straight appearance in the Top 10, as they have collected an average of 49.210 this season. The Razorbacks also placed inside the Top 20 on the balance beam, as a score of 48.935 put them at No. 16 in the country.
In individual rankings, sophomore Amanda Wellick is ranked inside the Top 15 in two events, as she is 12th in the nation in the floor exercise (9.895) and tied for 15th on the vault (9.900). The Wheaton, Illinois, native is also tied for 30th in the all-around with a 39.145.
Fresh off her first two career event titles against Florida, freshman Paige Zaziski was placed in a tie for 26th on the uneven bars with a 9.855. While junior Heather Elswick, is tied for 27th in both the vault (9.875) and floor exercise (9.860).
For the second-straight week, the Southeastern Conference had five teams place inside the Top 10 of the Gyminfo Rankings. LSU took the conference's highest spot at No. 2, while Florida dropped two spots to fourth. Alabama maintained its No. 6 ranking, while Georgia and Auburn were slotted in eighth and ninth respectively.
Arkansas wraps up its two-meet home stand this Friday, Feb. 13, as they host Illinois State and Southeast Missouri in a tri-meet. Events are scheduled to begin at 6:45 p.m.
For more information on the Arkansas women's gymnastics team, follow @RazorbackGym on Twitter.