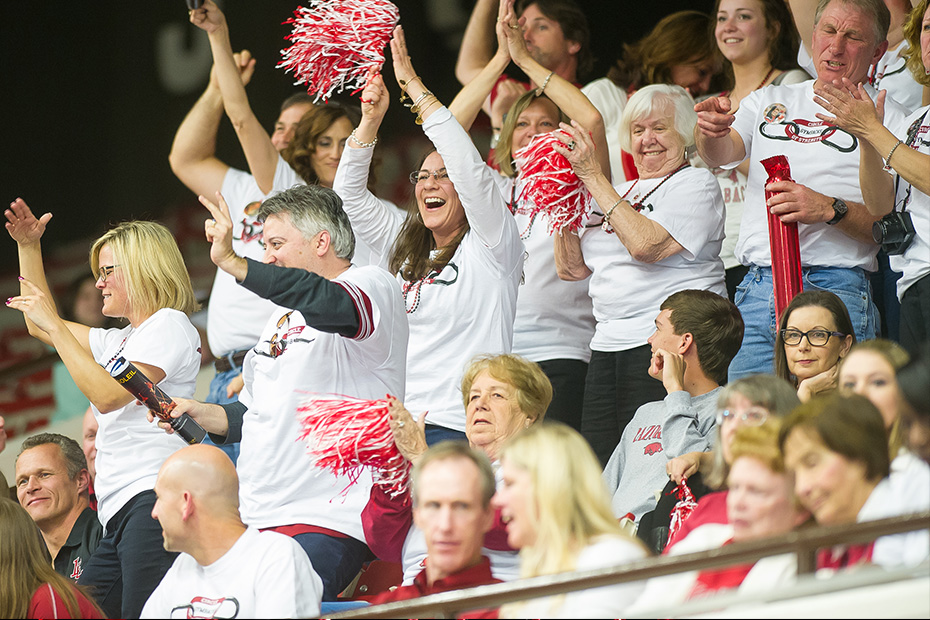 @RazorbackGym Set For Fan Appreciation Night on Friday
FAYETTEVILLE, Ark. – The No. 12-ranked University of Arkansas gymnastics team opens the home portion of its 2015 schedule on Friday against No. 6 Alabama at 8 p.m. in Barnhill Arena. It will be Fan Appreciation Night at Barnhill, as fans will have a chance to win a slew of prizes, which includes a two tickets to this Saturday's men's basketball home game against Ole Miss and a pair of Beats by Dre headphones. Friday's meet is being sponsored by Contour from Cox.
Fan Appreciation Night will feature a giveaway during each touch period, as fans can register for the giveaway prizes by signing up at the marketing table located in on the west end of Barnhill Arena prior to the 8 p.m. start time.
The first giveaway of the night will be a gift bag from Friday's sponsor, Cox. The second will be two tickets for this Saturday's men's basketball game vs. Ole Miss and the third gift will be a FitBit. The final handout of the night will be a pair of Beats By Dre headphones.
Fans will also have the opportunity to pick up an official 2015 gymnastics poster, schedule magnet and card. Those items will also be located at the marketing table.
Tickets are still available for the 'Best Show in Town' as this season will not only feature the usual family fun event that is synonymous with Arkansas gymnastics, but also an exciting new elements for the in-meet atmosphere. Single meet tickets are $5 for general admission and $3 for youth tickets. Any group of 10 or more purchasing tickets prior to meet day will be $2.
There is still time to purchase season tickets for the 2015 gymnastics season. Prices start at $25 for general admission and $40 for reserved. For ticket information click the link here.
For more information on Arkansas gymnastics, follow @RazorbackGym on Twitter.