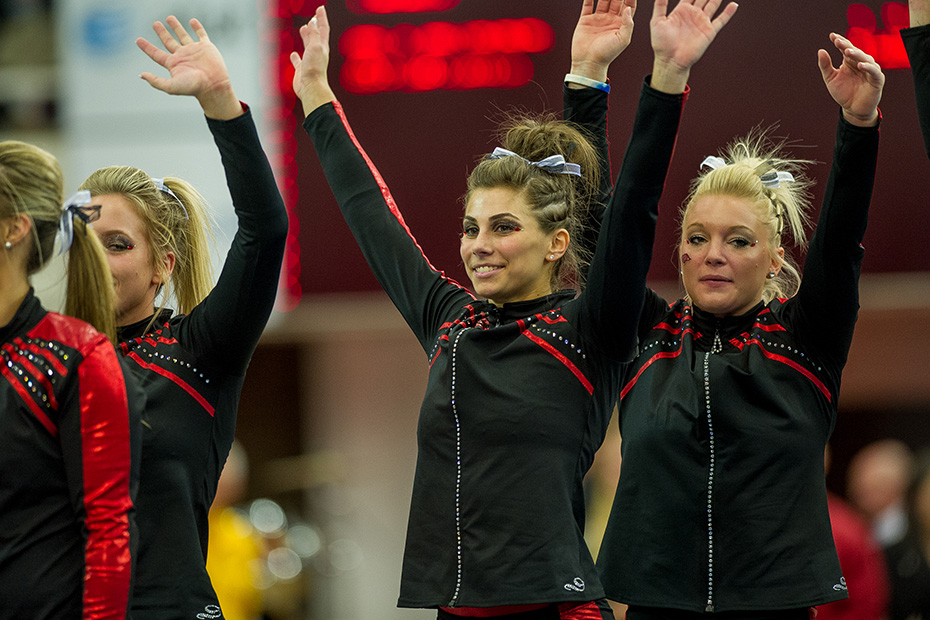 @RazorbackGym To Host 80's Night On Friday
FAYETTEVILLLE, Ark. – This Friday, the No. 16-ranked University of Arkansas women's gymnastics team will host an 80's Night at Barnhill Arena. The Razorbacks will host Pac-12 power, and eighth-ranked, UCLA, with events starting at 6:45 p.m.
The first 1,000 fans in attendance at Friday's meet will receive a free 80's-themed Arkansas gymnastics t-shirt. Fans will travel back in time musically with the Razorbacks, as an assortment of hits from the 80's will be played throughout the meet.
It will also be Senior Night at Barnhill Arena, as Arkansas will honor All-American Stephani Canizaro and Cailee Ellsworth after the fourth rotation.
Fans will also have a chance to take a picture with 2014 Miss. America second runner-up and Miss. Arkansas, Ashton Campbell, at the photo booth in the north lobby of Barnhill Arena. Photo opportunities will begin at 5:30 p.m. and concludes at 7:30 p.m.
For more information on the Arkansas women's gymnastics team, follow @RazorbackGym on Twitter.