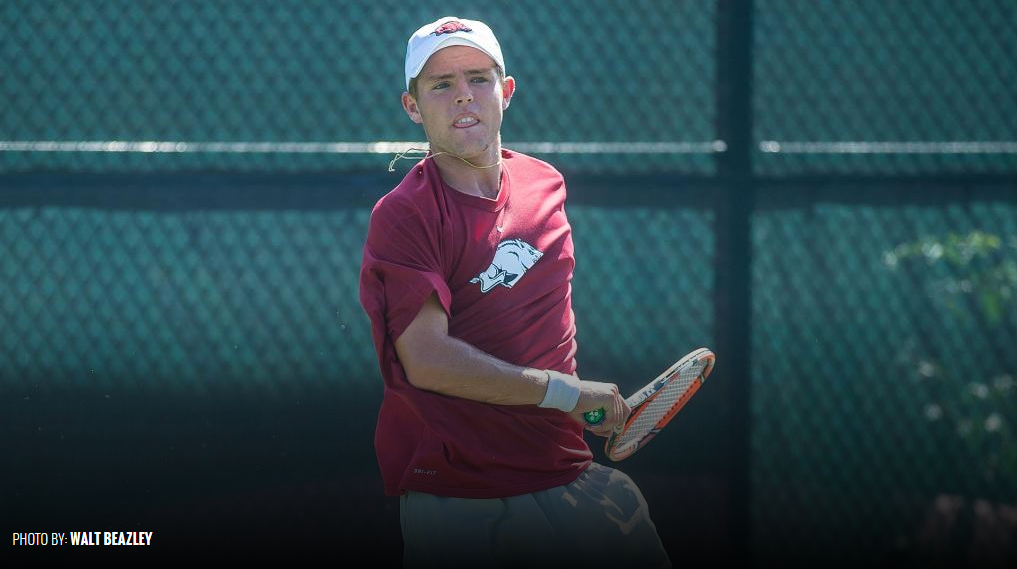 @RazorbackMTEN Prepares For Final Home Matches Of Season
FAYETTEVILLE, Ark. – The University of Arkansas men's tennis team (11-11, 1-7 SEC) hosts two Southeastern Conference opponents in its final home matches of the season this week. The Razorbacks will first face Kentucky (10-13, 1-7 SEC) at 2 p.m., CT on Thursday before taking on Tennessee (11-9, 3-5 SEC) at 2 p.m., CT on Saturday at the George M. Billingsley Tennis Center.
Admission is free and open to the public. The match will take place at the George M. Billingsley Tennis Center, located at 1503 Nettleship Street, Fayetteville, AR 72701.
LAST TIME OUT:
Arkansas men's tennis suffered a pair of road losses last week. The Razorbacks first fell to No. 9 Texas A&M, 4-0, on Friday and then to No. 24 LSU, 6-1, on Sunday.
David Herrerias collected the lone singles win of the week in the No. 6 position. The freshman netted a convincing 7-6, 6-4 victory over LSU's Simon Freund.
QUICK HITS:
– The Razorbacks look to collect their second SEC win of the season.
– Playing primarily in the No. 6 spot, freshman David Herrerias has won eight of his last nine singles matches. The Castro Urdiales, Spain native's 6-2, 6-2 win over Sean Donohue proved key in the Razorbacks' victory against Alabama on March 5 and his 10-4 dual record is the best on the team.
– Leading Arkansas in dual doubles play is the duo of den Toom and Alabanese. Competing in the No. 3 spot, the pair holds an 8-2 record and has only faced defeat once since Feb. 8.
IN THE RANKINGS:
Giammarco Micolani came in at No. 81 in the ITA singles rankings released on March 24, marking the first time this season that a Razorback has been on the list. The junior claimed the spot after beating two ranked opponents this spring. Micolani defeated No. 98 Jacob Sude of Oklahoma State, 6-4, 6-7 (4), 10-8, on Feb. 8 and reigning SEC Player of the Year, No. 23 Nik Scholtz (Ole Miss), 6-2, 2-6, 6-3, on March 12.
A LOOK AT KENTUCKY (10-13, 1-7 SEC):
Kentucky men's tennis split a pair of home SEC wins last weekend, falling to Mississippi State 4-3 on Friday and sweeping Alabama 4-0 on Sunday. Despite being 1-7 in the conference, three of the Wildcats' SEC losses were 4-3.
One Kentucky player is currently ranked on the ITA singles top 125. Beck Pennington came in at No. 62 in the March 24 poll. Pennington and Kevin Lai are ranked No. 59 on the doubles list, while Jerry Lopez and William Bushamuka are No. 79.
A LOOK AT TENNESSEE (11-9, 3-5 SEC):
The Volunteers split matches with the same SEC teams, but instead defeated Alabama 4-0 on Friday and fell to Mississippi State 4-3 on Sunday. When Tennessee and Kentucky met on March 8, the Volunteers came away victorious, beating the Wildcats 4-3.
Two Tennessee players are currently ranked in the ITA singles top 125: Mikelis Libietis (No. 16) and Jack Schipanski (No. 119). The Vols also have one doubles team in the rankings: Libietis and Hunter Reese (No. 2).
PROMOTIONS:
– Thursday's match: Free Razorback tennis t-shirt to first 50 and free pizza following doubles as supplies lasts.
– Saturday's match: Senior Day, free Chick-Fil-A sandwich to first 50 fans, Sorority Day and free pizza following doubles as supplies lasts.
LIVE STATS:
Follow Thursday and Saturday's matches live HERE
For more information on Arkansas men's tennis, follow @RazorbackMTEN on Twitter.